What Does Matcha Green Tea Taste Like?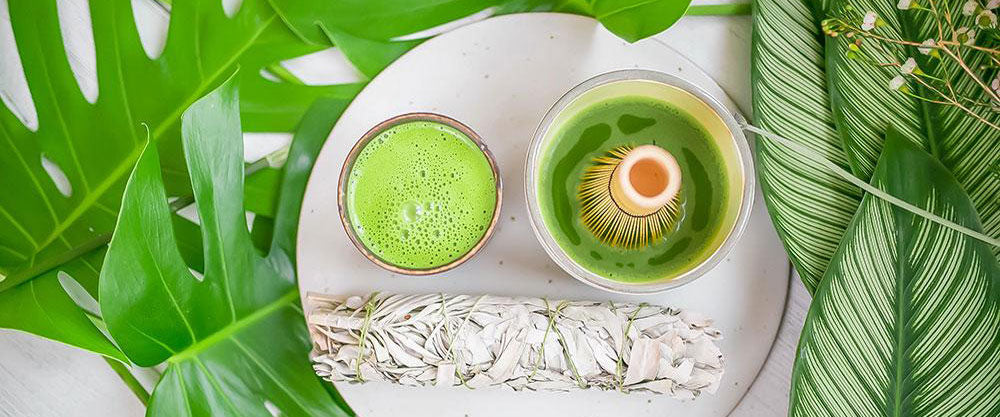 Matcha Green Tea has a smooth slightly bitter and tasty flavor. 
Generally, matcha tastes a little bitter but vegetal, and ceremonial grades of matcha can be very smooth, and sometimes even buttery or creamy. The taste of matcha depends on three things including the grade, the location of the farm, and the way in which you consume it. Let's break this down.
The first factor that determines how matcha tastes is the grade of matcha. Matcha is like wine in the sense that there is a wide range of quality. It's quite easy to find poor quality matcha that is very cheap, yellow in color and gritty. This type of matcha tends to be extremely bitter and utterly unenjoyable in drinking form. Don't worry though, if you want a smooth and delicious matcha, you'll be able to recognize the bad stuff by it's brownish, murky color. As you increase the quality of the matcha, the taste moves from bitter, to smooth and vegetal (aka, delicious).
The second factor in how your matcha will taste is the location of the farm where it grows. The main two locations for growing matcha are China and Japan. There is a distinct taste difference in the bitterness between Japanese and Chinese matcha. Japanese matcha has a much more of a rich umami taste and tends to be much more bright green in color which makes it the best matcha in the world. 
The final factor in the taste of matcha surrounds the way you consume the product. It is best to use more bitter matcha when baking or cooking because the flavor will shine through the heating process. Another popular way to consume matcha is in a latte. This will taste milky, smooth, and sweet depending on what milk you use.
However, if you want to truly make the best matcha flavor stand out, you need to drink it in a green tea shot. What is a green tea shot? Well, good question - it is a small shot of green tea. But seriously, it's that simple. And it's very easy to make a green tea shot, all you need to do it grab two grams of Tenzo (or more) and mix it with 2oz of water. Whisk or shake into a thick paste and then enjoy. But reminder - don't use too hot of water or you'll burn the matcha, and maybe your mouth, too!
Okay, so now that you know what's going on you must be wondering… what is the best way to make matcha? Don't worry, it's very simple to make the smooth, umami flavor stand out. Here are three steps:
You need a high-quality matcha - ceremonial grade.
You need Japanese Grown Matcha
You need to make it in a thick green tea shot.
Viola! You're now on your way to becoming a matcha taste expert!
WHAT MIXES WELL WITH MATCHA TEA? 
One of the reasons we love matcha tea so much is that it's very versatile and mixes well with many great flavors and ingredients. When you find the right matcha tea for your tastebuds, explore different mix-ins and flavor combinations, so you can enjoy a drink or sweet you love each morning or busy afternoon. 
In fact, matcha is so forgiving and wide-ranging, that you can add just about any sweet or savory ingredient to the mix and come out with a delicious flavor profile. Here are some of our favorites, but you can try experimenting with your pantry staples and fresh picks from the farmer's market to find more. 
HONEY 
Honey is a classic tea mix-in for a reason. You can make many different types of drinks with matcha, including lattes, which can be sweetened with your favorite floral or fruity honey. Honey is also a great way to balance some of the grassy flavors you might find in matcha without being completely overpowered by sweetness. 
SALT
Salt serves to enhance the flavors in your favorite recipes, which is why it's great for matcha. When you want to enjoy all the fresh and delicate tastes that matcha tea and other matcha recipes have to offer, salt is a great addition to your drink or dessert. A dash of sea salt can make the flavors really pop and can enhance your feelings of rejuvenation and energy. 
CHOCOLATE 
When it comes to combining chocolate and matcha, you absolutely cannot go wrong. Not only do the flavors balance beautifully, thanks to the sweetness of the chocolate and the freshness of the tea, but because there are so many different types of tea, you can mix and match ingredients until you find a combination you really love. 
Dark chocolate, sea salt, and white chocolate are just a few of the wonderful flavor profiles that you won't want to miss. There's a reason this combination of flavors is taking the world by storm! 
CITRUS  
Citrus is another classic tea companion, but it goes especially well with matcha. Since matcha is so great at offering fresh, wholesome flavors, a splash of lemon or orange can bring those refreshing qualities to a whole new level, while still providing a bold balance to the leafier flavors of matcha. 
You can mix and match your favorite citrus additions with bold spices for great seasonal flavors and delicious iced drinks.
Our Matcha
Tenzo is a proprietary blend of 100% Organic & Ceremonial Matcha developed in partnership with a Japanese tea master. 
Tenzo matcha is celebrated for a flavor that is complex, rich, aromatic, astringent and leaves an alluring sweetness with every sip. The full-bodied flavor tastes smooth and refreshing with just water and holds up strong when paired with milk and other matcha mixers. 
When formulating Tenzo Matcha, we wanted a smooth and refreshing flavor for daily drinking without the need to add sugar or other sweeteners. 
You don't deserve to be tired. Beat lunchtime fatigue with Tenzo Tea's organic matcha powder!