TENZO Marbled Matcha Bundt Cake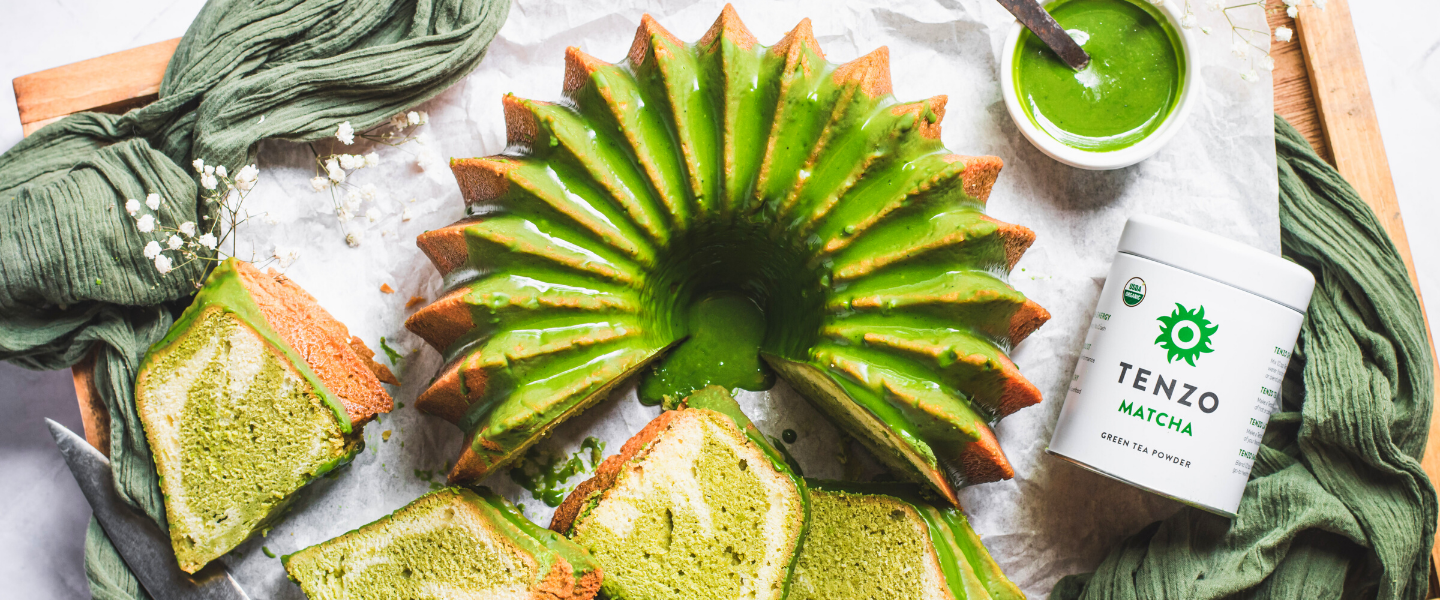 Matcha is well-known as an impressive superfood with tons of health benefits, but that doesn't mean that you can't make your matcha more indulgent every now and then. We've put that to test with creamy matcha floats and delicate matcha macarons. And now, we're turning towards a classic to satisfy our sweet tooth and give us a little matcha moment. Bundt cakes are a simple signature cake, and this matcha one has a hidden twist… literally. Beneath its beautiful matcha glaze, this bundt cake houses a rich swirl of vanilla and matcha flavors that combine to form the perfect bite, every forkful. Light yet rich, thanks to the addition of yogurt, this easy-to-make matcha bundt cake is a hit every time.
Ingredients:
For the Bundt cake:
Nonstick baking spray with flour

3 cups cake flour

1 tsp salt

1/4 tsp baking soda

2 sticks unsalted butter, softened

2 1/2 cups sugar

1 1/2 tbsp vanilla bean paste

6 eggs, room temperature

1 cup full-fat Greek yogurt, plain

3 tbsp

Tenzo matcha
For the matcha glaze:
2 cups powdered sugar

1 tbsp

Tenzo matcha

1/3 cup milk

Pinch of salt
Directions:
Preheat the oven to 350°F. 
Spray Bundt pan with nonstick flour baking spray, covering the entire inner surface.  In a small bowl, whisk together cake flour, salt and baking soda. 
In a stand mixer, cream butter and sugar together until light and fluffy, about 3-5 minutes. Scrape down the sides of the bowl and beat in vanilla paste. Add eggs one at a time, beating until fully combined. 
Add half the flour and fold in gently with rubber spatula first. Then, add yogurt and turn the mixer on low, allowing yogurt to blend in before adding the last half of flour and beating until just combined. Set half the batter aside in another bowl and add TENZO matcha to the mixer, beating on low until fully incorporated. 
Place matcha batter in 5 separated scoops over the original batter and fold the entire batter together two or three times to create a marbled effect. Pour gently into the Bundt pan, smooth the top and tap on the counter a few times to remove any air bubbles. 
Bake until golden brown and a toothpick inserted in the center comes out clean, about 1 hour 10 minutes. Transfer cake to rack and cool for 15 minutes in pan before inverting onto plate to cool completely. 
To make glaze, whisk powdered sugar, TENZO matcha, 3 tbsp milk and salt together, adding more milk one tablespoon at a time until reaching your ideal consistency. Pour glaze over cake and allow to set before serving.
Perfect to bring to a summer barbeque or to make for a cozy night in, this cake's impressive appearance pales only in comparison to its taste. Thank you to recipe creator Amanda Gryphon for sharing this delicious recipe with us. Check out her Instagram for other unique culinary creations. And, don't forget to grab some high-quality matcha while you're here. Without it, this recipe is missing its star…