Matcha White Chocolate Macarons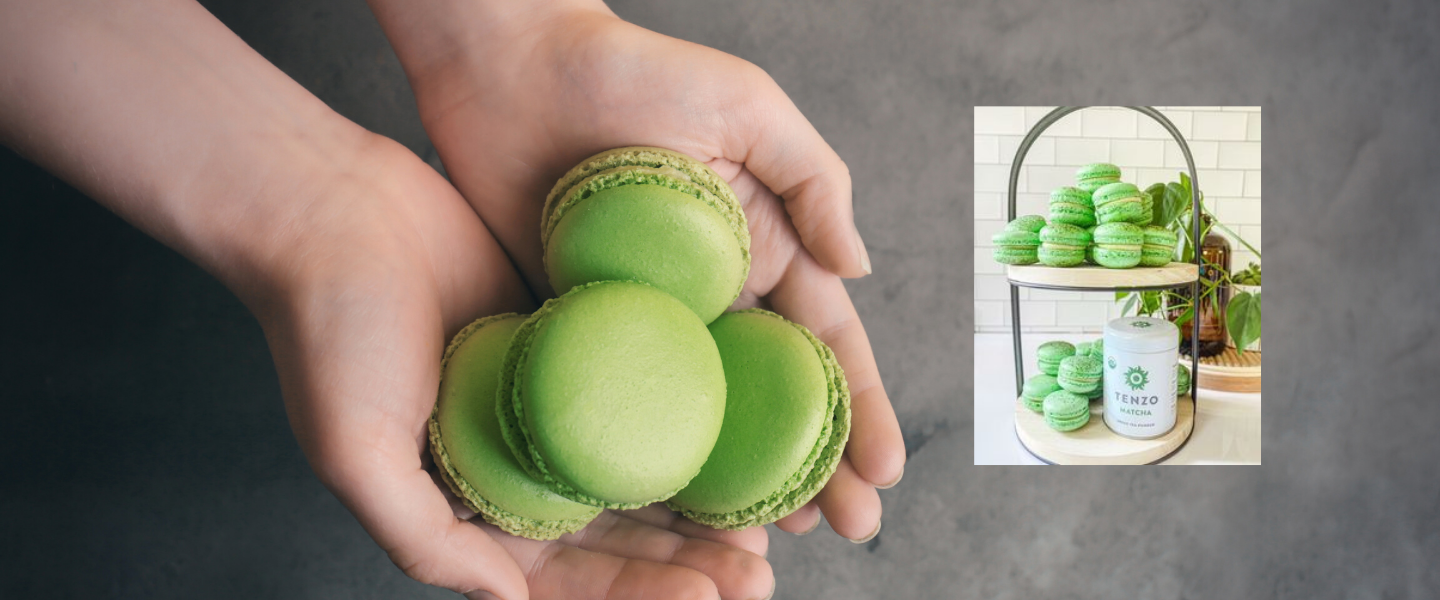 Want to have your matcha and eat it too? Then this recipe is perfect for you. Just as decadent as a layered cake but in a much more petite package, Matcha White Chocolate Macarons are the dessert of your dreams. With a rich, luscious buttercream and a beautiful, sweet matcha ganache, they are truly the perfect little treat. Enjoy them with a matcha iced latte for a refreshing and perfectly paired duo, or just snack on them. Perfect for both novice bakers and experienced chefs, this recipe makes delicious and beautiful macarons approachable and easy. And, what's not to love about the addition of a little matcha magic? 
Ingredients 
Matcha Macarons
105 grams sugar 
105 grams  egg white 
138 grams almond flour 
125 grams powdered sugar 
1/8 tsp Tenzo matcha  
Matcha Ganache
170 grams white chocolate 
60 ml heavy cream 
2 tsp Tenzo matcha  
Buttercream 
Butter 258 grams
Powdered sugar 125 grams
Directions
Macarons:
Sift and combine almond flour and powdered sugar. 

Add egg whites to a large bowl and whisk until frothy. 

Slowly add caster sugar until dissolved. 

At soft peaks, add green food coloring.

Whisk until stiff peaks , then mix in dry ingredients. 

Pipe Macarons in a piping bag with a Wilton tip 12. 

Allow to dry.
Ganache:
Put white chocolate chips in a heatproof bowl.

Heat heavy cream and then mix in matcha powder.

Pour matcha cream in chocolate chips and mix until incorporated.
Buttercream:
Add cooled matcha ganache and whisk.

While whisking add butter and powdered sugar until incorporated.
And, just like that you have yourself a beautiful and delicious dessert. Thank you to recipe creator Charmaine Mosiman. Check out her Instagram and website for more recipes to soothe your sweet tooth. Don't forget to resupply on matcha so that you can have your favorite tea whenever you need it, and so that you can explore some of our other amazing recipes. And, in the meantime, just sit back, relax, and enjoy your macarons.