Matcha Swirl Chocolate Bark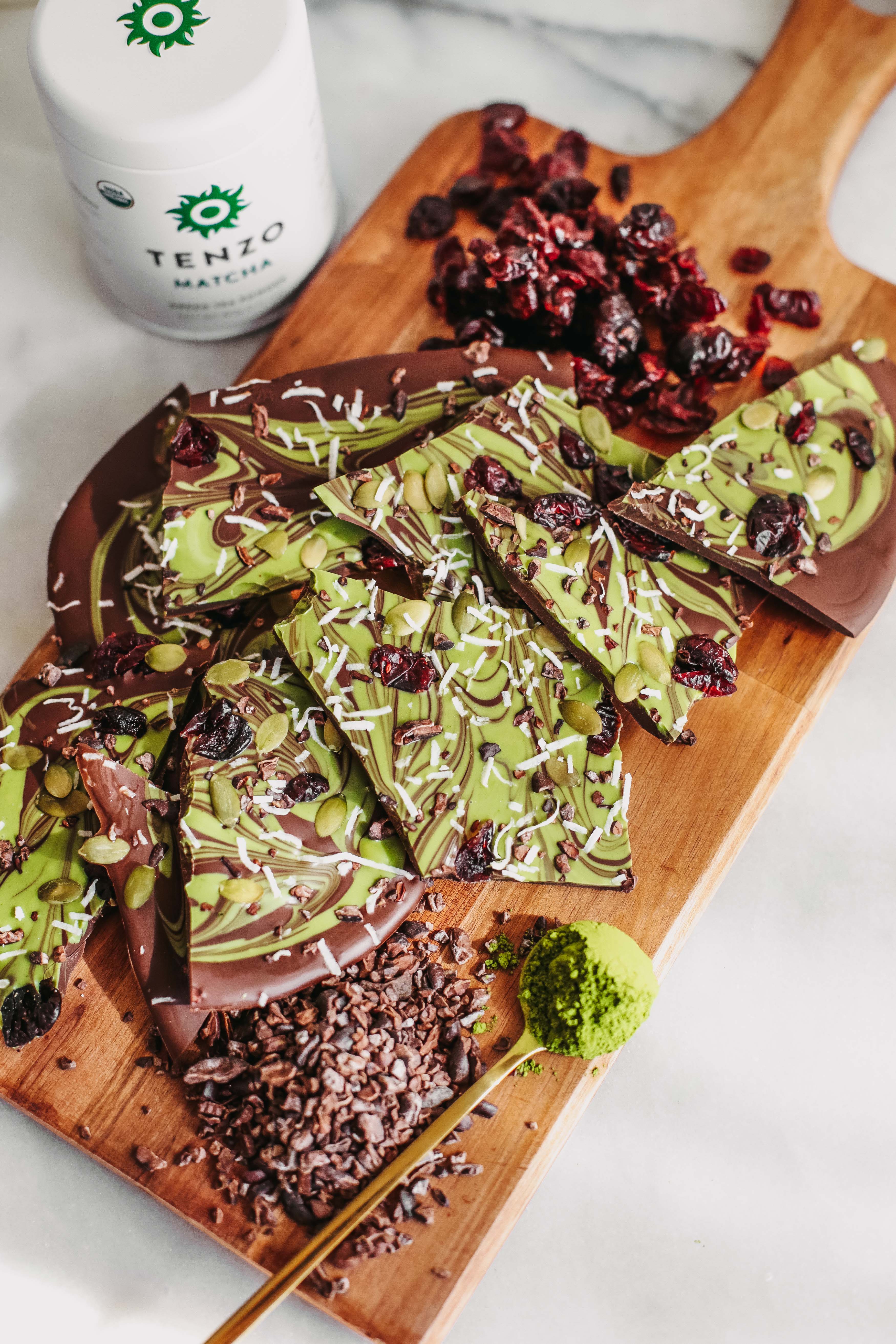 Matcha Swirl Chocolate Bark
Posted on October 06, 2022 | by Lori Hanemann
Chocolate and matcha chocolate swirled together into a flavor-dense treat you can give as a gift, it's so gorgeous to look at. The toppings take this Tenzo Treat to the world-class level, with cranberries, cacao nibs, coconut, and pumpkin seeds.
Ingredients:
Chocolate Layer:
1 cup chocolate chips

1 tbsp coconut oil
Matcha Chocolate Layer:
⅓ cup white chocolate chips
1 tsp coconut oil
½ tsp Tenzo Matcha Powder
Toppings:
1 tbsp dried cranberries
1 tbsp cacao nibs
1 tbsp coconut shreds
1 tbsp pumpkin seeds
Instructions:
Add ingredients for the chocolate layer into a small glass bowl and microwave for about 45 seconds or until melted.
Stir until smooth and spread out on a baking tray lined with parchment paper- in a smooth layer about ¼" thick.
In another small bowl, melt white chocolate chips and coconut oil together until smooth, then stir in matcha tea powder until well combined and drizzle over the chocolate layer.
Using a knife, swirl the matcha layer into the chocolate layer and sprinkle with toppings and freeze for about 10 minutes or until solid. Break into pieces and serve or store in the fridge.
Thank you to Kaylie for another wonderful and delicious matcha recipe. You can follow her on Instagram to see more of her recipes. And, take the chance to stock up onmatcha now.