Get Into a Tenzo State of Mind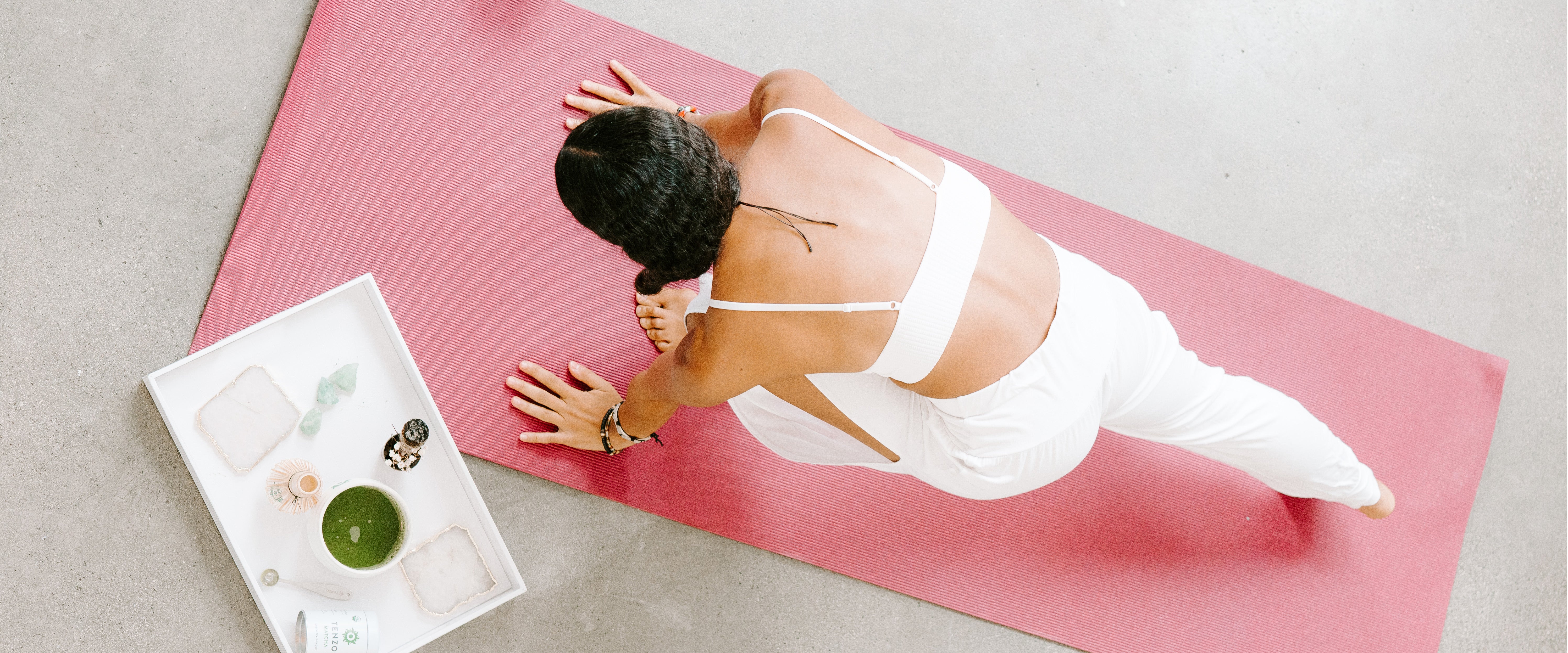 Ten·zo State of Mind
/ten zo ˈsteɪt əv ˈmɑɪnd/
(noun) a cool, calm, and collected overall being, just as ready to take on any challenge thrown at them as they are primed to sink into a spiritual mediation. This state can be activated by enjoying a fresh cup of Tenzo matcha, putting on a great playlist, and learning to ride the vibe 
e.g. "I felt like I could climb Mt. Everest while simultaneously filing my taxes; I was in a Tenzo State of Mind. 
If this sounds like your cup of tea (see what we did there?), we're not surprised. The idea of being poised to take on anything without being anxious, overamped, or jittery is quite appealing. But, how do you get there? That's what we're here to answer. So, if you want to know how you can slip into a Tenzo State of Mind, whip up a delicious matcha latte and get to reading. Because we're gonna lead you there. 
But First, A Little Background
In a Tenzo State of Mind, you can expect to experience the feeling of a calm energy flowing through your body. It's not a rush of caffeine or a feeling so serene you could drift off to sleep, but rather the perfect combination of the two. You'll feel cool & composed and able to accomplish anything. And, the only way to get here is with high-quality, ceremonial grade matcha. 
When the Japanese monks set out on their quest for Enlightenment, they didn't pick up whatever matcha they could find from the nearest Target. And, that's not just because they didn't have Targets. They wanted to consume the best and purest matcha for their meditation ceremonies, and so they cultivated their very own grade of this special tea. Hence the moniker, ceremonial grade. 
Now, Onto the Good Stuff
Alright, you have your ceremonial matcha and you're ready to step into a Tenzo State of Mind. What do you do next?
First, and most importantly, pick a recipe that you like. If you're feeling something easy and simple, check out our iced matcha latte. If you want something more complex, take a look at this matcha morning smoothing. And, if you're trying to get into a Tenzo State of Mind on the go, we highly recommend this matcha iced tea recipe. Whatever matcha creation you decide to go with, just make sure it's something that you love. The only thing we recommend staying away from here are baked goods, as it can diminish and delay the power of matcha. 
Once you have your recipe picked out, it's time to start getting in the zone. We like to do this with music and created a special playlist for this specific purpose. You can find our carefully crafted matcha music here, but getting into the Tenzo State of Mind is a personal experience. So, if you feel this playlist isn't perfect for you, keep an eye out for new matcha music collections from us, and in the meantime, put on a favorite of your own. 
Now, as you make your matcha drink, whether it be an easy iced tea or a more complicated recipe, practice a little bit of mindfulness. By that, we mean, focus on the simplicity of your actions and perform them with intent. If you're whisking your matcha by hand, try thinking about making that W and M motion and nothing else. If you're shaking up your matcha in one of our on-the-go bottles, trying shaking it to the beat. 
Finally, it's time to enjoy your matcha drink and take that last step into a Tenzo State of Mind. You can down your drink in one gulp or sip on it slowly as you enjoy our specially curated tunes. But sooner or later, you'll find yourself in a Tenzo State of Mind. It may look like forging effortlessly through a tough work project or putting an extra mile behind you on your run because you're just vibing. But, whatever it looks like to you, you'll feel that cool calm focus that we all associate with matcha. 
This is one of those things where practice makes perfect. The more often you take steps to get into a Tenzo State of mind, the easier it will be. For the best results, we recommend having a daily matcha drink. Similarly to how meditating daily can help you learn to clear your mind, even if you feel like you aren't making progress, a Tenzo matcha tea can do the same thing for your Tenzo State of Mind. And, before you know it, you'll be starting every day this way.