TENZO Chocolate Matcha Cheesecake Tarts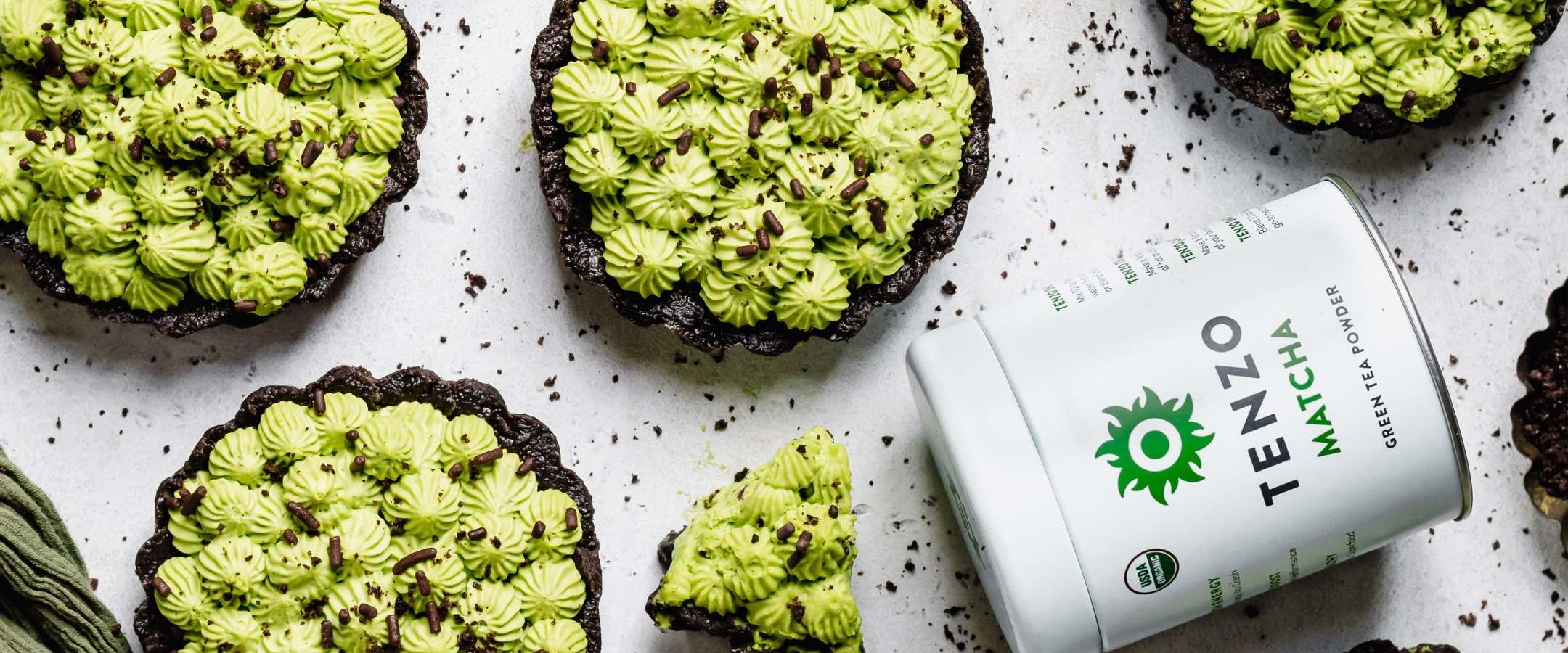 SAY CHEESE!
Cheesecake that is… We love a fresh and healthy matcha moment, but as Tenzo's we know that the beauty in life comes from balance. And, what better way to add a little bit of balance to your life than with a delectable and indulging Chocolate matcha cheesecake tarts. This isn't your super complicated, bake with a water bath, type of cheesecake. This is a mix it up, whip it up, set in the fridge, and let it set, kinda cheesecake. All of the dreamy, creamy deliciousness of the more complicated cheesecakes with none of the stress and hassle. So put your matcha to good use, and make yourself (or your friends and family) an easy and enticing treat. 
P.S. It tastes even better than it looks.
TENZO Chocolate Matcha Cheesecake Tarts
Serves 6
Ingredients:
For the crust:
20 chocolate sandwich cookies

6 tbsp unsalted butter, melted

 
For the filling:
1 ½ tbsp

TENZO matcha 

1 cup heavy cream

16 oz cream cheese, room temperature

1 ½ cups powdered sugar

Chocolate sprinkles, for garnish
Directions:
Step 1:
Add cookies to a blender or food processor and pulse until evenly crushed. Reserve 2 tbsp of crumbs for garnish. Pour melted butter over remaining cookie crumbs and stir together until moist. Press crust mixture into six 4-inch tart pans, covering bottoms and sides completely, then refrigerate. 
Step 2:
 In the bowl of a stand mixer, combine TENZO matcha and heavy cream. Whisk on medium high to high speed until cream reaches stiff peaks, then remove to another bowl. 
Step 3:
In the same stand mixer bowl, combine cream cheese and powdered sugar and beat until smooth. Add matcha whipped cream to cream cheese mixture in three additions, gently folding in with a rubber spatula until evenly combined. 
Step 4:
Swirl or pipe a generous amount of matcha filling into chocolate crusts and garnish with reserved cookie crumbs and chocolate sprinkles if desired. Refrigerate for 2 hours before serving. 
 A special thanks to recipe creator and stylist, Amanda Gryphon because without her, we wouldn't have a delicious cheesecake to look forward to this weekend. Can you imagine that? And before you're stuck in a similar situation, make sure that you have plenty of the main ingredient on hand and order your matcha now. Happy mixing friends, we think you're really going to love this one.