Matcha Raspberry Smoothie Bowl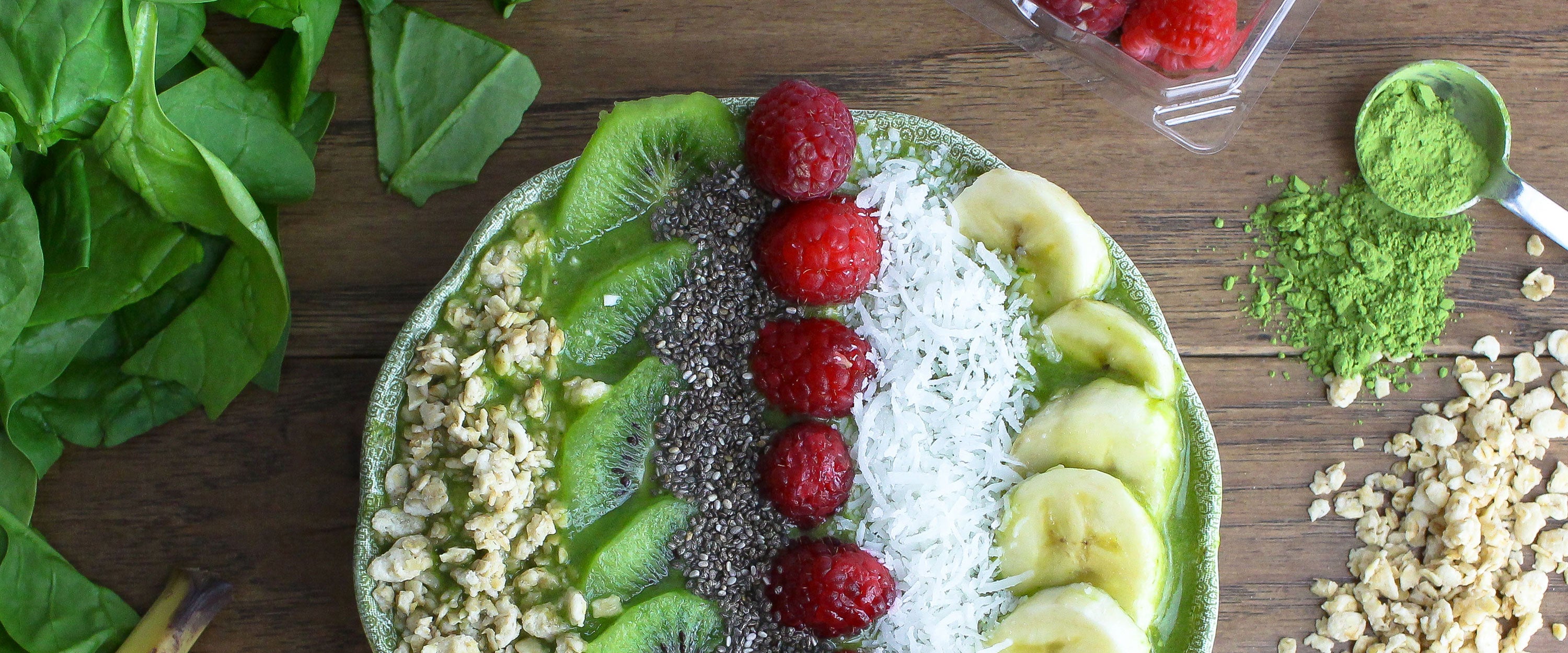 Start Your Day with a Smoothie Bowl
There is nothing better for you than a good breakfast. Doctors say it, trainers say it, your mom has probably said it to you a million times, but it is the truth. Starting your day with a balanced, nutritious meal gives you the energy to take on the day and can make all the difference in terms of your attitude (you don't want to run into me on a morning where I've skipped breakfast), metabolism, and overall health. You know that you need a good breakfast in the morning, but coming up with culinary creations at 7am isn't all that easy. Thankfully, Tenzo Tea's Matcha Raspberry Smoothie Bowl takes about 5 mins to make, tastes delicious, and has everything you need in terms of nutrition to conquer your day!  
The three main ingredients: 
bananas
, 
almond milk
, and 
spinach
 are all extremely low in fat but high in energy, vitamins, and fiber. One serving of bananas yields 1 gram of protein, 3 grams of fiber, and a whole lot of potassium (450 mg).  The spinach and almond milk are packed with essential vitamins like Vitamin D, Vitamin E, Vitamin A, Vitamin K, iron and calcium. Furthermore, all three contain carbohydrates that will fuel your body for hours. The caffeine and L-Theanine in
Tenzo's organic matcha powder
will give you clean, focused energy throughout the day. It also provides a great dose of antioxidants as 
matcha green tea
 has the highest antioxidant rating of all major superfoods. As a whole, this smoothie bowl is a low fat, high energy, nutrient-rich way to kick-start your day.
Ingredients
1 frozen banana

½ cup almond milk

1 cup of fresh spinach

½ - 1 tablespoon maple syrup, or agave or honey

1 teaspoon organic matcha powder

Raspberries
Optional For Garnish
Chia seeds

Granola

Coconut Flakes

Kiwi

Banana
Directions
Break up the frozen banana into smaller pieces (about 4-5) and place in the blender first.

Add the spinach, almond milk, maple syrup, and matcha powder, and blend.

Taste and adjust to your liking, adding more maple syrup for sweetness or more matcha for a rich earthy flavor. Add additional almond milk as necessary to help blend, but be careful! No one likes a soupy smoothie so only add enough such that it blends until smooth.

Pour the smoothie into a bowl and top with raspberries and any additional garnishes you have on hand. We used chia seeds, coconut flakes, granola, kiwi, and half a banana.

Get creative! Make your smoothie bowl just as beautiful as you are and enjoy!
 Making Your Matcha Raspberry Smoothie Bowl
Smoothie Bowls are all the rage right now and why wouldn't they be? They are full of nutrition, taste great and are often very Instagram worthy. However, like many good things, they can cost you... a lot. There are smoothie bowls for upwards of $10 around LA. Why do that when you can use that $10 to buy a whole bag of Matcha Raspberry green tea powder, spend $6 on bananas, almond milk, and spinach and make smoothie bowls for yourself all week! 
The best part of making our Matcha Raspberry smoothie bowl at home is that you get to personalize. Don't like almond milk? Use coconut, cashew, hemp, rice, dairy, you name it! Whichever is your favorite milk of the moment, it will probably taste great in this smoothie. Looking for gains? Add vanilla protein powder to this recipe and enjoy your smoothie bowl right before you hit the gym. This makes for a great pre-workout meal as the matcha green tea will give you an energy boost and help you focus, and the potassium from the banana helps muscles to contract and nerve cells to respond. This recipe can also be a great breakfast as part of a diet plan, as all of the ingredients are low in fat and matcha green tea has been shown to promote weight loss. 
Variations
Matcha Blueberry Smoothie Bowl
Tropical Matcha Smoothie Bowl
Your Creation Here*
Experiment for yourself and tell us your favorite morning breakfast smoothie bowl recipe in the comments! We want to know how you like to enjoy your Matcha morning :-)
With love, 
Dominique and the Tenzo Team
You don't deserve to be tired. Energize your morning routine fatigue with Tenzo Tea's organic matcha powder!