Matcha Chia Pudding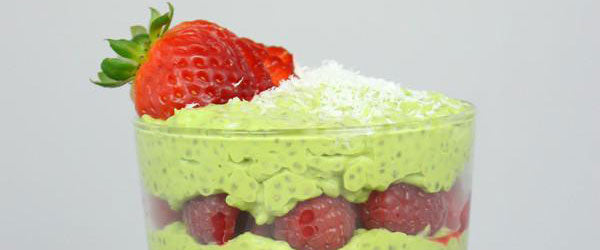 Some days, my life feels like a never-ending search for a fulfilling snack that's healthy and delicious. So many choices are filled with hidden sugars and leave me craving a second helping within the hour. Thankfully, the lovely ladies of Living Life 365 brought this awesome dish into my world. Matcha Chia Pudding makes a perfect start to the morning and is a quick grab from the fridge for an afternoon snack. This recipe is super fun and simple to make!
(Prep Time - 20 minutes + one night in the fridge)
Makes four ½ cup servings 
What you'll need:
1) 1 Can of Canned Coconut Milk (14 oz)
2) 2 Teaspoons of Tenzo Matcha Powder
3) 1 Teaspoon Vanilla Extract
4) 1-3 Tablespoons of Raw Maple Syrup (To Taste)
5) ¼  Cup Chia Seeds (50 Grams)
6) Shredded Coconut (30 Grams)
7) Strawberries, Blueberries, Raspberries to decorate
Step 1: Blend the canned coconut milk, Tenzo Matcha Powder, Vanilla and Maple Syrup in a blender or food processor.
Step 2: Transfer to a bowl and whisk in the chia seeds (a fork will do just fine).
Step 3: Cover and refrigerate for one hour. Give it another quick whisk and return it to the fridge to set overnight.
Step 4: Mix in the Shredded Coconut and top with your favorite fruit!
You'll know when it's ready to eat! The Chia seeds will soak up the Coconut Milk which will leave you with a rich, gelatinous substance similar to tapioca pudding or jello. 
Hope you enjoy your first bite as much as I did! Comment below with your thoughts and ideas for future healthy matcha snacks :)
Hungry? Check out Tenzo Tea's official matcha cookbook for more delicious, healthy recipes that are sure to bring some positive energy into your life.