Vegan Peace Peach Blended Beverage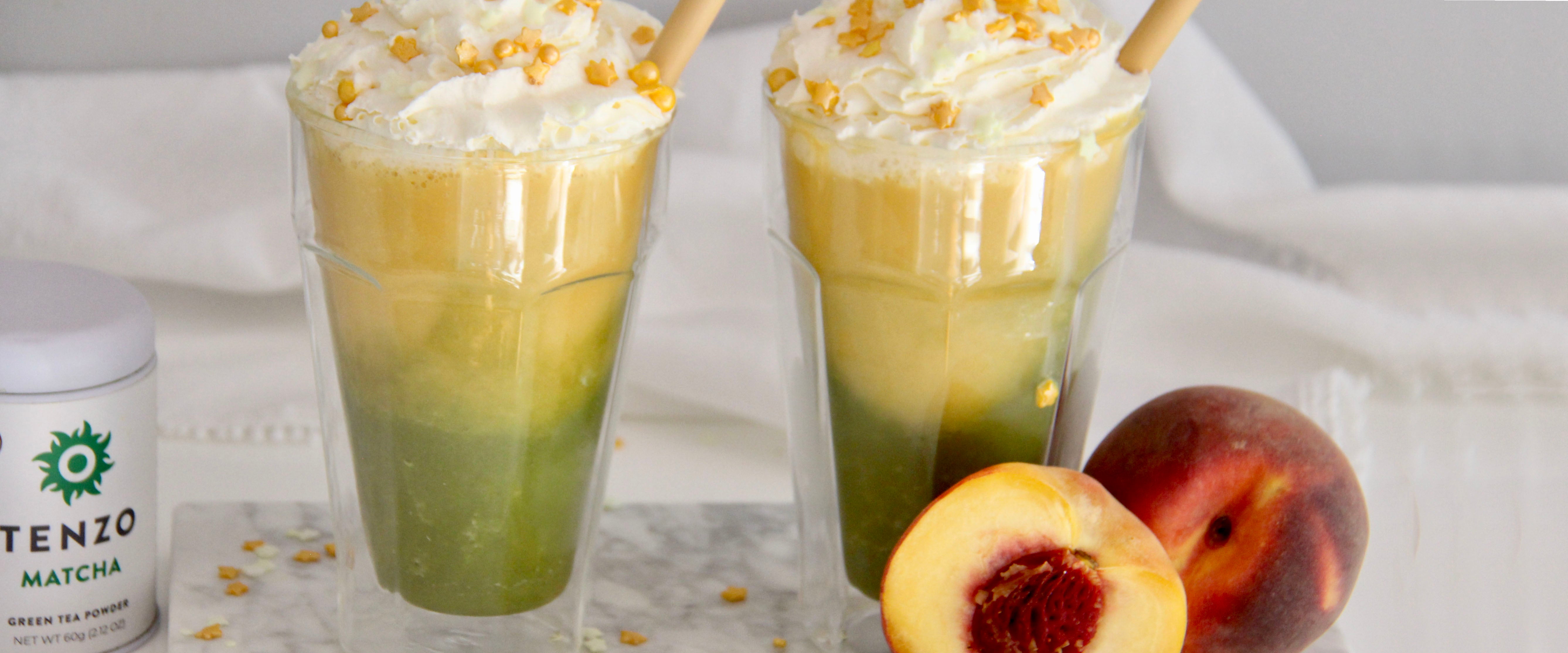 It won't solve world hunger or end any wars, but the Vegan Peace Peach blended beverage will leave you and your friends feeling satisfied and happy. Sweet and juicy peaches pair perfectly with the zesty, warm tingle of ginger and the subtle touch of nuttiness from matcha.  But, this isn't just a delight for your tastebuds. This stunning layered drink is also a treat for the eyes. Stone fruits and warm colors evoke autumnal imagery while the bright green of matcha and cool refreshing blend, take us back to summer. This drink is perfect for those in between times where it's not quite warm enough to bring out the mulled cider but you still want to get into your fall feels. And, in just two easy steps, you're there. Energize your mind, body, and spirit with the double-wielding duo of matcha and ginger. 
Serves: 2
1 cup frozen, ripe sliced peaches
1 cup non-dairy milk (I used vanilla almond milk, but you can also use light
coconut milk)
1/3 cup ice
1 tsp pure vanilla extract
2 Tablespoons maple syrup
Small knob of fresh ginger, peeled
1 tsp TENZO Matcha
1 frozen banana
1/2 cup ice
1/2 cup vanilla almond milk
1-2 Tablespoons maple syrup
Blend Matcha layer first. 
The, pour into your tall glasses.
Next, blend Peach later, then layer it on top of your matcha layer.
Top off your frappucino with some vegan whipped cream and sprinkles and
get ready to have the best day ever! : )
That's all folks. You don't need a fancy barista setup to make yourself a fancy drink. In fact, all you need are a few ingredients, a blender, and five minutes. Just like that, you're sipping on a little taste of paradise. @PlantPoweredKarine is to thank for this little slice of paradise. So, don't forget to head over to her Instagram to see her other creations. And, if you need to reup on your matcha stores before you can give this recipe a go, just head over here, and grab some Tenzo.