Vegan Minty Matcha Shake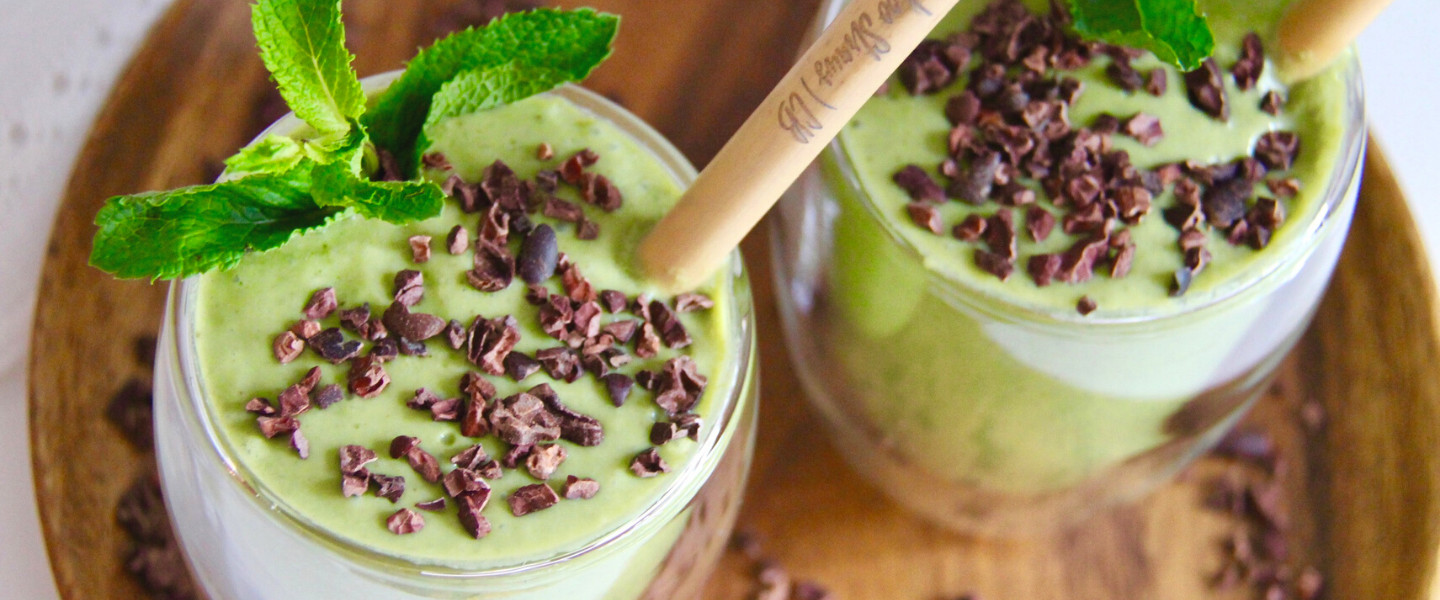 This combo was mint to be. Fresh, energizing mint pairs perfectly with the earthy notes of matcha and the creaminess of coconut to form a delicious and healthy treat. It's the best way to chill out on a hot summer day. Avocado is our secret weapon for a smooth and deluxe shake, but the real star of this drink is the mint. Think mint chocolate chip ice cream, but healthier. With a touch of sweetness from the maple syrup and a sprinkle of cacao nibs, this vegan minty matcha shake is basically the healthiest dessert out there… Or perhaps not, but it's definitely up there. We may have gotten carried away in our excitemint but who can blame us when we're sipping on such a tasty a refreshing treat? Now, it's your turn to give it a shot. 
Ingredients:
1 14-ounce can full-fat coconut milk frozen into ice cubes
2 drops peppermint oil
1 tsp vanilla extract
1 tsp TENZO matcha
3 Tbsp fresh chopped mint
1/2 cup unsweetened plain or vanilla almond milk
3 Tbsp maple syrup (or sub with stevia to taste)
1 cup loosely packed organic spinach (frozen for a colder shake)
1 sliver of avocado (the secret ingredient to make it ULTRA creamy!)
1 Tbsp cacao nibs, for serving
Instructions
Step 1:
To make your coconut ice cubes, pour a can of well-mixed full fat coconut milk into an ice cube tray and freeze about 6 hours, or overnight.
Step 2:
Once frozen, put the coconut ice cubes into a blender, along with peppermint extract, vanilla extract, fresh mint, matcha powder, almond milk, maple syrup, and spinach, and avocado.
Step 3:
Blend on high until creamy and smooth.
Note: If too thick, thin with a bit more almond milk. If too thin, add a little coconut milk ice. Taste and adjust flavor as needed, adding more peppermint extract for more minty flavor, spinach for green color, or maple syrup for sweetness.
Step 4:
Divide between two serving glasses and garnish with fresh mint leaves and
cacao nibs. ENJOY!
After tasting, I'm sure you'll agree that this drink was mint to be enjoyed on a hot summer's day (that's the last mint pun, we promise). It'll satisfy all of your ice cream cravings, with a much healthier option, and you'll get that punch of energy from the matcha. Have it for dessert or use it as an excuse to get out of bed for your early morning wake up. Either way, you've got something healthy and delicious to look forward to. 
After you whip this vegan mint and matcha shake up, if you can resist temptation long enough to take a picture, tag us on Instagram @tenzotea. And, don't forget to give kudos to recipe creator @plantpoweredkarine. After all, without her, we wouldn't have this magic mint and matcha shake!
Not enough matcha to make the shake of your dreams? Restock here.