Twelve Days of Matcha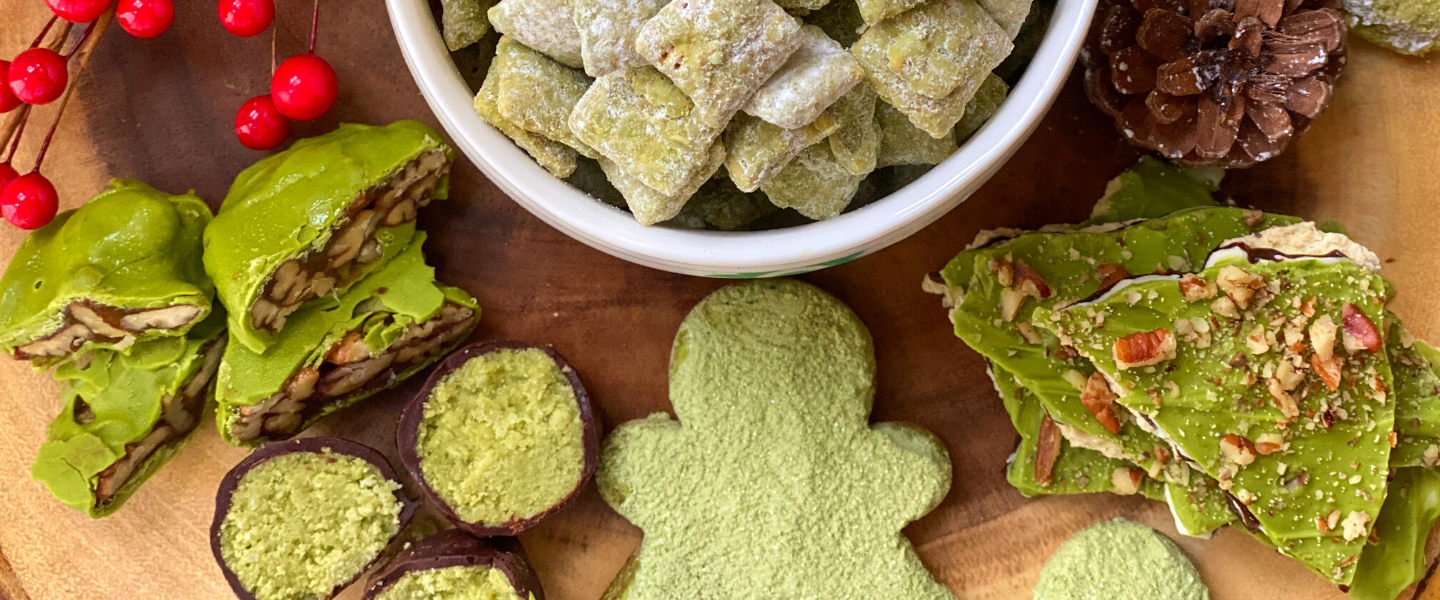 It's not a Partridge in a Pear Tree or Twelve Drummers Drumming, It's something much better than that. It's 12 Days of Matcha. 
Is there a better way to welcome in the holiday season than by spending time in your kitchen crafting holiday treats? We don't think so. And, this holiday season we're bringing a little extra magic to your kitchen creations with our first ever 12 Days of Matcha. We love matcha in its truest form, but there's no denying that experimenting with this versatile superfood is extremely rewarding. We're giving them all to you right now so that you can bake at your own pace. Check off all 12 in a weekend, or make it a Sunday treat. From gingerbread people and chocolate truffles to cupcakes and snowball cookies, these delicious matcha desserts are a recipe for winter wonderland perfection.
A special thanks to Amanda Boyd for not only the delicious recipes but also the beautiful styling & photography. Check out her Instagram for other delicious creations. 
Matcha Peppermint Bark
A holiday classic with a delicious new twist. Matcha peppermint bark is refreshing and delicious with a zesty bite of peppermint, the soothing flavor of matcha, and the rich, creaminess of chocolate. This no-bake recipe is the perfect way to dip your toes in the waters of the 12 Days of matcha. And although we can't blame you if you keep the entire batch to yourself, matcha peppermint bark makes a cute and festive gift for friends and family. Wrap if up in cellophane or send it in a holiday tin, it's a gift anyone will be thrilled to receive. 
Matcha Gingerbread People
Bring out your cookie cutters and aprons because this recipe is going to get a little messy (the fun kind though, not the "cleaning up your kitchen for the next 3 hours kind). The extra elbow grease from rolling out these precious little people only makes the cookies taste that much better. And who can say no to a little holiday bake session? The matcha topping pairs perfectly with the warm spices of gingerbread. Spread it generously over the top, or decorate to your own taste, but regardless, we have a feeling that you'll be keeping this matcha gingerbread people recipe on hand for years to come. 
Matcha Fudge
This isn't your everyday, run-of-the-mill fudge. This is matcha fudge. And, not only does it look more festive than it's counterparts ( say hello to that beautiful, vibrant, matcha green) it tastes better too. It's another no-bake recipe, which means that you can whip it up in mere minutes, and just let it rest in the fridge while you embark on your other seasonal tasks. If you were looking for a recipe that's simple but decadent, you've found it. 
Matcha Sugar Cookies
Sweeter than sugar (or stevia) these delicious little delicacies will bring out your inner Ina Garten. Cut them out in whichever shapes you choose and decorate to your hearts content. They're easy to make and a guaranteed crowd pleaser. And, as an added bonus, you won't have to use food coloring to get that ideal green, because matcha comes by that enviable hue naturally. 
Matcha Turtles
If you're a Great British Baking Show fan (or GBBS as true fans call it) you know how tricky it can be to get a caramel right. This recipe not only tastes great, it also makes crafting up a homemade caramel super easy and approachable. And, the best part of all is that you won't have to stare longingly into the oven, because these babies are finished off in the fridge. 
Matcha Snowball Cookies
Whether you're snowed in or laying out on the beach, matcha snowball cookies are the perfect thing to transport you to a winter wonderland. Not too sweet and delectably buttery, these are sure to become holiday favorites. And, if you're novice baker, these cookies are the answer to your prayers. The rustic finish hides any shaping mistakes and gives your dinner table a welcoming, homemade vibe. Ship them out to loved ones or hoard them for yourself… these cookies were made to be enjoyed.
Matcha Divinity
Similar to cloud cookies and meringues, but with a little more sustenance to them, Matcha Divinity candies are an airy and delicious holiday treat. The addition of tasty and refreshing matcha adds a unique hint of flavor to these treats that is sure to be enjoyed. And, they're deceptively easy to make. Light and fluffy, these are the perfect thing to enjoy with a cup matcha or, dare we day it, coffee. 
Matcha White Chocolate Dipped Oreos
If you didn't see the title and think "I'm making those right now," we're not sure that we can convince you otherwise. Unsurprisingly these are decadent, rich treats that tickle the tastebuds of everyone lucky enough to enjoy them. Oreos, white chocolate, and matcha. What more could you ask for?
Matcha Truffles
All you need to make this recipe is a blender or food processor and a microwave. Perhaps the simplest recipe on this list, with the most decadent rewards, matcha truffles are a lovely way to begin the last leg of the 12 Days of Matcha. And, everyone that sees these is going to want to give them a try. Just remember: a truffle shared is a truffle halved. So if you want to keep these tasty little delights all to yourself, you might want to keep them a secret. 
Vanilla Cupcake with Matcha Frosting
There's nothing more classic than a vanilla cupcake. Simple and delicious, cupcakes offer all the indulgences of cake in a hand-sized package. These vanilla cupcakes take things a step further by adding a little matcha magic to their frosting. It gives the final product a festive look and a unique yet subtle taste that's not overly sweet. With nothing more than a simple twist on a beloved classic, these cupcakes have become a Tenzo holiday favorite.  
Matcha Mix White Chocolate
Muddy Buddies, Reindeer Food, whatever you call it, there is no denying that this is a holiday favorite. Well-known for being tempting and insanely snackable, this matcha mix is the perfect handful (or bowl-ful, whatever floats your boat). Creamy and luxurious white chocolate goes perfectly alongside the earthy taste of matcha for the ultimate crunch yet sweet dessert. We bet you can't have just one. 
Matcha Toffee
Toffee… it's intimidating to even the most experienced bakers. But as a special present to you, we've toned down the typically complicated toffee for something that's just as delicious and way easier to make. You'll get the perfect crack with a delicious white chocolate matcha topping. Super sweet and perfectly festive, matcha toffee is the best way to wind down the 12 Days of matcha. 
There you have it, 12 Days of wonderful, delicious, and decadent Matcha magic. Although we love matcha in its purest form, there's no denying that it's fun to showcase it's many, many possibilities. And, whether you move through this list like clockwork or just handpick a few recipes to try, we hope that you enjoy experimenting with all the ways that matcha can be enjoyed as well. And, for after the holiday craze, when you're ready to get yourself started off on the right foot for the new year, head over to our healthy recipe page. They won't be quite as decadent, but it's a great way to reward yourself with a healthy treat.