Top 10 reasons why Energy Drinks suck and Tenzo rules!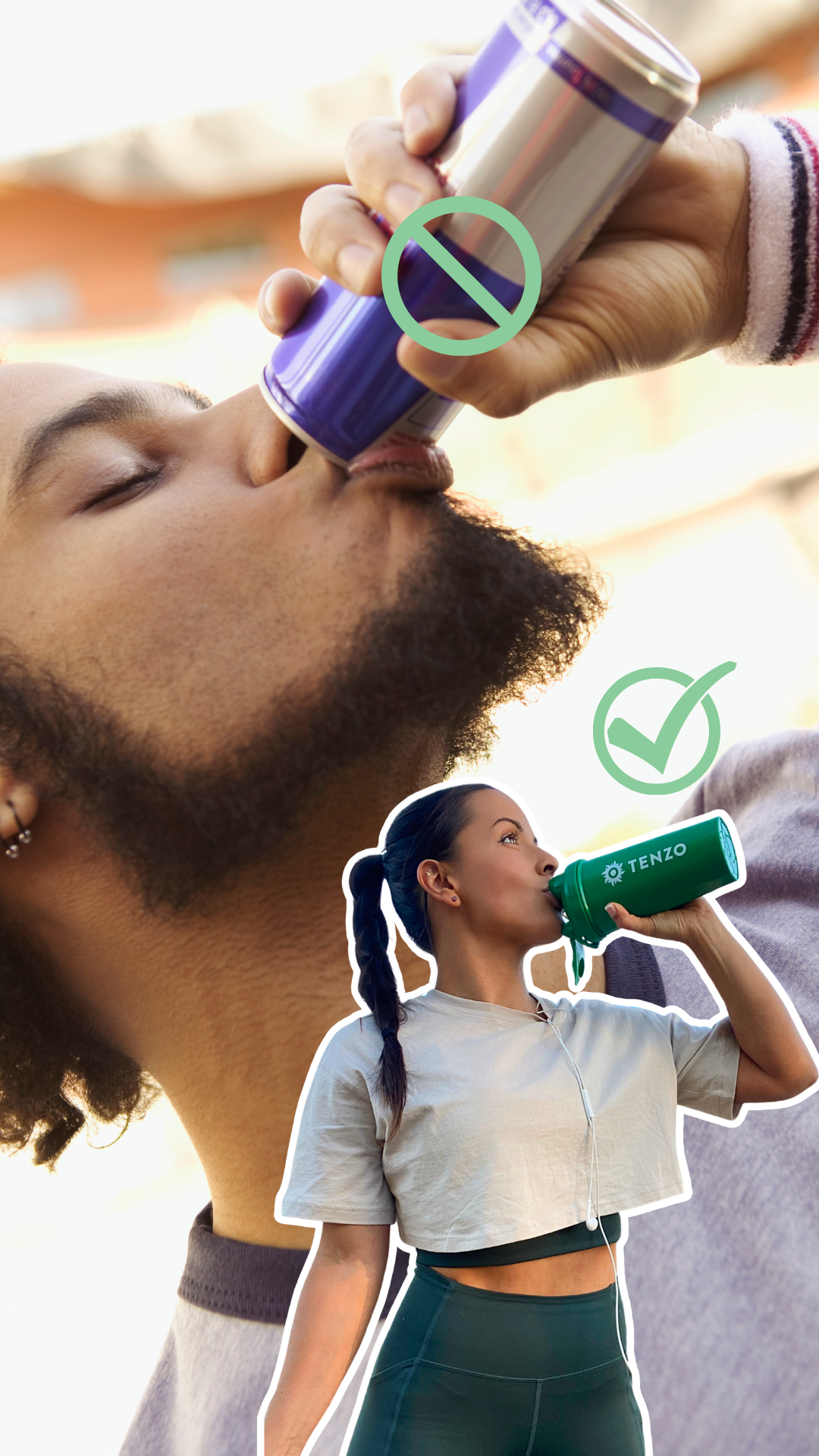 Top 10 reasons why Energy Drinks suck and Tenzo rules!
Posted on January 31, 2023 | by Lori Hanemann
We all know that energy drinks can be a quick fix for that midday slump, but what if we told you there's a much better way to get your energy fix? You guessed it, it's matcha! Why is it better? First up, here are the top 10 reasons why Energy Drinks suck. 
High caffeine content: Energy drinks contain high levels of caffeine, which can lead to negative side effects such as anxiety, jitters, and rapid heart rate.

Sugar content: Many energy drinks contain large amounts of sugar, which can lead to weight gain, insulin resistance, and an increased risk of heart disease.

Artificial sweeteners: Some energy drinks contain artificial sweeteners, which have been linked to a range of health problems, including headaches, digestive issues, and disrupted sleep patterns.

B-vitamin overdose: Many energy drinks contain high doses of B-vitamins, which can be toxic in large quantities and lead to health problems such as skin irritation, digestive issues, and numbness.

Dehydration: Energy drinks can cause dehydration, as they increase urine production and can lead to electrolyte imbalances.

Heart problems: The high levels of caffeine and other stimulants in energy drinks have been linked to heart problems, including increased heart rate, heart palpitations, and increased blood pressure.

Addiction: Energy drinks can be addictive, as the caffeine and sugar in them can lead to withdrawal symptoms when consumption is stopped.

Interference with sleep: Energy drinks can interfere with sleep patterns, leading to insomnia, fatigue, and decreased productivity.

Harmful interactions with medications: Energy drinks can interact with certain medications, such as antidepressants and painkillers, leading to harmful side effects.

Lack of real energy: Despite the name, energy drinks do not provide a long-lasting source of energy, as their effects are short-lived and can lead to crashes and fatigue.
Wow, that was a lot of bad news about Energy Drinks. At Tenzo, we're all about better energy, and we're here to tell you why it's the ultimate energy drink. 
Let's start with the fact that matcha is incredibly rich in antioxidants, which helps protect your body from free radicals and can increase your focus and alertness. That's right, you don't need to rely on sugar and caffeine to stay awake and energized. Plus, matcha is actually good for you! Unlike energy drinks, matcha contains no added sugar or artificial ingredients. Tenzo has no calories and is full of natural energy, so you can get a healthy boost without having to worry about the crash you'd get from energy drinks. Finally, matcha is just so much more delicious than energy drinks. It has a rich, earthy flavor that's balanced out with a touch of sweetness. And you can enjoy it hot or cold, so it's perfect for any time of the day. So, if you're looking for a healthier, more delicious energy drink alternative, look no further than matcha. At Tenzo, we have the highest quality matcha around, so you can be sure you're getting the best of the best. Give it a try today and you won't regret it!
If you're ready to start living the Tenzo life, consider a subscription to Tenzo which comes with a free Trial Kit, including everything needed to get started.