TENZO Baked Matcha Almond Donuts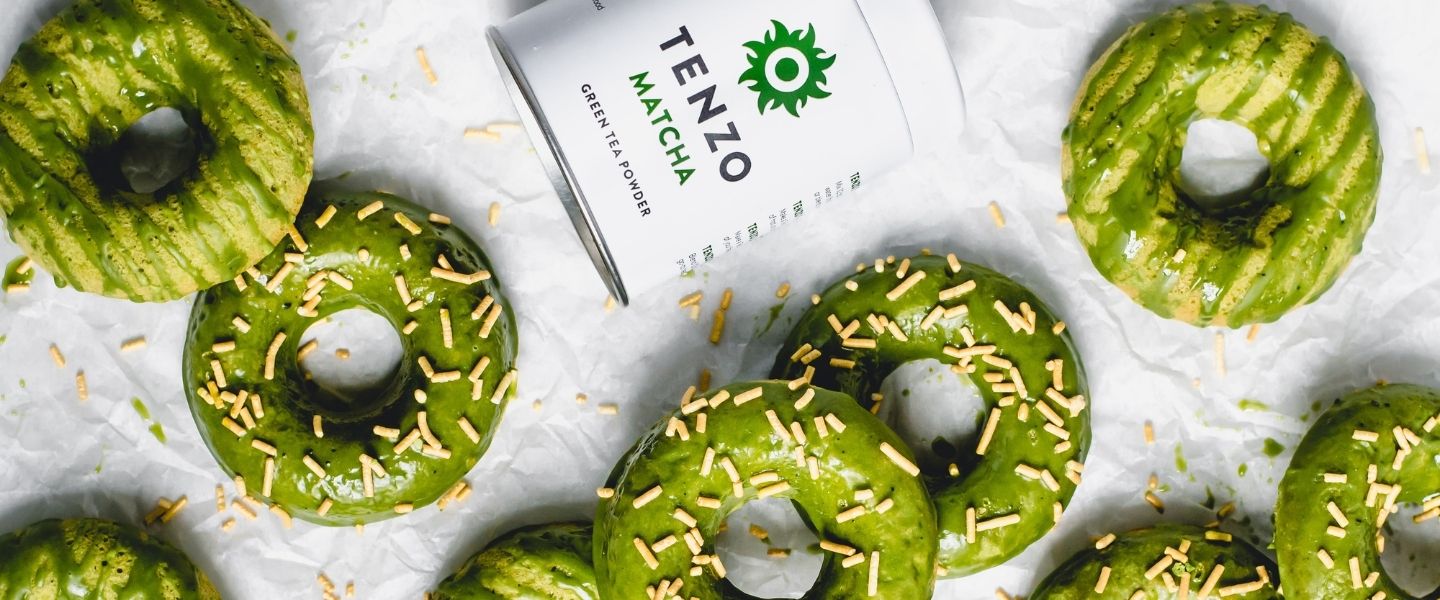 Doughnut or donut…. it donut matter how you spell it these matcha dessert treats are amazing. Add sprinkles for a little extra fun or go for a more homey feel with just a simple little glaze. You truly can't go wrong. Making donuts at home can be intimidating, but this fun recipe makes it seem easy & accessible and gives them a fresh matcha twist. Let a donut pan and your oven do all the hard work, while you whip up a matcha drink to go with your homemade creation. They have that perfect, fluffy yet moist cake donut feel and a delicious matcha glaze to go on top for added sweetness. With a matcha donut in one hand and a tea in the other, you're ready to take on the world. 
TENZO Baked Matcha Almond Donuts
Makes 12 donuts
Ingredients:
For the donuts:
2 cups cake flour

1 tbsp TENZO matcha

2 tsp baking powder

1 tsp salt

1 tsp nutmeg

½ cup sugar

1 cup whole milk

1 tsp almond extract

2 eggs, beaten

2 tbsp unsalted butter, melted

Nonstick cooking spray 
For the glaze:
1 tbsp TENZO matcha

1 ½ cups powdered sugar

4 tbsp milk

½ tsp almond extract

Gold sprinkles, for garnish
Directions:
Preheat oven to 350°F. 
Step 1:
In a mixing bowl, whisk together cake flour, matcha, baking powder, salt, nutmeg and sugar. Add in milk, almond extract, eggs and melted butter and gently stir until just combined. Do not overmix.
Step 2:
Spray donut pan with nonstick cooking spray. Pour batter into a resealable plastic bag, seal and snip off one end to create a piping bag. Pipe batter into donut pan, filling each cavity about ⅔ full. Bake 10-11 minutes until firm to the touch and remove to a cooling rack.
Step 3: 
In a small mixing bowl, whisk together matcha, powdered sugar, milk and almond extract until smooth. Drizzle glaze over donuts or dip halfway into glaze and let excess run off before garnishing with sprinkles.
You can't buy happiness, but you can buy matcha & make donuts, which are kinda the same things. Thank you to recipe creator Amanda Gryphon. Go check out her Instagram, you won't be surprised to see that in addition to matcha donut, she's crafting up plenty of amazing creations. It's time to treat yourself with a some delicious little matcha magic.