Strawberries 'N Cream Matcha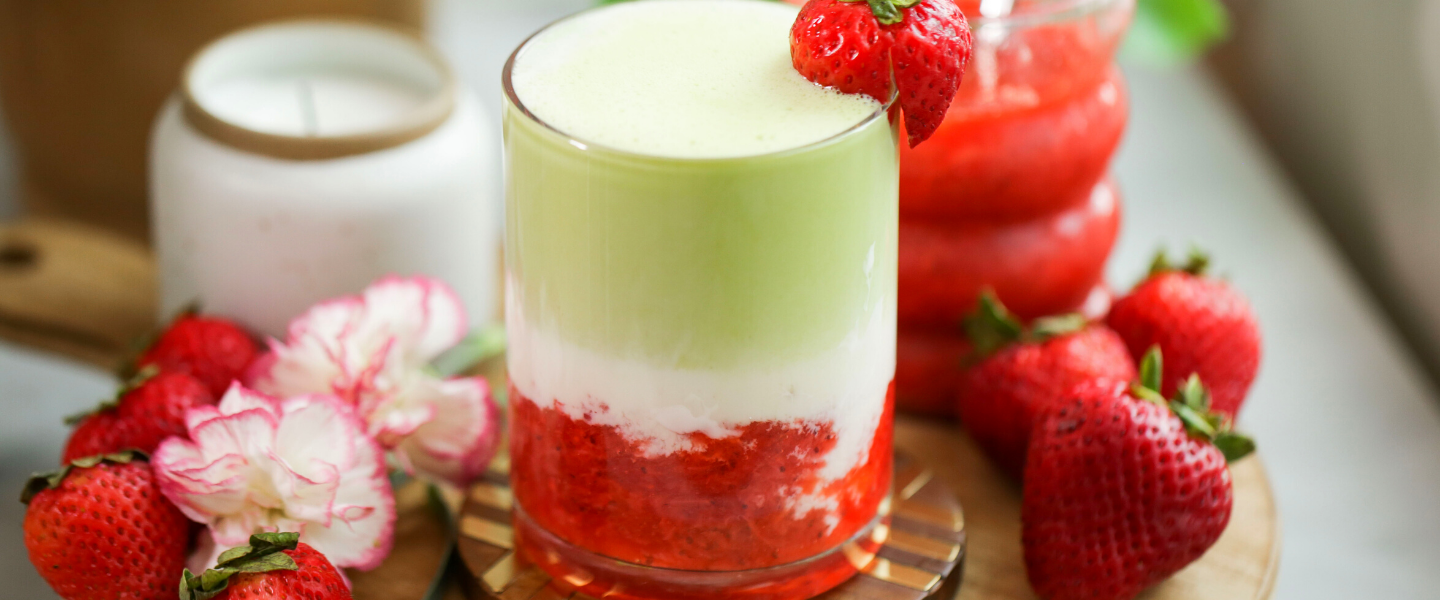 🎵Berries n' cream
🎵Berries n' cream
🎵We're matcha fans who love berries n' cream. 
There's no need to do a little lad dance to enjoy this special mix of berries and cream. All you need is some matcha, strawberries, and milk. But, we can't guarantee that you won't want to dance after you have a sip of this delicious drink. And, with the healthy power of matcha flowing through your brain, you'll have all the energy you need to dance the day away. For all of you who simply want to have your drink and work too, you can still enjoy this strawberry-flavored delight. Because unlike coffee, matcha delivers a consistent amount of sustained energy. It's time to treat yourself with a little berries and cream, no dancing required. 
Strawberries 'N Cream Matcha
Ingredients:
Full fat canned coconut cream- a few tablespoons
Oat milk- as much as desired
Tenzo Matcha powder- combined with water to make matcha tea
Strawberry sauce
Strawberry sauce recipe:
2-3 handful Strawberries
Juice from ½ lemon
1 tablespoon honey or more to taste
Instructions:
Make strawberry sauce by placing all ingredients into a saucepan and cooking with a lid on over medium heat for about 8-10 minutes or until strawberries are soft and reduced into a thicker sauce like texture. Once it is finished, set aside to cool before using. Pour strawberry sauce into the bottom of the glass about ⅓ the way up followed by a few tablespoons coconut cream and oat milk another ⅓ the way up, then top off with matcha tea to the top- make this by combining 1 teaspoon matcha tea powder with 1/2 cup water in a separate glass.
One sip, and you're taken through a whirlwind journey of fresh, sweet strawberries, rich smooth coconut cream, and bright & beautiful matcha. It's a party for your tastebuds. It's got just enough nostalgia to feel familiar. But the addition of matcha keeps it from being a repetitive copy. For more new delicious takes on healthy classics, check out recipe creator Kaylie's Instagram. One quick glance, and your mouth will be watering. And, don't forget to stay tuned for more marvelous matcha delicacies.