Cosmo and Wanda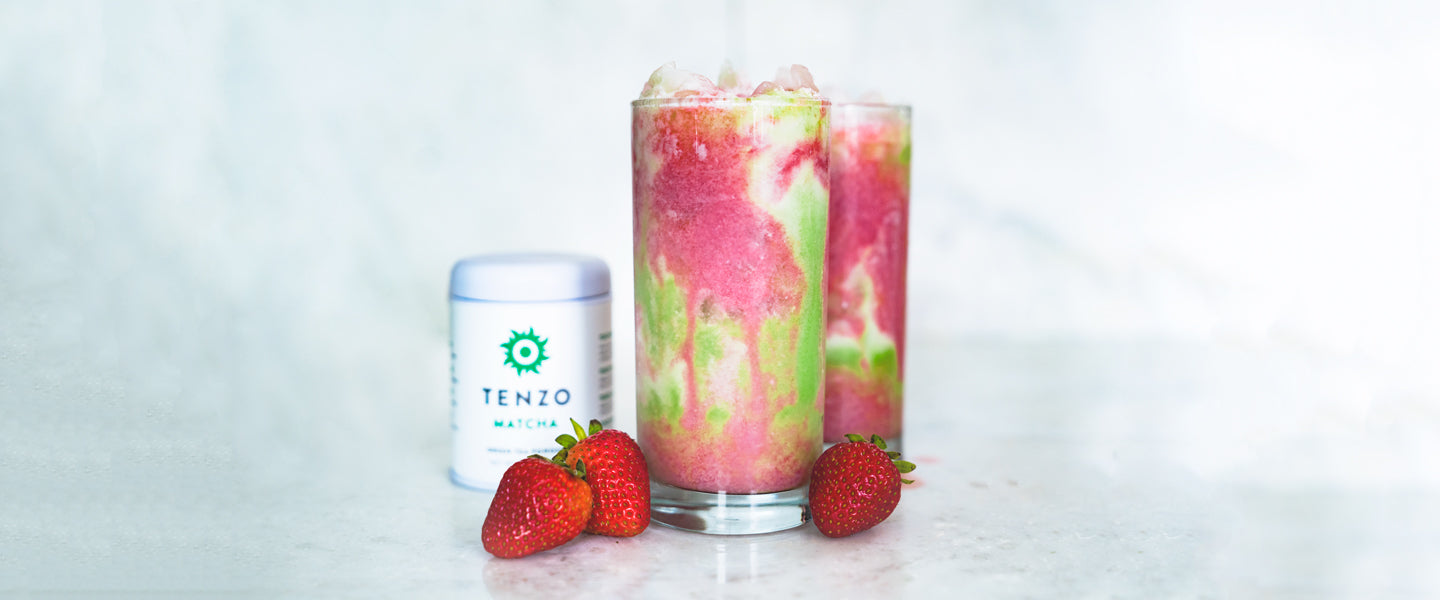 Feeling colorful and creative? We have the perfect recipe for you! The Cosmo and Wanda! This colorful recipe will take your taste buds on a magical journey. The combination of sweet and creamy, fruity and vibrant, all combined with a smooth shot of Tenzo… it will be like nothing you have ever tried before! Let us give those creative taste buds a pleasant surprise, with the Cosmo and Wanda Tenzo!
Obtuse, rubber goose, green moose, guava juice
Giant snake, birthday cake, large fries, MATCHA SHAKE!
Ingredients:
(makes 4 drinks)
2 tsp of Tenzo Organic Matcha

1

 

hibiscus tea bag (We used

 

Tazo Passion Tea)

4 cup

s of water

1 tablespoon

 

honey or maple syrup

8

 

ripe strawberries, and thinly sliced, divided

½ cup of

 

orange juice

½ cup

 

light coconut milk
Ice
Step 1:
Bring 4 cups of water to a simmer on the stove.
Step 2:
Once simmering add one tea bag.
Step 3:
Add 4 strawberries thinly sliced to the water.
Step 4:
Add one tablespoon of honey to the mixture and mix!
Step 5:
Let the mixture steep for 10-20min. 
Step 6:
Take the mixture off of the stove and add 1/2 a cup of orange juice and 1/2 a cup of coconut milk.
Step 7:
Pour drink over Ice.
Step 8:
Make a matcha shot. 
Step 9:
Pour matcha into a glass with coconut milk.
Step 10:
Fill a tall glass with ice, about half full with the new green drink from step 9.
Step 11:
Pour the pink drink mixture on top very slowly to maintain the ombre!
Step 12:
Garnish with Strawberries! (Optional)
This Tenzo pink drink is a perfect drink for a summer day! It is the perfect drink being super healthy, refreshing, and tasty! YUMMM The sweetness of the strawberries, matcha, and coconut pair so well mixed with a little tang from the hibiscus and orange juice. I promise you're gonna want to make this one more than once!
Photos by: Aiden White
Keep tagging us and letting us know how much you love Tenzo! Cheers Tenzo Tribe!