Mini Raw Vegan Matcha and Raspberry Cheesecakes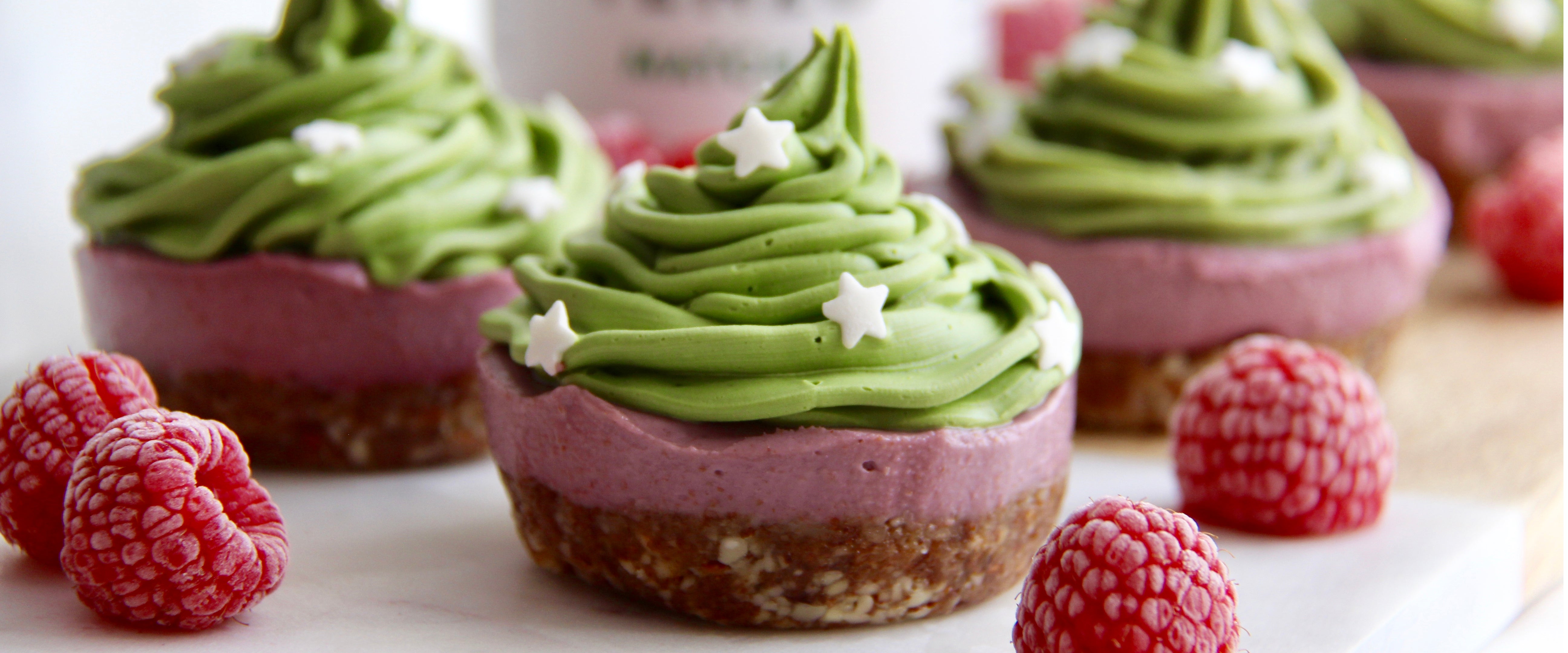 Mini Raw Vegan Matcha and Raspberry Cheesecakes
Have your cake and eat it too with these Mini Vegan Matcha and Raspberry Cheesecakes. They're the perfect way to indulge in a delicious dessert without binging on processed sugars and questionable ingredients. Whip up a healthy and delectable confection right in the comfort of your own home. And, the best part about these petite desserts? They're no-bake cheesecakes, which takes all the stress out of achieving the perfect rise and a crack-free surface. So, not only are these matcha masterpieces nutritious and delicious, but they're also insanely photogenic. Now, it's time to get baking because trust us, you're gonna want to treat yourself to these.  
Cook time: 1 hour 35 minutes
Yield: 8 Cheesecakes
Ingredients

Base:
1 cup of raw almonds
1 cup of pitted dates
3 tbsp of coconut oil
Raspberry layer
1 cup of soaked raw cashews
2 tbsp of coconut oil
2 tbsp of maple syrup
1 tsp of vanilla extract
2 tbsp of coconut cream
1 cup of frozen raspberries
Matcha topping
1 cup of soaked raw cashews
2 tbsp of coconut oil
2 tbsp of maple syrup
1 tsp of vanilla extract
2 tbsp of coconut cream
1 tbsp of matcha powder
Step 1: 

Mix all the base ingredients together in a food processor until it becomes sticky.
Step 2:

Press down in your muffin molds and place them in the freezer.
Pro tip: Cut strips of parchment paper to make it easier to pop the cheesecakes out of the mold. 
Step 3:
Drain and rinse your cashews. 
Step 4:
Mix the raspberry layer ingredients in your food processor, and spread on top of your base. Place them back in the freezer.
Step 5:

For the matcha layer, mix all the matcha topping ingredients together, and keep in the fridge for a couple of hours to thicken. Then use a piping bag ( or spoon for a simpler effect ) to add the matcha layer. Leave to set for 30 min in the freezer.
Step 6:
Garnish with raspberries and sprinkles & enjoy!
And, just like that, you've created individual mini matcha masterpieces. Snap a few pics and share your masterpiece with us by tagging us on Instagram @tenzotea 
Many special thanks to our guest blogger and recipe creator, Clair Power. Please visit her blog at The Healthy French Wife and follow her on Instagram @healthyfrenchwife
And, a very matcha thanks to Karine Ionesco who created, styled and photographed the recipe.
Please do follow her on Instagram @plantpoweredkarine
If you need to supplement your matcha stores to make these delectable little treats, replenish your supply here.