Mini No-Bake Matcha Cheesecakes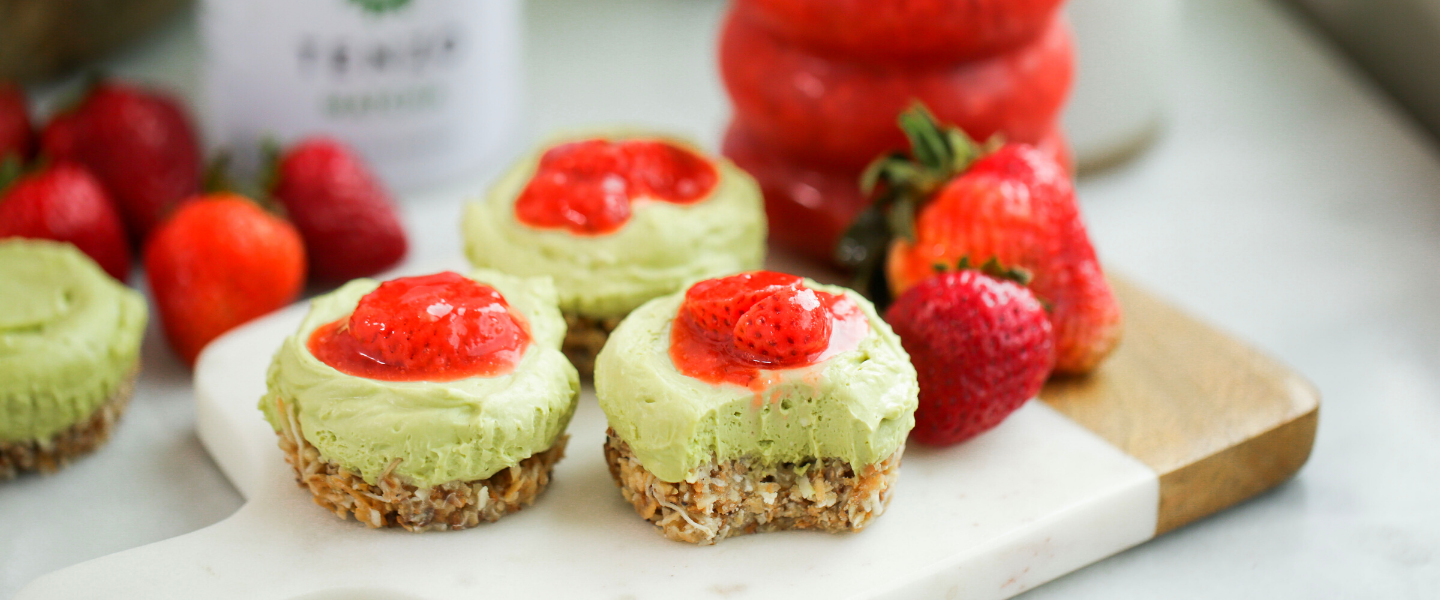 It's tiny. It's cute. It's the perfect bite. It's a Mini, No-Bake Matcha Cheesecake. And, it has all the rich decadence of a classic cheesecake with none of the complicated prep or baking. And, as per usual, we added our very own Tenzo twist, matcha. Rich cream cheese, zesty lemon, comforting brown sugar, and matcha come together in a perfectly balanced bite-sized delight. What's not to love about that? This no-bake cheesecake recipe is easy to make and even easier to enjoy. Don't believe us? Give it a try for yourself. 
Mini No-Bake Matcha Cheesecakes
Ingredients:
Crust:
1 cup toasted coconut shreds
3 tbsp brown sugar
¼ cup melted butter
Filling:
8 oz. cream cheese
½ cup powdered sugar
Juice from ½ lemon
1 teaspoon Tenzo matcha tea powder
½ cup heavy whipping cream
1 teaspoon vanilla powder
Instructions:
For the crust, combine all the ingredients in a bowl and mix until smooth- I like to use my hands, but you can also use a fork or other utensil. Line a muffin pan with paper liners and fill each muffin cavity with the crust mixture and pat down until it comes up ⅓ of the way up the sidewall of the muffin pan. For the filling, combine all ingredients together in a food processor and blend until completely smooth, then distribute filling evenly between muffin cups until the filling goes to the top of the muffin pan. Chill in the fridge or freezer until the cheesecakes are firm, then top with fresh strawberries or strawberry sauce. 
Any opportunity to whip up these tasty treats and we're taking advantage of it. Thank you once again to Kaylie, for another delicious matcha-inspired creation. And, don't let a lack of matcha stop you from indulging in these mini masterpieces. Grab some matcha now and you'll have everything you need to explore the healthy, delicious, and nutritious world that matcha has to offer, including these cheesecakes. And, as we start to get into the holiday season, keep an eye out for some celebratory matcha treats. But, in the meantime, you can explore some of our favorites from last year.