Mini Matcha Vegan Pumpkin Pie Cheesecakes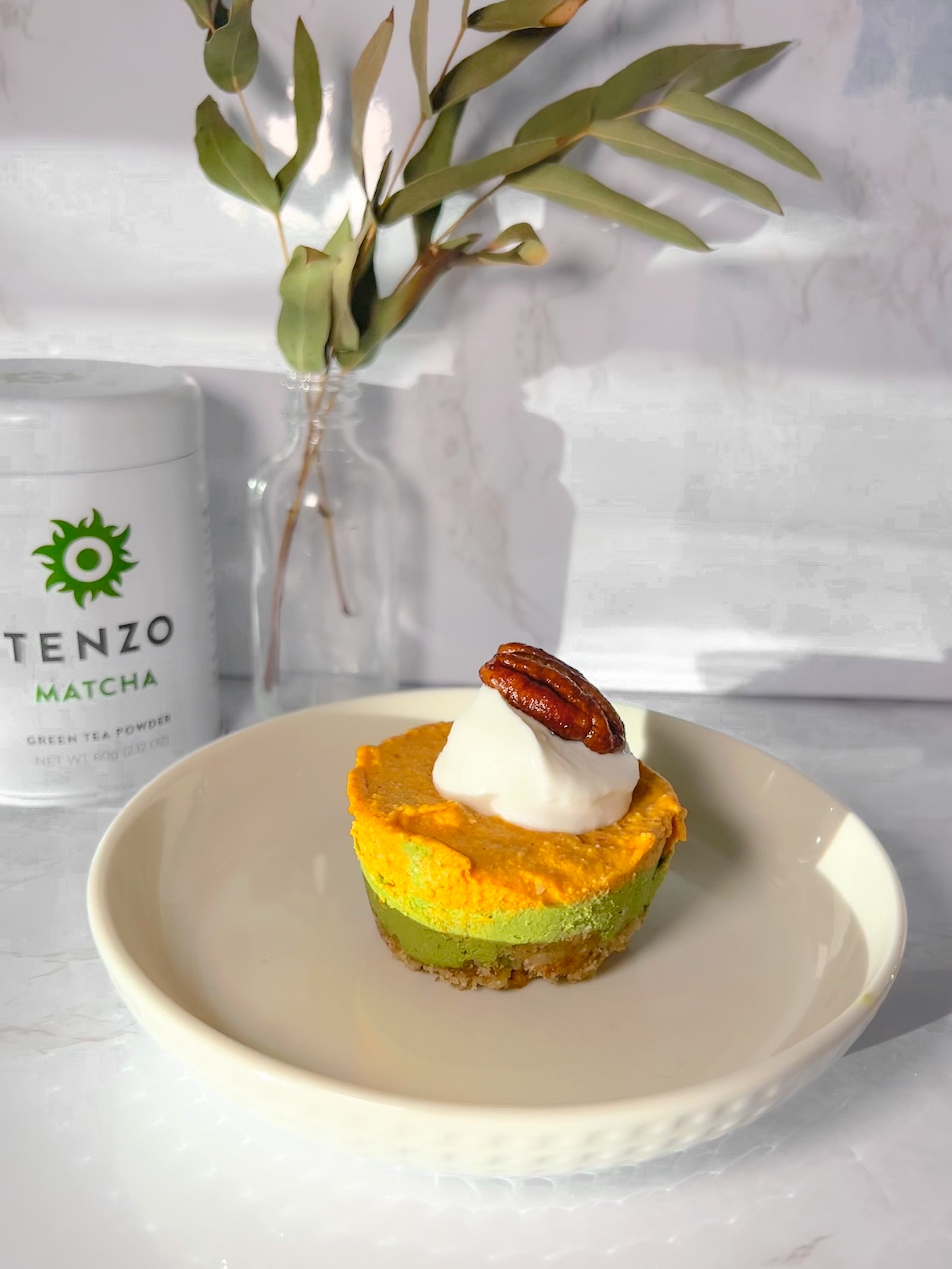 Mini Matcha Vegan Pumpkin Pie Cheesecakes
Posted on November 23, 2022 | by Lori Hanemann
Matcha pumpkin pie cheesecake is already an attention getter, but make them mini, oh and vegan and wow, this one will make you a superstar at the holiday table. Get these good-for-you ingredients, follow directions, and freeze. Flavor of the year awaits you. Bonus, it's so deliciously healthy. Make this one!
Servings: 12 
Time: 30 min + 1 Hour


Ingredients:

Crust
1 ½ C Raw Walnuts
2 T GF Flour
2 T Maple Syrup
1 t Vanilla
¼ t Cinnamon
Pinch Sea Salt
Cheesecake:
1 Can Coconut Cream (cold, solids only)
1 Cup Raw Cashews (soaked)
2 T Maple Syrup
1 T Arrowroot Powder
1 t Vanilla Paste
2 T Tenzo Matcha
Pint of Sea Salt
Pie:
½ Cheesecake filling
5 T Pumpkin Puree
1 T Maple Syrup
1 T Pumpkin Pie Spice
1 T Arrowroot Powder
Pinch of Sea Salt


Directions:
Add walnuts to blender and pulse to chop.
Add the remaining crust ingredients, blend until just combined.
Press crust into lined cupcake tin.
In a clean blender, add cashews, maple syrup, salt and vanilla extract.
Blend until smooth.
Add the cold coconut cream solids and blend until creamy.
Spoon ½ of the cheesecake mixture out into a separate bowl.
Add matcha to the blender, and blend again.
Pour matcha cheesecake mixture into the crust and place in the refrigerator while you make the pumpkin filling.
Add all pumpkin filling ingredients and the remaining ½ of cheesecake filling into the blender. Blend until smooth.
Spoon the pumpkin filling onto the cheesecake layer.
Place in the freezer to set for at least an hour
To serve, remove the cheesecake from the freezer and allow it to soften for approx 20 min before serving.
Thank you to Maddie for another wonderful and delicious matcha recipe. You can follow her on Instagram to see more of her recipes. And, take the chance to stock up on Tenzo now.