Matcha White Chocolate Popcorn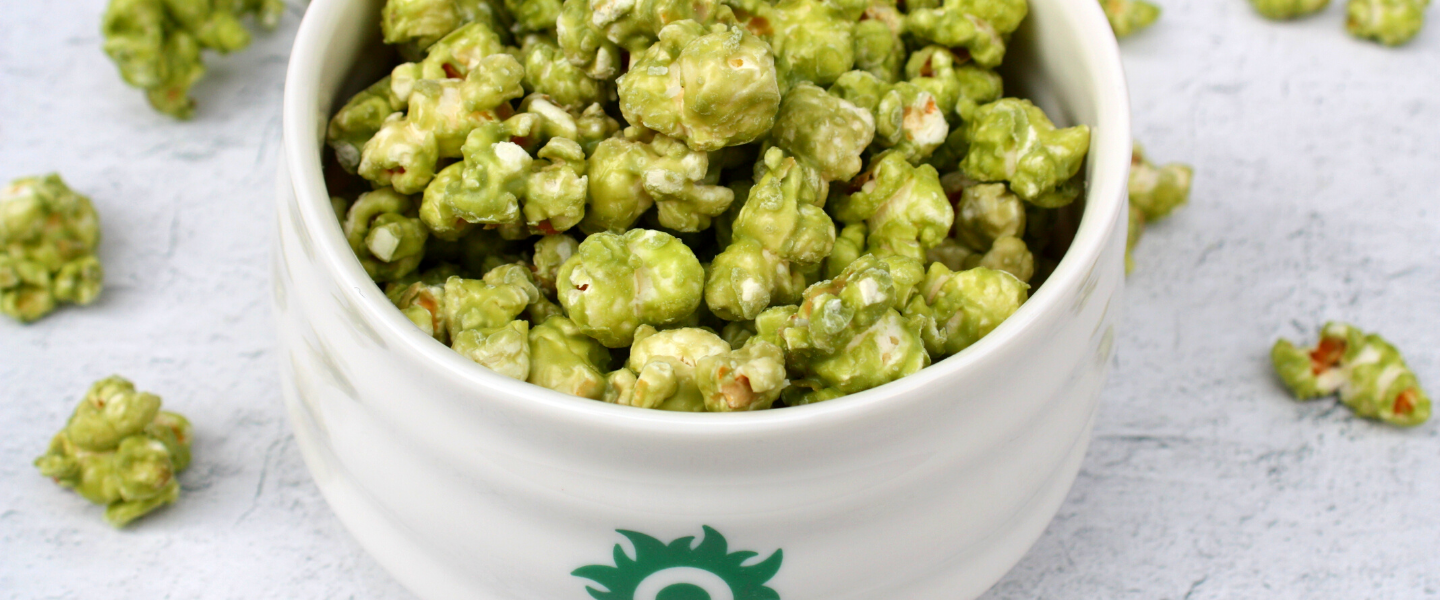 We may not be able to physically go into theaters yet, but that doesn't mean that we can't treat ourselves to a popcorn and movie night. While we're switching things up, why don't you try a new way to enjoy a beloved movie theater snack with Matcha White Chocolate Popcorn. It's decadent, it's delicious, and it's got your favorite clean, green caffeine machine, matcha. The pretzels are totally optional, but adding a crunchy little sprinkle of salt is the perfect way to complement the richness of the white chocolate. And, you don't just have to save this for movie night. You can whip up this sweet treat any afternoon, morning, or evening that your heart desires. We have a feeling that once you try this, your heart will be desiring some Matcha White Chocolate Popcorn quite often. 
Ingredients:
7 cups popped popcorn
1 tablespoon Tenzo matcha
12 oz. white chocolate chips
Salt
1 cup pretzels
Supplies:
Parchment paper
Large Baking Sheet
Microwave safe bowl
Large mixing bowl
Silicone spatula or large spoon
Directions:
Step 1:
Line a baking sheet with parchment paper and set aside.
Step 2:
Place 6 cups of popped popcorn in a large mixing bowl. Reserve 1 cup of popcorn.
Step 3
:
Melt white chocolate in the microwave in 30-second intervals, stirring between each one. The chocolate should be melted after 2 minutes.

Step 4:
Add 1 tablespoon of Tenzo matcha to the melted white chocolate. Stir until combined.
Step 5:
Pour the white chocolate over the popcorn.
Step 6
:
Using a spatula, carefully mix the chocolate into the popcorn until it has been evenly coated. If there is an excess amount of chocolate, gradually add in the remaining 1 cup of reserved popcorn.
Step 7
:

Spread popcorn on a baking sheet until it has been evenly laid out. Sprinkle salt over the popcorn.

Step 8:
Let the popcorn sit out on the counter (at room temperature) for 1-2 hours, or until the chocolate has hardened. Transfer cooled popcorn to a bowl for serving.

Step 9:
Optional: Add in 1 cup of pretzels to the popcorn.

Thank you to recipe creator and stylist, Amanda Boyd for giving us the perfect little matcha treat to go along with our movie nights or afternoon snacks. Mixing slightly sweet and earthy matcha with the rich sweetness of white chocolate is something we never even knew we needed. Before you get started with this recipe, head on over to your cupboard and make sure that you've got enough matcha. And, if you're running low, don't forget to restock so that you can make your favorite matcha treat, whenever you want to.