Matcha Marble Cheesecake Brownies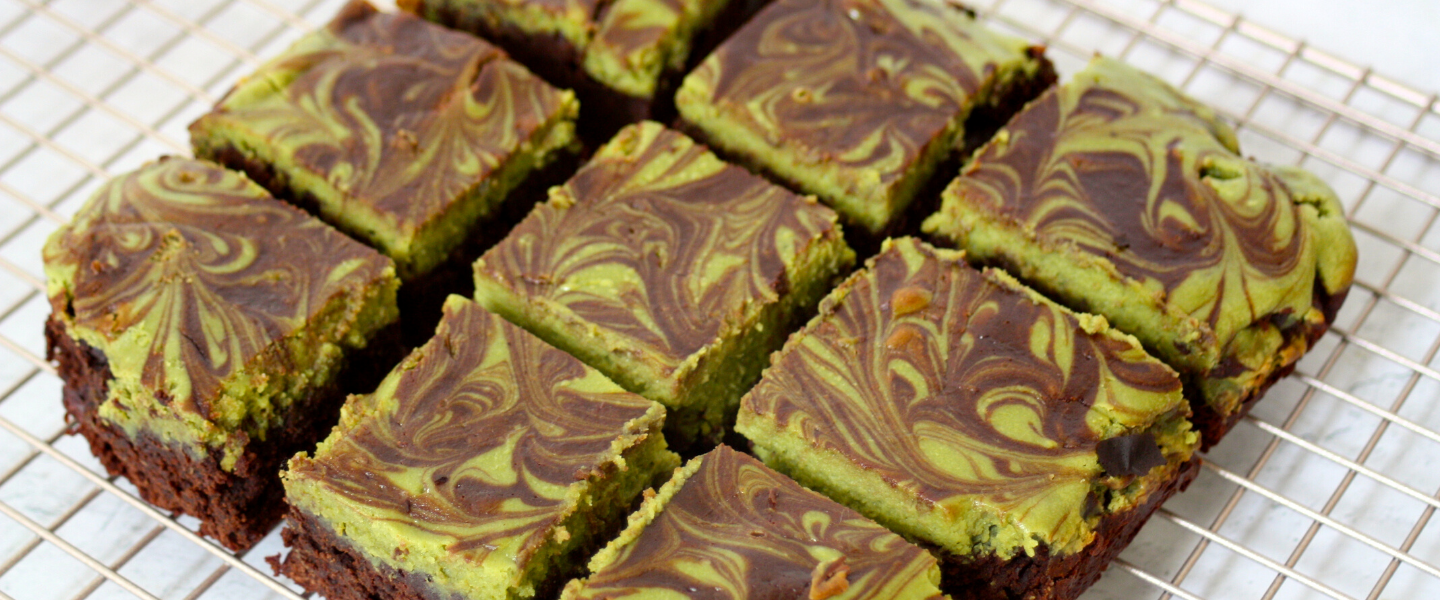 This is the recipe that you've been waiting for….
Here at Tenzo, we're all about fueling your body and brain with our favorite clean, green caffeine machine, matcha. With matcha, you can lead a healthy life with a clear, focused mind powered by the best energy source out there. But, a huge part of living a healthy lifestyle is balance. And, sometimes, balance means brownies. 
So we're here with Amanda Boyd bringing you some delicious, decadent, sugary sweet Matcha Marbled Brownies. Treat yourself with rich dark chocolate, fluffy cream cheese, and of course, amazing matcha. And, with a super cool (but easy) marbling technique, these brownies look just as good as they taste. Matcha Marble Cheesecake Brownies delight all the senses and are perfect for those days where you just need to indulge a little. Have them to finish off a tough work week or wake up with them and a cup of matcha Monday morning for a little early morning treat yourself. We promise, we won't tell anyone. It's time to bring out your inner baker and mix up your matcha into something completely new. 
Ingredients:
For The Brownies:
1 cup dark chocolate chips
1 tbsp coconut oil
½ cup flour
¼ cup cocoa powder
½ cup brown sugar
½ cup granulated sugar
1 tsp vanilla
½ cup pumpkin puree
2 eggs (room temperature)
¼ tsp salt
For the matcha cheesecake batter:
8oz cream cheese (room temperature)
¼ cup sugar
1 egg (room temperature)
½ tbsp Tenzo matcha 
Supplies:
8x8 baking sheet
Parchment paper
Bamboo skewer
Directions:
Step 1:
Prepare the brownie batter by first mixing together the dry ingredients: ½  cup flour, ½ cup granulated sugar, ½ cup brown sugar, ¼ cup cocoa powder and ¼ tsp salt.
Step 2:
Melt 1 cup dark chocolate chips in the microwave, in 30-second intervals. Stir each time until melted. 
Step 3:
Add in 1 tbsp coconut oil into the hot melted chocolate and stir until it has dissolved.
Step 4: 
Next, using a hand mixture, mix together the following ingredients in a separate bowl: 2 eggs, 1 tsp vanilla, and ½ cup pumpkin puree.  
Step 5:
Slowly add in the melted chocolate mixture and beat until everything is mixed through.
Step 6: 
Add the wet ingredients to the dry ingredients and mix well. Reserve about ¼ cup brownie mixture in a separate bowl.  
Step 6: 
Prepare the cheesecake batter. Using a hand mixture, beat 8oz cream cheese, ¼ cup sugar, and 1 egg until a creamy mixture has formed. 
Step 7: 
Add in ½ tbsp. Tenzo matcha, and beat well until no matcha clumps remain.
Step 8: 
Pour the brownie mixture in a 8x8-baking pan lined with parchment paper. Spread evenly.
Step 9: 
Next, pour the cheesecake mixture over the brownie mixture so a thin layer forms. **Note, you will have a little bit of cheesecake batter left over, only spread one layer over the batter**
Step 10: 
Add a small amount (about ½ tbsp) of hot water to the reserved ¼ cup of brownie batter. Mix together until the batter has become thin and spreadable. 
Step 11:
Using a spoon, pour dollops of the brownie mixture over the cheesecake layer, about 6-8 dollops. 
Step 12:
To create the marble effect, using the tip of a bamboo skewer, swirl together the brownie mixture into the cheesecake layer. 
Step 13:
Bake at 350 for about 30 minutes. Let cool completely before cutting. 
This may be our most involved recipe yet, but we can assure you, the payoff is worth it. Just look at those pictures. And, how could it not be? Chocolate… Cream cheese… matcha… those are the ingredients to success. Head over to Amanda Boyd's Instagram for more delicious recipes and cool creations, or just to thank her for bringing these delicious matcha brownies to your life. While you're at it, don't forget to stock up on matcha. It's a key ingredient and these brownies (and your daily routine) would definitely be worse off without it.