Matcha Latte with Coconut Ube Whipped Cream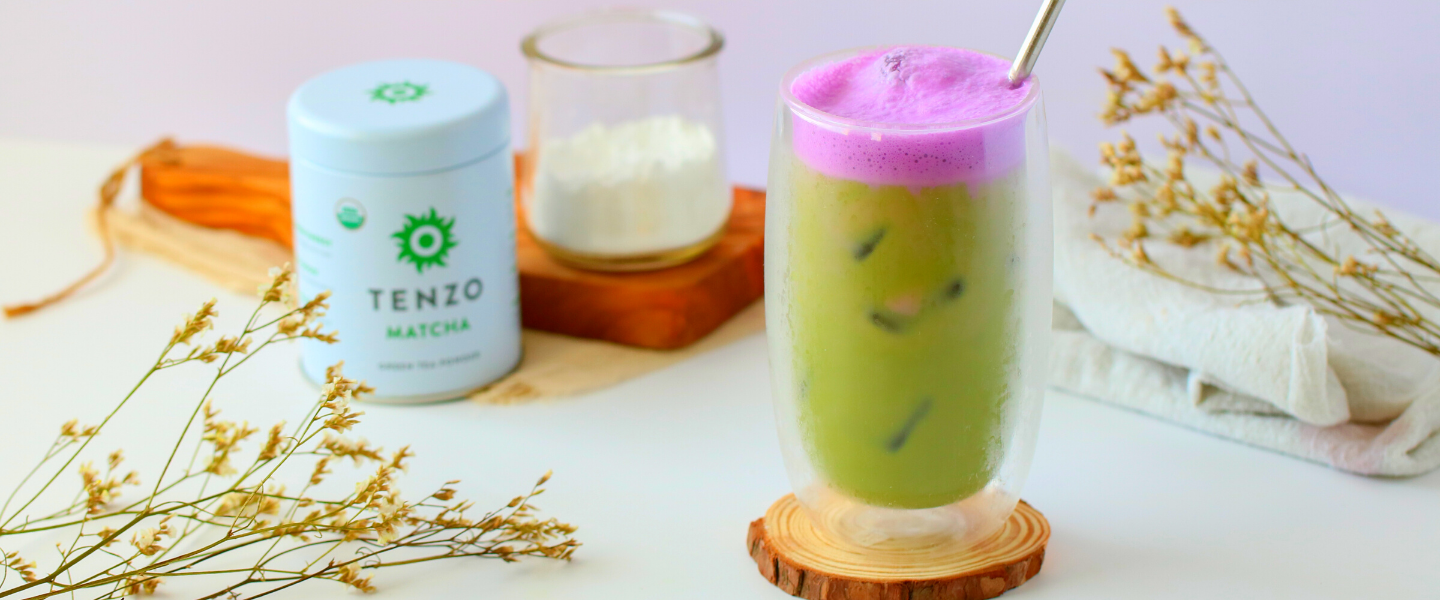 On an average day, you'll find us drinking our favorite green tea. But today, you'll find us mixing in a little something extra… we'll give you a hint: it's purple, slightly sweet, with a delicious coconutty, vanilla flavor. If you guessed ube, you would be right. This week we're enjoying our matcha with a little extra color from Mother Nature. The classic matcha latte base is the perfect companion for the sweet and vibrant ube whipped cream. And, not only is she beautiful and delicious, she's versatile. You can make the whipped cream the old-fashioned way with an electric mixer, or let a whipped cream dispenser do all the work while you sit back and prepare to enjoy your latte. Add some more color to caffeine kick with a matcha latte with ube whipped cream. 
Ingredients:
8 ounces chilled full fat coconut milk 
2 tablespoons powdered sugar
¼  teaspoon ube extract
½ teaspoon Tenzo matcha
8 ounces milk of choice
Ice
Directions:
There are several ways that this can be made depending on your equipment. A whipped cream dispenser is the quickest and easiest way. Simply mix and add the ingredients to the whipped cream dispenser, charge with nitrous oxide and enjoy.
The second method is using a stand or hand mixer. Chill a full 14-ounce can of coconut cream in the refrigerator for at least 4 hours for the fat to separate. Be sure not to shake the can. Once the coconut cream is chilled and separated, scoop out the thick layer and add to a chilled bowl. The remaining coconut water can be used for smoothies or other matcha drinks. Finally, add the powdered sugar and ube extract. Whip on medium until everything comes together and is creamy. Do not over mix! Set in the refrigerator for another 30 minutes for the mixture to thicken up even more.
The final method is simply folding in a few drops of ube extract to store bought whipped cream.
Assembling the drink: Whisk 1/2 teaspoon of Tenzo matcha powder with 2 ounces of hot water and sweetener of choice. Then, to a serving glass with ice, pour the 8 ounces milk of choice, the matcha shot, mix and top with coconut ube whipped cream.
Simple yet stunning, a matcha latte with coconut ube whipped cream is refreshing and delicious. And, you can easily make it vegan by using plant milk in the latte. Thank you to Amanda for adding a little violet vibrance to our daily matcha drinks. You can find more creations from her on her Instagram here. Don't forget to scoop up some more matcha so that you can indulge in a healthy caffeine source every day.