Matcha Ginger Lemonade Snow Cone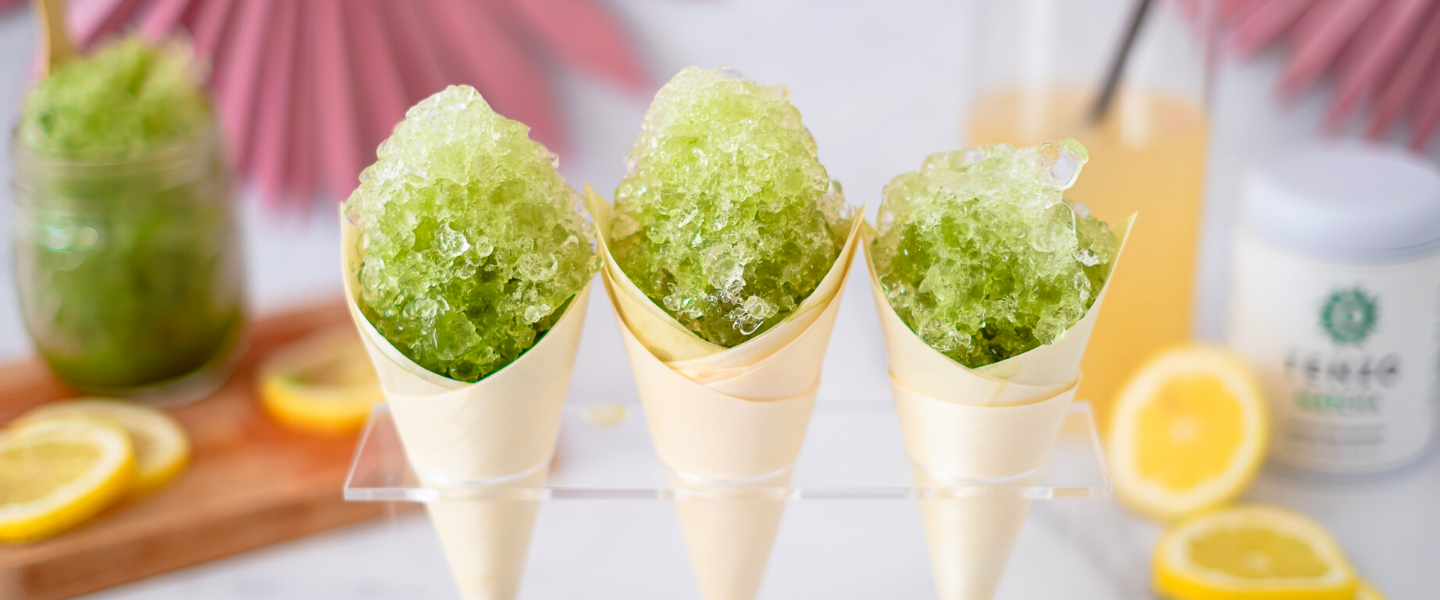 Wow. Wow. Wow. We're usually a little more eloquent than this, but this stunning creation has left us speechless. It brings up fond memories of chasing the ice cream truck down, finally getting up the window, and then desperately trying to consume the rainbow snowcone before its delicious juices seeped through the paper packaging. And, what a wonderful experience that was. This matcha ginger lemonade snow cone is just the grown-up version of the drippy mess we were enjoying many, many summers ago. With the elevated flavors of sharp ginger, sour lemon, and sweet apricots, this is an entirely new way to experience matcha. Possibly the best summer recipe ever to be associated with matcha, this is fun for the whole family. 
 2-3 servings
7 ounces of ginger beer - about 1 bottle
2 tbsp of apricot preserve
3 tbsp of lemon juice (3 ounces of lemon juice - about 2 lemons)
1 cup of carbonated water (non-carbonated water will work, too)
2 scoops of matcha
Step1:
Squeeze lemon juice into a cup, add apricot jam, ginger beer, and carbonated water. Mix well. 

Set aside 3 ounces of this mix for later use.
Pour the rest into an ice cube tray. Leave in the freezer until frozen. Once they're ready, blend the frozen lemonade mix until it has almost a finely crushed ice.
 Brew matcha with the 3 ounces of lemonade mix.
 Pour or scoop the frozen ginger lemonade into a cup or snow cone holder. Top with brewed
matcha.
 Enjoy!
If you don't have a snow cone holder or are simply looking for a fancier experience, you can drink the lemonade mixture right away.  Add ice in a glass, pour in the ginger lemonade, add brewed matcha and top it off with the desired amount of carbonated water. Drink from a margarita glass for enhanced tropical feels. Regardless of how you consume this matcha ginger lemonade snow cone, you're definitely going to enjoy it. It's the perfect combination of nostalgia and grown-up. Use it to cool down poolside or as a work from home reward. There's no wrong way to eat a snow cone, and there's no wrong way to eat this. 
Stock up on matcha here. 
And, don't forget to think recipe creator and stylist Chhavy Sinuoun @floristabythebar, for bringing this special treat into our lives.