Matcha Energy Bomb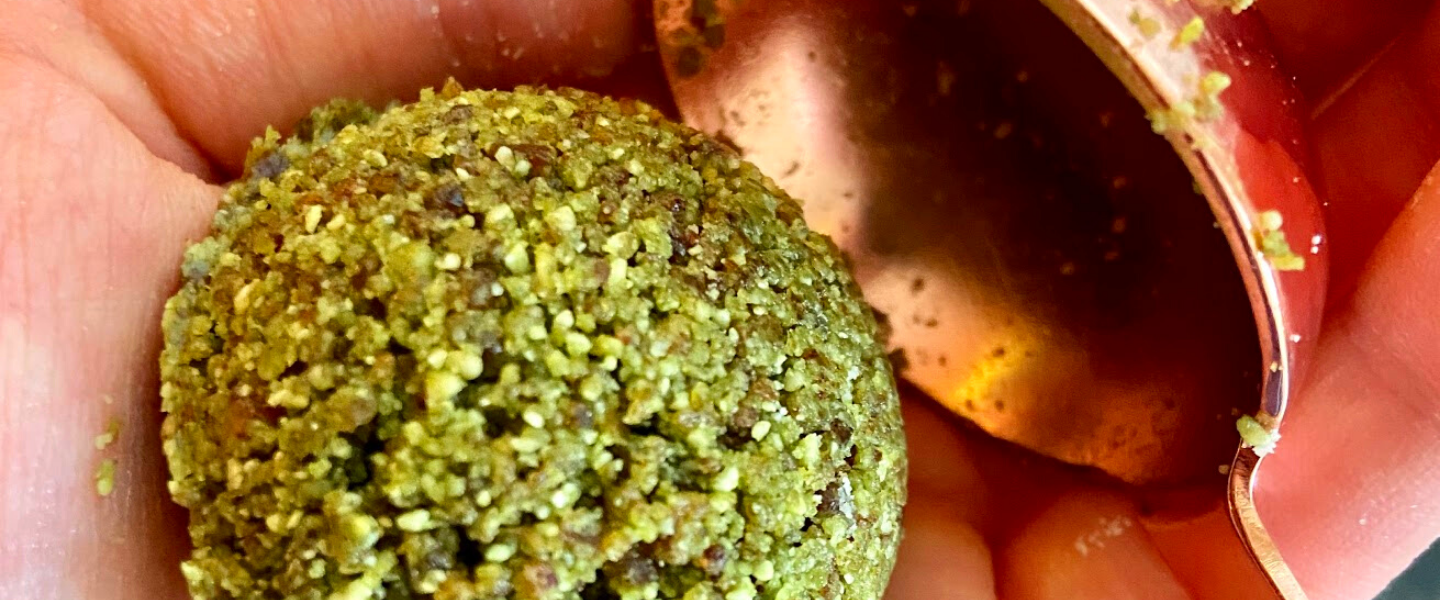 Packed to the brim with energy-pumping matcha, these matcha energy bombs are just the thing to carry you through the day. Perfect as a quick snack as you run out the door in the morning or for an afternoon pick-me-up, they're fast and easy to make. And, the best part is, these little energy balls are no-bake. So the only thing you'll need to wrap this recipe up is a food processor ( and in a pinch, even a blender will get the job done ). So roll up those sleeves and get going. You're not going to want to miss out on these invigorating little treats. 
Ingredients:
2 Tbsp pumpkin seeds (sub almonds or almond meal/flour)
8-9 pitted dates, whole or chopped depending on your trust in your food processor.
1 Tbsp coconut flour
1 tsp Tenzo Matcha Powder
¼ tsp cinnamon
1 scoop collagen peptides (I like Vital Proteins) optional but adds protein and helps it all stick together.
1 Tbsp coconut oil
¼ tsp almond extract (optional, but amazing for flavor)
1 Tbsp honey
¼ cup unsweetened shredded coconut for coating

Makes about 8-10 energy balls  |  Make time: 20 minutes
Step 1:
Line a round cake pan, baking dish, or plate with parchment paper and set aside. 
Step 2:
Pulse the pumpkin seeds (or almonds) in a food processor until almost flour-like.
Step 3:
 Add the dates and pulse to blend into a "dough"
Step 4:
Add the remaining ingredients and pulse to combine, scraping the sides down with a spatula occasionally.
Step 5:
Use Tbsp to scoop out dough into your palm and roll into a ball. It helps if there's a little coconut oil on your hands.
Step 6:
Cover balls with shredded coconut, set on a parchment-lined tray, and put the tray in the fridge for 5-10 minutes before eating.
Step 7:
Store in the fridge for up to 7 days.
Start your day with a big BOOM, with these matcha energy bombs. And, thanks to the super simple preparation and easy storage, you'll be on the go in no time. Grab a few before an intense workout, bring them on a hike, or simply use them to help you get through that afternoon slump. Quick and delicious, they're the perfect snack for anyone on the go. 
Running out of matcha? Re-up your matcha stores with Tenzo's finest HERE
Pro tips: 
If the "dough" is too sticky for your liking, add an extra Tbsp of coconut flour and blend again in the food processor before rolling into a ball and coating with coconut shreds. 
Put the coconut shreds in a plastic ziplock bag and put the energy balls in the bag to coat with the shreds. 
Follow @tay_it_forward on IG for all things holistic health, fitness, and physical therapy!