Matcha Cream Puffs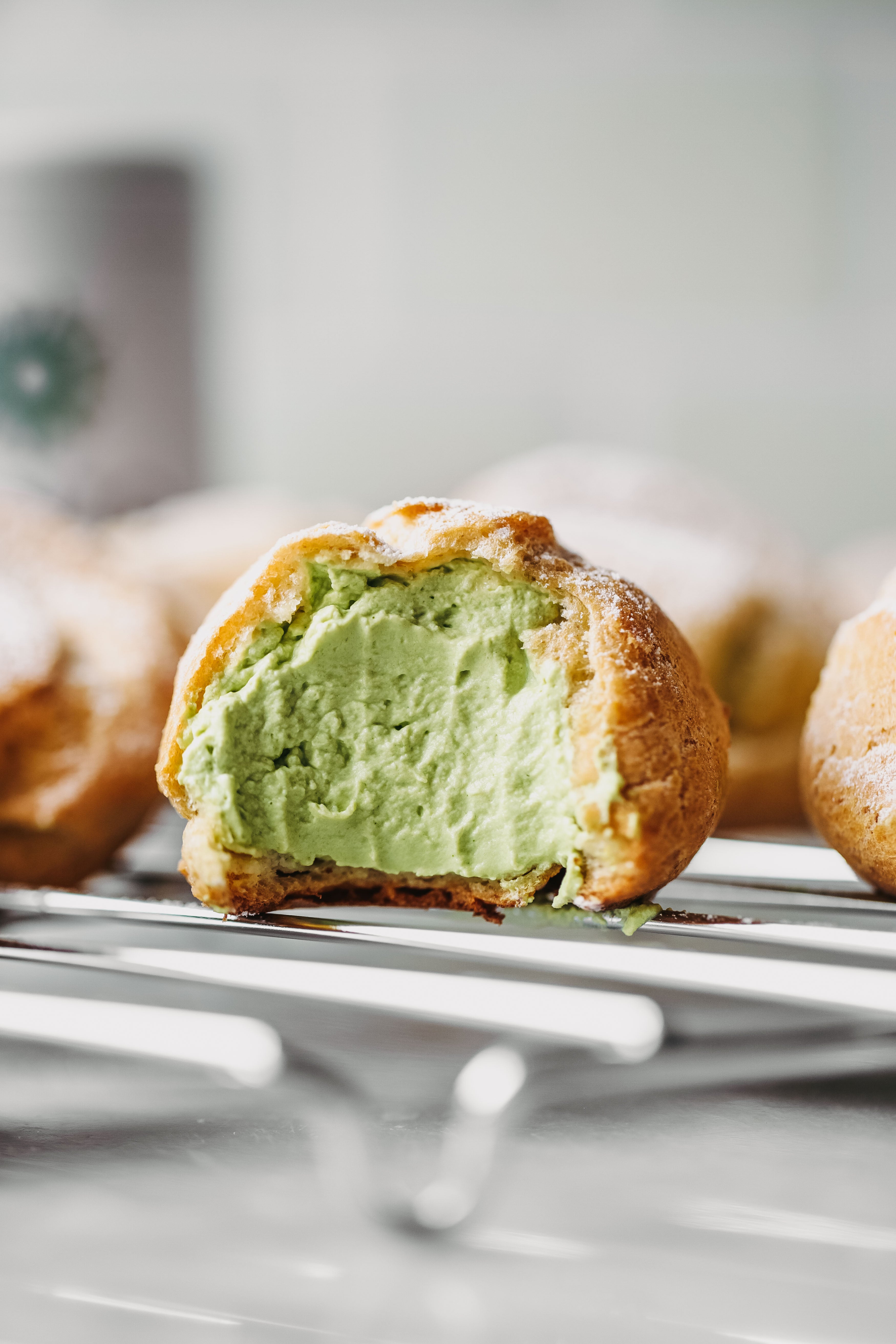 Matcha Cream Puffs
Posted on December 27, 2022 | by Lori Hanemann
Matcha cream puffs are a delicious and elegant dessert that can be served at any special occasion. They are incredibly simple to make but have a complex flavor that is sure to leave a lasting impression on your guests. The matcha cream puff dough is made from a choux pastry dough and filled with a light, airy matcha cream. The flavors and textures of the creamy matcha center and the crisp, golden-brown pastry exterior come together to create a delightful treat. The light green matcha cream puffs are also visually stunning, adding a touch of sophistication to any dessert display.
Matcha Cream Puffs
Ingredients:
Cream puffs
1/2 cup oat milk

1/2 cup water

1/2 cup salted butter

1 tsp golden monk fruit sweetener

1/4 tsp salt

1 cup flour

4 eggs
Filling
2 cups organic heavy cream

1 tbsp Tenzo matcha powder

1 1/2 tsp vanilla powder

1/4 cup powdered monk fruit sweetener
Instructions:
Preheat the oven to 425F and line a baking tray with parchment paper or a a silicone mat. 

Combine 1/2 cup water, 1/2 cup oat milk (or whole milk), 1 tsp monk fruit sweetener, 1/4 tsp salt in a saucepan. 

Bring to a boil over medium heat then remove from heat and stir in 1 cup flour all at once with a wooden spoon. 

Place back over medium heat, stirring constantly for about 2 minutes to slightly cook the flour until it comes together in a smooth ball. 

Take the pan off the heat and use an electric mixer to continue whisking for 1 minute to cool the dough slightly. 

Add eggs, 1 at a time- whisking completely before adding next egg, then beat about one more minute until dough is smooth and transfer dough to a zip lock bag and cut the tip off the bag. 

Pipe 24 puffs in about 1/2" tall circles. It took me 2 baking sheets. I wet my finger with cold water and smoothed the tops off before baking. 

Bake at 425˚F for 10 minutes, then reduce temp to 325˚F and bake 15-20ish minutes or until golden brown on top. 

Transfer to wire rack to cool completely before filling- I like to poke the puffs with a straw on the sides to allow steam to escape to help the puffs hold their form as they cool. For the filling, add cream to a bowl and whisk together with matcha tea powder until it forms a thick liquid, then add powdered monk fruit and vanilla powder and continue whisking until thick peaks form. 

Fill a pastry bag or large zip lock bag with filling and pipe filling into the sides of the puffs (where they were poked with the straw) until cream has filled the puff (there should be resistance in piping once it's full). 

Repeat until all puffs are filled and serve or store in the fridge/freezer in an airtight container.
Thank you to Kaylie for another wonderful and delicious matcha creation. You can follow her on Instagram to see more of her recipes. Remember to stock up on Tenzo for all our delicious matcha recipes.