Matcha Cream Cake Roll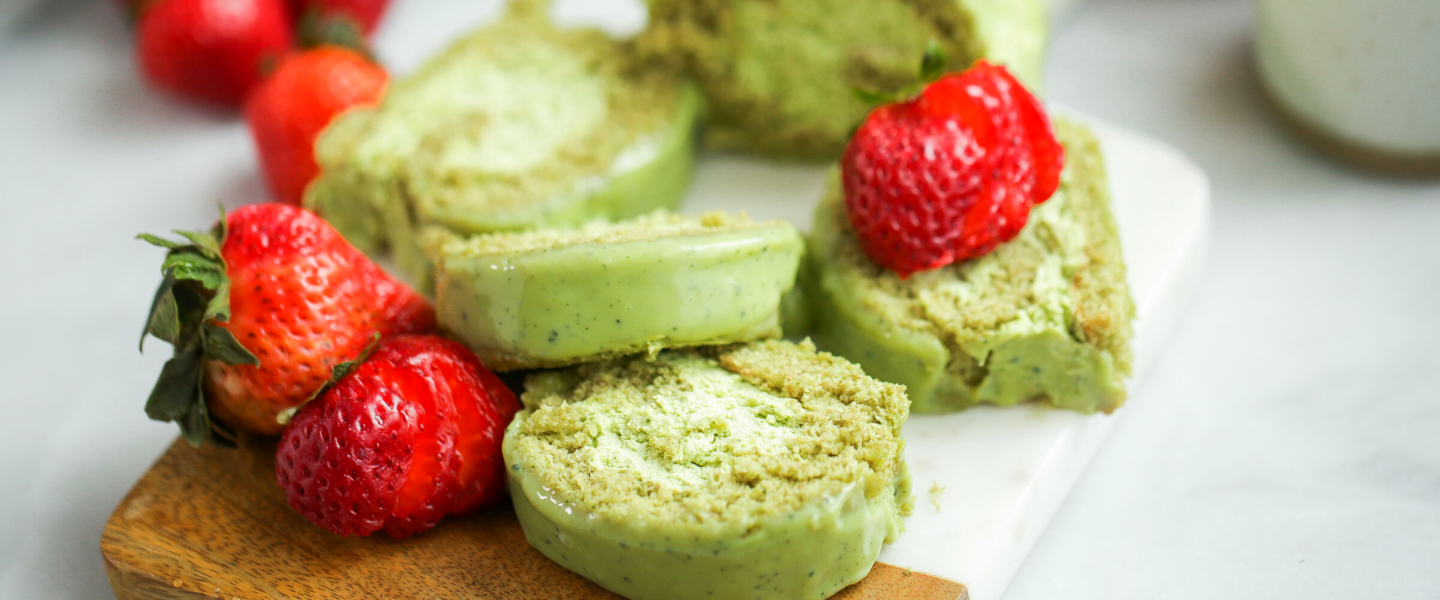 What's green with a signature swirl and rich delicious taste? Why that would be a Matcha Cream Roll Cake, of course. With a whimsical, matcha-fueled swirl and a delicious white chocolate and matcha topping, there's plenty to love about this cake. And, it's surprisingly easy to make. Rolling a cake into the perfect twist can be intimidating, but follow along with the video and you'll have a beautiful cake that tastes even better than it looks. It's perfect for everything from holiday parties to a cozy weekend away. Enjoy the magic of matcha, with a sweet twist. Just, mix, bake, and roll your way to a delicious dessert. 
Matcha Cream Cake Roll
Ingredients:
Cake:
2 egg whites
3 tbsp sugar
1 teaspoon Tenzo matcha tea powder
2 egg yolks
3 tbsp sugar
1 teaspoon vanilla powder
¼ cup flour
¼ teaspoon sea salt
½ teaspoon baking powder
Filing
:
½ cup whipping cream
2 tablespoons powdered sugar
½ teaspoon vanilla extract
½ teaspoon Tenzo matcha tea powder
Topping:
¼ cup heavy cream
¼ cup white chocolate chips
½ teaspoon Tenzo matcha tea powder
Instructions: 
Preheat the oven to 350F. Line a 9" by 13" cookie tray with parchment paper. For the cake, beat the egg whites, sugar, and matcha powder together with an electric whisk until they form stiff peaks, then set aside. 
In a separate bowl, add egg yolks and remaining cake ingredients. Slowly pour ingredients in the second bowl with egg yolks into the bowl with egg whites while combining by folding ingredients together until the two are combined- do this gently and do not overmix, otherwise the egg whites will fall. 
Once cake batter is prepared, pour the batter onto the parchment covered baking tray and spread out evenly with a spatula until it is about ½"- 3/4 " high. 
Bake cake on 350F for 10 minutes or until the top of the cake gently springs back when touched with your finger. 
Once the cake is baked, quickly transfer the cake to a tea towel dusted with powdered sugar. Then roll the cake with the towel starting at the wide end. Chill in the refrigerator. 
While the cake is cooling, prepare the filling. Whip ½ cup whipping cream, powdered sugar, vanilla extract, and matcha powder with an electric whisk until stiff peaks form. 
Then prepare the topping by heating heavy cream in a double boiler, then place white chocolate chips in a small glass bowl, then pour heated heavy cream over them and stir until they melt and combine together. 
Stir in matcha powder and set aside for later. Once the cake has reached room temperature, take it out of the fridge and gently unroll it from the tea towel then spread an even coat of filling over the cake with a spatula.
 Roll the cake back up and place on your serving dish. Drizzle the white chocolate topping over the top and serve with berries and as is. 
The holiday season is ramping up, and we're ready to celebrate here at Tenzo. Keep your eye out for some of our favorite holiday recipes, old and new. And, make sure that you're fully stocked on matcha, so you can whip up whatever treat your heart desires. And, for the gift that keeps on giving, try our matcha subscription service. It's ceremonial grade matcha delivered to your door, wherever you are.