Matcha Chocolate Covered Strawberries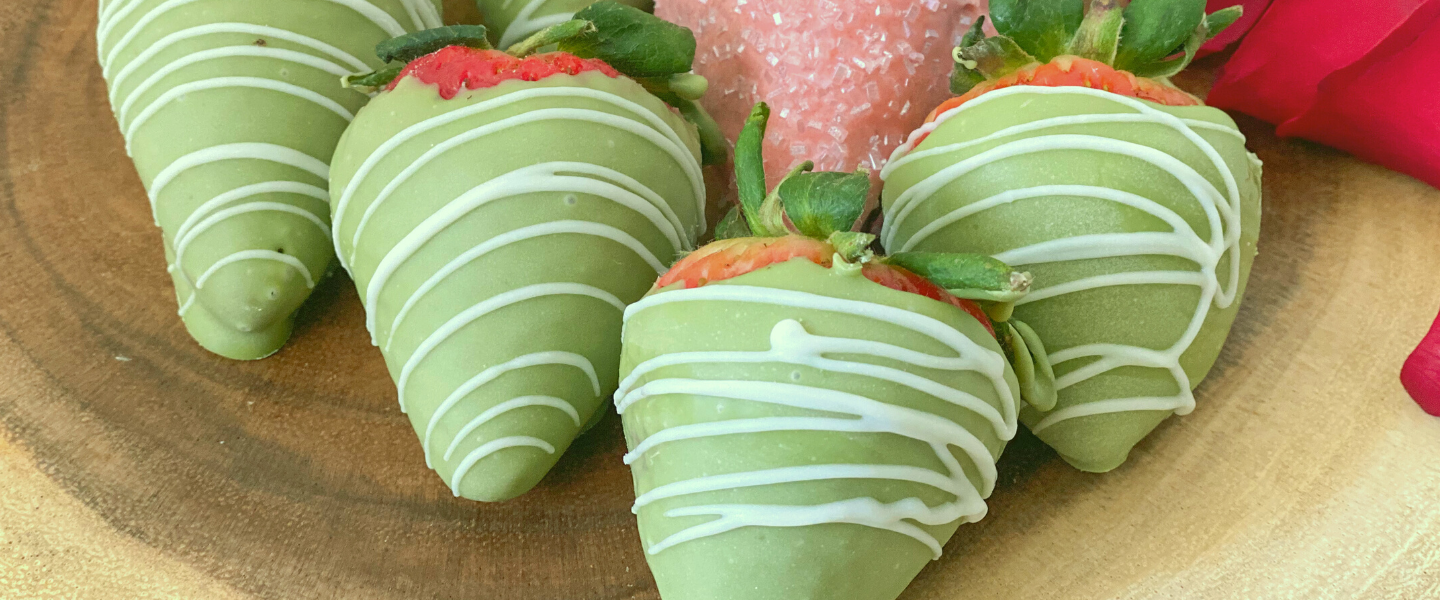 There's something effortlessly elegant and decadent about chocolate-covered strawberries. And whether you're enjoying them as a Valentine's Day treat or simply an afternoon snack, they're a great way to treat yourself. As per usual, we've been inspired to put our own Tenzo twist on chocolate-covered strawberries, and who better to enlist in this endeavor than Amanda Boyd? With matcha in mind, she completely revamped chocolate covered strawberries into bright and colorful edible masterpieces, giving us Matcha Chocolate Covered Strawberries. Just as rich and decadent as their predecessor, matcha chocolate covered strawberries add a punch of vibrance with the addition of matcha. White chocolate lets the rich green tones of matcha shine and adds an extra layer of decadence. It's an easy recipe that requires minimal ingredients with a huge payoff, which makes it a top choice in our books.
Ingredients:
-1/2 tbsp. Tenzo matcha
-1/2 tbsp. coconut oil (optional) 
-12oz bag of white chocolate chips
-Bamboo Skewers
-Strawberries
-Baking Sheet
-Parchment Paper 
Directions:
Step 1:
Line a baking sheet with parchment paper.
Step 2:
Melt ½ the bag of the white chocolate chips in the microwave for 45 seconds. Stir. Add in the remaining chocolate chips and melt again for 45 seconds. Stir again until a smooth consistency has formed. If chocolate becomes to thick or hard, add in ½ tbsp. coconut oil to the mixture to thin out the chocolate.
Step 3:
Add in ½ tbsp. Tenzo matcha to the melted white chocolate. Stir until no clumps remain.
Step 4:
Starting at the stem of the strawberries, insert the bamboo skewers all the way in to the strawberries, but make sure it does not pop out at the end of the strawberry tip.
Step 5:
One at a time, dip the strawberries in the melted chocolate.
Step 6:
Place the strawberries on the prepared baking sheet. After about 5 minutes, the strawberries should harden and will be ready to eat! If you aren't enjoying right away, store in the fridge.
Decorating Pro Tips:
For sprinkles, immediately sprinkle over each strawberry once dipped.
For white lines: Once strawberries are cooled, place ¼ cup of white chocolate in a zip lock bag. Make a small slanted cut at the tip of the bag. Drizzle over each strawberry.
We have a feeling that regardless of whether you decided to take the time and add extra decorations or dove right in as soon as you could, these matcha chocolate strawberries hit the spot. They're delectable and delicious with the perfect amount of fruity sweetness and rich chocolatey creaminess. But before you get too excited, make sure to check out your matcha stock, and reorder some if you're low. Make these for Valentine's Day, Galentine's Day, or any other day where you need a bright and cheery pick-me-up. Matcha chocolate-covered strawberries are delicious every day.