Matcha Chocolate Coconut Cups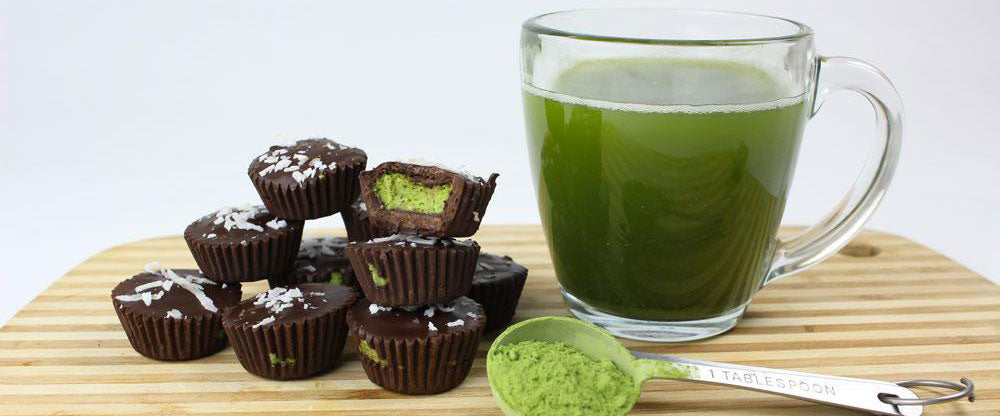 Curl Up With Some Matcha Chocolate Cups
Matcha Chocolate Coconut Cup Recipe
Matcha Chocolate Coconut Cups resemble those peanut butter cups that we are all used to seeing around October. The traditional cups are pretty good, but these are their grown up, elegant cousin. Rich, creamy, earthy, and sweet, they satisfy the cravings one often feels at the start of fall. Facing the oncoming cold we seek soft sweaters, hot drinks, and other small touches of comfort. These matcha chocolate coconut cups will make you want to curl up with a mug of steaming matcha and take some time for yourself to get lost in the layers of rich chocolate and coconut.  
 Matcha Chocolate Coconut Cup Ingredients:
10 ounces dark chocolate, chopped

1 bag coconut flakes

2-3 tablespoons coconut milk

1 tablespoon matcha green tea powder

1 tablespoon agave (or honey)

A pinch of kosher salt

Flaky sea salt, for topping
Directions for Matcha Chocolate Coconut Cups
Line a mini cupcake tray with mini parchment cups.

Melt dark chocolate in a double boiler over medium heat, stirring often. If you don't have a double boiler, you can use the microwave. Place the chocolate in a microwave safe bowl and microwave on high for intervals of 15 seconds. Stir after each interval and be CAREFUL. It is very easy to burn chocolate in the microwave if you let it cook for more than 20 seconds at a time.

Spoon a SMALL amount of the melted chocolate into the bottom of each parchment cup. Don't get heavy-handed here, you want just enough to coat the bottom of each cup. Add too much, and you won't have room for the filling.

Place in the freezer to set, about 5 - 10 minutes.

Set aside a small handful (about 2 tablespoons) of coconut flakes for decoration. Pour the rest of the bag of coconut flakes into a food processor along with 1-2 tablespoons of coconut milk. Turn the food processor on high and mix for at least 10 minutes, scraping down the sides often until it starts to make a thick paste. If needed, add the last tablespoon of coconut milk to help blend. Look for a creamy, yet grainy texture, just shy of the texture of peanut butter.

Combine the blended coconut, matcha green tea powder, agave, and kosher salt together in a bowl to form the filling.

Scoop out 1 teaspoon of the filling and form it into a thick small disc. Place one disc in each cup and cover with the remaining melted dark chocolate.

Place in freezer to cool for 2 minutes. Then top with sea salt and the remaining coconut flakes.

Enjoy!
Antioxidants
While you are indulging, you can ponder how you might actually be improving your health. Dark chocolate and matcha green tea are both powerful sources of antioxidants. In fact, matcha green tea has the highest antioxidant rating* of all superfoods, measuring 1573 units per gram on the ORAC scale. Matcha green tea is packed with catechins, specifically "epigallocatechin gallate" or EGCg*. EGCg protects cells from damage by collecting and disposing of free radicals in the body. It can also help to fight off viruses and bacteria and prevent cancer, keeping you healthy and happy. EGCg as well as the other antioxidants, vitamins, and chlorophyll in matcha make it one of the healthiest substances on the planet. 
Dark chocolate is loaded with flavanols and polyphenols (as well as catechins). So not only does it taste delicious, but it has antioxidant benefits for your health as well. Consuming dark chocolate has been associated with improved vascular health*. This is because the polyphenols in dark chocolate can help reduce oxidative stress and help the body form more nitric oxide, which is a compound that causes blood vessels to dilate. Thus dark chocolate can help to promote healthy blood flow. Furthermore, dark chocolate has been found to help decrease bad cholesterol (LDL) and increase good cholesterol (HDL) in the body*, making it one of the few desserts that actually helps you manage your cholesterol. 
Not all chocolate is created equal.
Unfortunately, you can't get these benefits from your average Hershey's bar. Milk chocolate does not contain nearly the same amount of antioxidants and white chocolate contains no antioxidants. If you want antioxidant benefits, seek out real dark chocolate with at least 70% cacao or higher. The darker the chocolate, the more cacao, the more antioxidants.
A Perfect Match(a)
Not only do dark chocolate and matcha green tea pair deliciously with each other, but consuming them together gives you the benefit of a full range of antioxidants. These antioxidants work hard to detoxify the body and protect it from the harmful free radicals that we encounter in our everyday lives. So whether you are looking for a treat that keeps your overall health in mind, or just want to indulge a dessert that is truly delicious, Tenzo Tea's Matcha Chocolate Coconut Cups can satisfy all your cravings. (And give you a totally legitimate reason to eat chocolate! ) 
With love,
Dominique and the Tenzo Team
You don't deserve to be hungry. Beat lunchtime fatigue with Tenzo Tea's organic matcha powder!