Halloween Matcha Oreo Cheesecake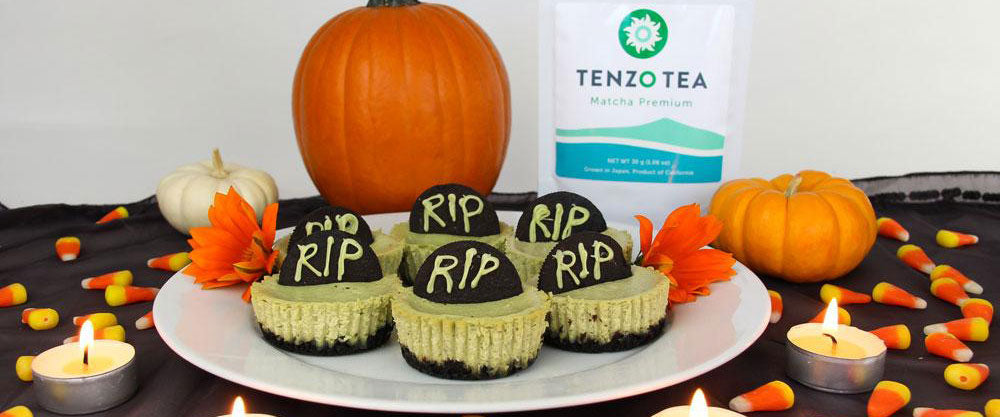 Halloween Matcha Cheesecake
It's that time of year again. Ghosts and ghouls come out to play. Pumpkins pop up everywhere, their menacing grins glowing. Its almost Halloween, and this year Tenzo Tea is going all in, giving you a few recipes that will add a little spooky spirit to your October celebrations. The first of which is this Matcha Oreo Cheesecake Graveyard. Decadent and festive this recipe is perfect for your next Halloween party and the leftovers (if there are any) can help you celebrate Dia de Los Muertos as well. So get ready to dawn your funeral garb and get cooking, because death never tasted this good. 
Ingredients
Crust

1 cup crushed Oreo cookies 4.8 oz or 135 g

2 tbsp butter unsalted, melted

  Cheesecake

2 8oz packages of cream cheese at room temperature

1/2 cup maple syrup

2 eggs at room temperature

1 tbsp Tenzo Tea organic matcha powder

1 tsp vanilla extract

Juice of ¼ a lemon

Gravestone

6 Oreos

4oz White chocolate

1 tsp Tenzo Tea organic matcha powder 

Piping bag or Ziploc
Directions
Crust
Preheat your oven to 350 degrees Fahrenheit.

Line a Muffin tray with parchment cups (or use a mini cheesecake pan) and spray them with non-stick cooking spray.  

Mix butter and crushed Oreos together in a large bowl. (You can crush the Oreos by placing them in a resealable plastic bag and hitting the bag with a wooden or metal spoon.)

Divide the Oreo butter mixture equally into each cup in the pan. Press down with your fingers to form a solid bottom layer for the crust. Bake for 7 minutes.

After 7 minutes, remove tray from the oven and reduce heat to 300 degrees Fahrenheit.
Batter
Mix the cream cheese and maple syrup together in an electric mixer until smooth. You can taste the mixture at this point to make sure it's sweet enough for your liking ( I prefer a more tart cheesecake) and add 1-2 extra tablespoons of maple syrup to taste.  Add one egg at a time, continuing to mix after each addition.

Add Tenzo Tea's Premium Matcha Green Tea Powder and vanilla extract as well as the juice from ¼ lemon and mix only until all ingredients are fully incorporated

Spoon the cheesecake batter into each cup in the tray, to fill all 12 cups.

Bake for 20 minutes at 300 degrees Fahrenheit. Remove the tray from the oven and allow it to cool completely before placing it in the refrigerator. Refrigerate the mini cheesecakes for 1-2 hours.
Gravestone
Place white chocolate in a microwave safe bowl and microwave for 15-second intervals, stirring between each interval, until melted.

Add Tenzo Tea's Premium Matcha Green Tea Powder to the melted white chocolate and mix thoroughly. Place melted white chocolate in a piping bag or use a resealable plastic bag and cut a very small hole in the corner.  

Divide the 6 oreos in half and scrape off the crème filling with a butter knife. Then cut or break off about 1/3 of each oreo so that they form half circles.

Pipe the melted white chocolate on to the flatter side of each cookie to decorate them in the style of a gravestone. 

Press each "gravestone" into each mini cheese cake. I found it was best not to press them smack in the middle, but rather about 2/3 of the way back making sure the side without the writing is nearest to the back. 

Enjoy!  

Getting Green on Halloween
When it comes to Halloween treats, there are a lot of ways that you can get creative. You can turn the party punch bowl into a vat of human blood, or make chocolate truffles into evil eyeballs. However you decide to spook up your treats, getting your food to look scary enough for Halloween often requires the use of food dyes. Unfortunately, the artificial food dyes that are usually sold in the baking aisle are pretty scary themselves.
Green Eyed Monsters
First of all, artificial food dyes are made of petroleum*. That's right, you are feeding yourself and your loved ones petroleum every time you indulge in a neon-colored dessert (ew).
Secondly, they come with some health risks. In the last few years, scientists have been exploring the links between artificial food dyes and behavioral problems in children*. Countries in the E.U. have banned artificial food dyes like Yellow #4 or require a warning label on products that contain them because of a study that came out in 2007 which linked 6 artificial food dyes* to hyperactivity in children. 
Unfortunately, the study did not convince the FDA  to ban those food dyes and many of them are widely consumed in America today. In their defense, FDA scientists have argued that bad reactions to artificial coloring in certain individuals may be similar to a food allergy*, and thus not affect the general population or require a ban. 
All I know is that I personally struggled with Red #40 as a child and as a result came home from countless birthday parties bouncing off the walls with hives all over my body because they had served us Hawaiian Punch and Red Vines. So FDA approved or not, I will be trying to avoid artificial food coloring this Halloween. 
Thankfully, there are ways to naturally dye your food that will not only add color, but add nutrition as well. 
Matcha to the Rescue
Organic matcha powder makes an amazing natural food dye. It's already a gorgeous shade of green and comes in powdered form, making it really easy to add into recipes. It will add a richness and depth of flavor without being overpowering to the recipe. Plus It's subtle earthiness pairs extremely well with sweets like white chocolate.
Matcha green tea powder should be your go-to for all things green on Halloween. You can use it in this recipe to turn the cheesecake green, decorate the gravestones, or even mix it with coconut flakes to create a mossy grass effect. Using matcha green tea powder as your natural food dye lets you get the rich color you want while skipping the artificial chemicals. Furthermore, who doesn't want a nice side of antioxidants* with their mini cheesecake (that means its healthy..... right?). So grab your bag of Tenzo Tea's Premium Matcha Powder and get started. These mini cheesecakes are not going to make themselves,  and you already know everyone will want one.
You don't deserve to be tired. Beat lunchtime fatigue with Tenzo Tea's organic matcha powder!
Cheers,
Dominique and the Tenzo Team!