Matcha and Rose Blossom Iced Latte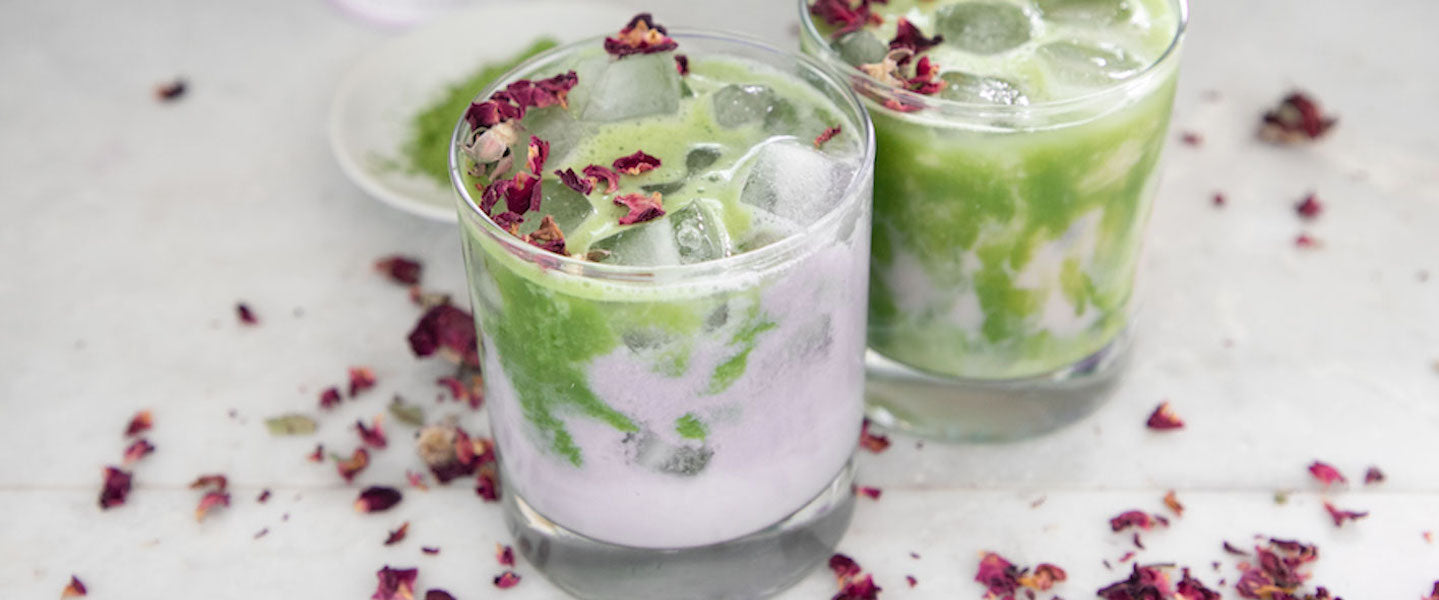 A comforting and pretty drink, the matcha and rose blossom latte is perfect to serve friends who visit for caffeine and a catch-up. This recipe is all about the delicate nature of the rose, which makes it quite unique with an aroma that produces thoughts of sunny days walking in rose gardens and grandma's house. The rose color in this recipe is subtle and soft, but if you're wanting that perfect Instagram snap, try adding some strongly brewed Hibiscus tea. 
Pouring the matcha shot over the top is where the drink gets interesting. It's like you're pouring healthy energy right into the glass. Matcha has so many antioxidants, it embarrasses blueberries. Your tea-time will be a calm and relaxing experience thanks to the amino acid L-theanine, a natural ingredient in matcha. Don't forget to add a light sprinkle of the dried rose petals to the top of the drink to really bring out the pretty and make the extra effort for your dear friend. 
Matcha Rose Latte 

Ingredients:

2 tsp Dried, edible rose petals

1 cup Milk

Hot water

Ice

Edible flowers tea bag *optional - lavender, hibiscus, juniper berries.

1 leveled tsp Tenzo Matcha powder

1 cup (8 ounces) water

serves 2

 
Step 1:
Add the flowers to a small bowl and pour over hot water, enough to cover the flowers and allow to infuse for 30 minutes.
Step 2
Drain the flowers and add the liquid to the milk. Stir well.
Step 3
Fill two glasses with ice and divide the rose milk mixture between the two glasses.
Step 4
Shake or whisk the matcha powder and 4 ounces of the water to make a shot of matcha.
Step 5
Slowly pour over the blossom latte, divided between the two glasses.
Step 6
Sprinkle some dried rose petals on the top for garnish.
You did it! What a beautiful and nutritious matcha latte, it looks just like a cafe barista made it. You can repurpose this recipe to make different flavored versions of a matcha latte by changing out the rose milk and creating other flavors like lavender or butterfly pea tea for a purple pop of color. If you like your lattes a little sweet, add honey or your preferred sweetener.  Just think of the health benefits you'll receive from creating these beauties every day.