Mango Coconut and Chia Pudding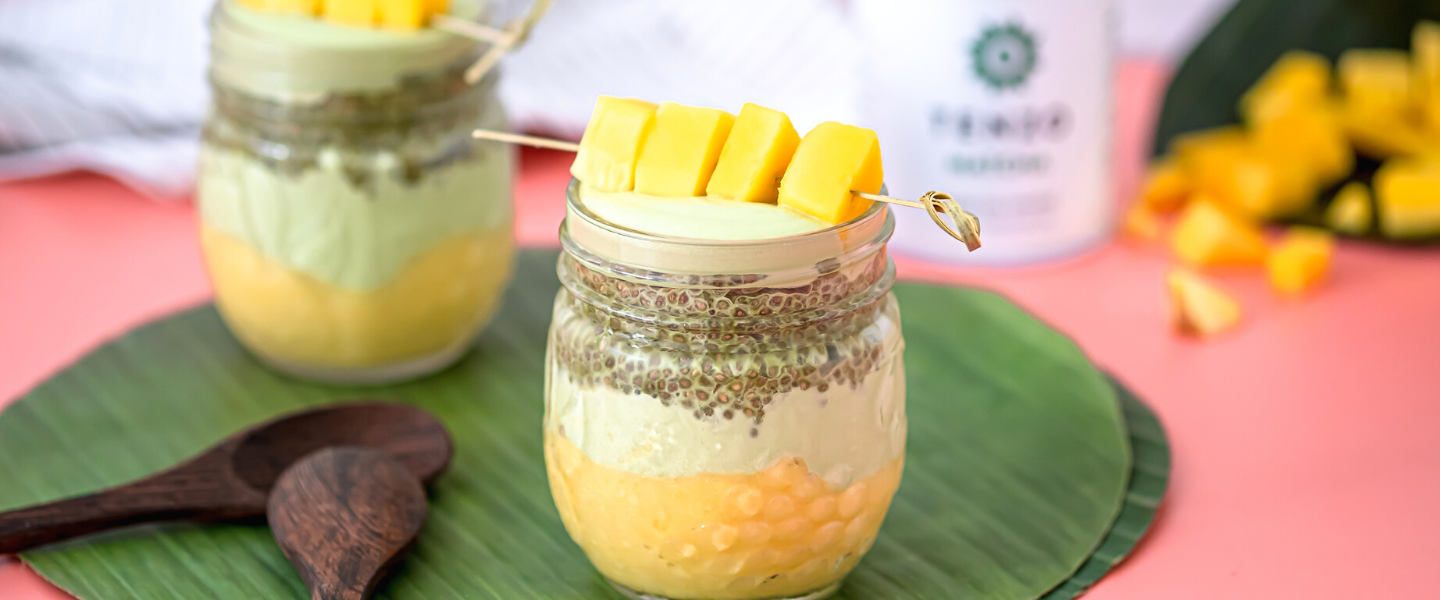 Break out of repetitive recipes with something fresh and delicious. This mango, coconut, and chia pudding gives you a taste of the tropics with a dash of healthy fats, rich proteins, and a little splash of caffeine. Delicious mangos will satisfy your sweet tooth while its other nutrient-rich ingredients leave you full and content. The addition of matcha adds a unique flavor profile and an energy boost. It's the ideal breakfast, but it's also perfect as an afternoon treat or an after-dinner dessert. It's the perfect way to treat yourself without feeling like your heading into candy land. So step out of your comfort zone with something that feels exotic and familiar at the same time. Mango coconut and chia pudding is sure to satisfy your cravings.
Ingredients - 2-3 Servings 
Whipped coconut cream
1 can of full-fat coconut milk(13.5oz)
2 tbs of maple syrup
1-2 scoops of matcha 
Chia seed pudding
1 cup of chia seeds
1 tbs of maple syrup
1 scoop of matcha
water or light coconut milk 
Mango smoothie
1 cup of frozen mango
1 cup of coconut milk (or your milk of choice)
1 tbs of maple syrup
1 tsp of vanilla extract (optional) 
Instructions
Whipped coconut cream
Before you start, place the can of coconut milk in the refrigerator for a few hours to overnight. The coconut fat will harden and separate from the liquid. 
Place the coconut fat into a mixing bowl. Do not add the liquid. Store it for a different recipe. 
Whip the coconut for about 2-3 minutes until it gets creamy. Add the matcha and maple syrup then whip for another minute or until it's evenly mixed. 
Chia seed pudding
Step 1:
In a 16oz jar, add 1 cup of chia seeds.
Step 2:
Step 3:
Shake well. Cover it and leave it for at least 20 minutes. 
Mango smoothie
Step 1: 
Add the frozen mango, your milk of choice, 1 tbs of maple syrup, and vanilla extract. Blend well. 
Step 2:
Pour the mango pudding into a glass, layer with whipped coconut cream, chia seed pudding, and top it with more coconut cream. 
Now that you've finished creating this masterpiece, it's time to sit back, relax, and take a moment to yourself to indulge in this tasty treat. Enjoy the taste of soft & sweet mango, earthy & vibrant matcha, and rich and luxurious coconut. And, in addition to tasting like an exotic vacation, it's safe to say that this pudding, is extremely photogenic. If you decided to show her off, don't forget to tag us ( @tenzotea ) and recipe creator Chhavy Sinuoun ( @the_flowerbender ). We'd love to see just how you brought a little matcha magic into your routine.