Layered Pink Matcha Dream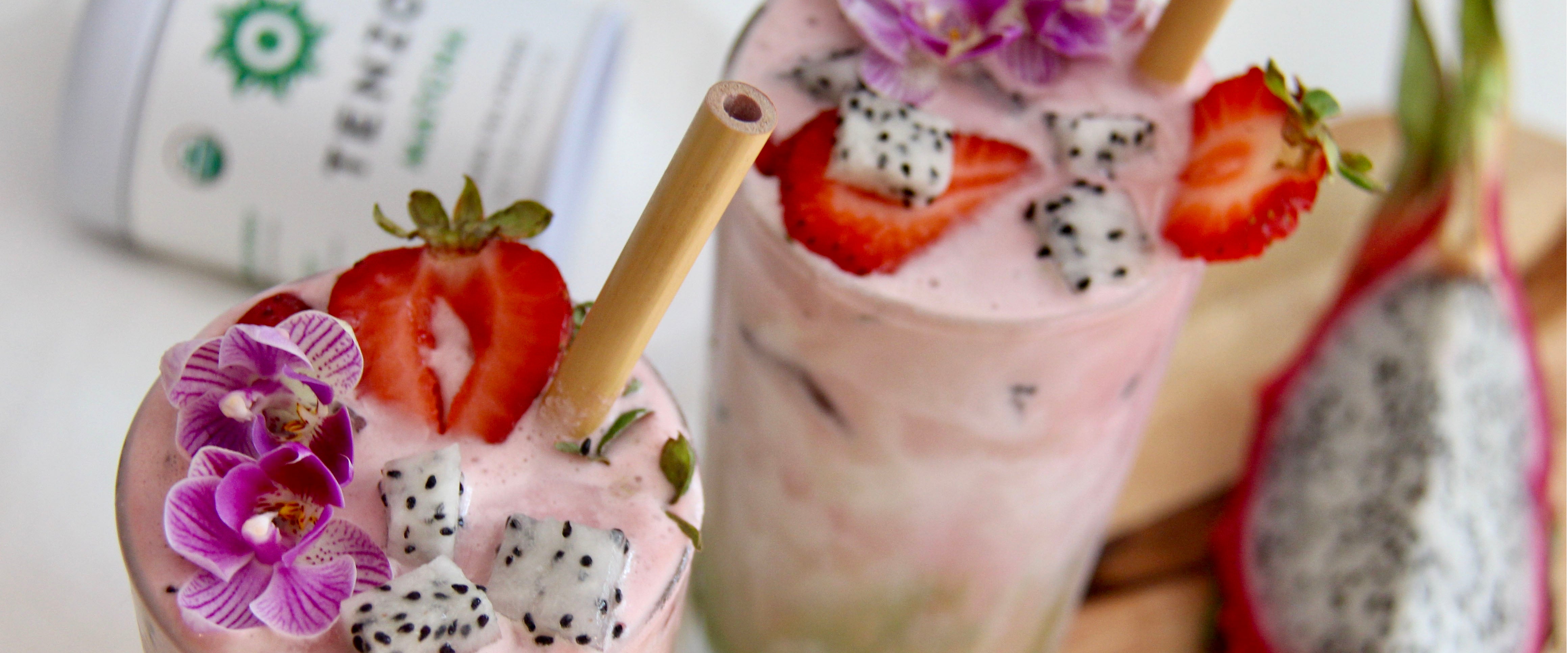 Dreamy, creamy, and refreshing, this is the pink drink you want to make on a hot day. Skip the overpriced sugar water, and craft up a crazy beautiful concoction all your own. It's an afternoon pick-me-up, a healthy refreshment, and a delicious dessert beverage all-in-one. So if you lock down one recipe this summer, we suggest this one.  And, with this little Pinkity Drinkity, you get two superfoods for the price of one. Matcha comes in with a powerful punch of antioxidants, and the pink powder follows up with an uppercut of hard-to-find nutrients. They're the dynamic duo you want with you before you tackle that email you've been putting off and that laundry you haven't folded. And, when in doubt, think PINK. 
2 tsp TENZO matcha
1 can light (or full-fat for creamier texture) coconut milk
2 Tbsp maple syrup
1 tsp vanilla extract
1 Tbls MOON ORGANICS @moon_organics pink power powder (or other pink superfood
powder)
1/2 tsp pure raspberry extract, or more to taste (you can also use strawberry)
Serves: 2
Make TENZO shots. Start with a splash of warm water in a round bowl, then add a tsp of matcha, then whisk in a brisk W/M motion until a frothy top appears. Set aside.
Pour your can of coconut milk into your blender, then add the maple syrup and vanilla extract, and blend until well combined.
Pour half of the milk into a jar and put aside.
Then add 1 Tbsp of pink power powder and raspberry extract to the remaining half of coconut milk and blend again. You can add more powder and raspberry extract to taste and to get the desired shade of pink that you like. Leave the mixture in your blender until ready to pour
Pour the matcha shots into your glasses, then fill with ice.
Pour the vanilla coconut milk on top. I poured on the back of a spoon as to not disturb the layers too much.
Lastly, gently pour the pink milk to top off your creation! Top with fresh strawberries, dragonfruit cubes, and edible flowers!
And there you have it: A Matcha Pink Drink. It looks awesome. It tastes awesome. It's done; It's been decided. We officially declare this deluxe drink awesome. Imagine if every awesome thing in life could be achieved in seven simple steps… Unfortunately, it can't, but this beverage sure can. And, for everything that can't be accomplished with ease, there's more matcha to power you through with a calm, focused mind and hours of energy. Double up on the matcha magic with the addition of a superfood, like in the Pink Drink, or just enjoy it on it's own. There's no wrong way to enjoy matcha. Even if there was, it's definitely not this layered matcha dream. 
All credit for this dreamy drink goes to the lovely and talented @plantpoweredkarine, so go tell her just how much you love her creation!
Don't forget to stock up your matcha stores before you go. Grab some here on your way out.