Layered Matcha and Strawberry Smoothie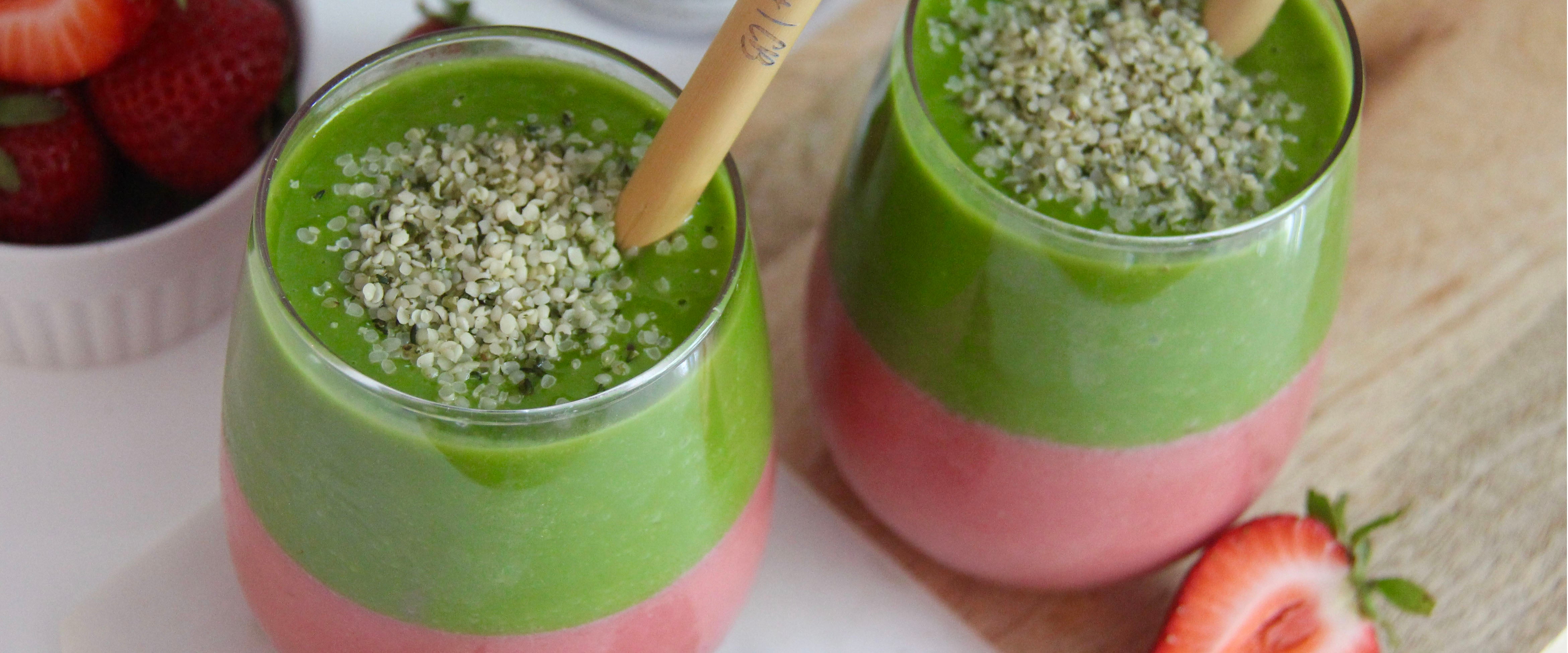 Talk about a showstoppper... You can't get much more striking than a layered matcha and strawberry smoothie. Not only does the bright, vibrant green of matcha play incredibly well with the whimsical pink hue of strawberries, they also taste phenomenal together. With this matcha smoothie, you can start your day off with something healthy and beautiful. The layers may seem intimidating, but don't you worry, we have a few tricks up our sleeves that will make creating distinct layers a breeze. And, speaking of breezes, this is the perfect snack to refuel while you enjoy a sunny afternoon on the shore (or wherever really). The sustained power of matcha magic will get you through that midday slump while fresh, sweet strawberries give you a little taste of summertime.  Get Rob Thomas and Santana on the phone because this Smoothie will lift you up. 
Ingredients for the strawberry layer
2 1/2 cups frozen ripe strawberries
1 1/2 cups vanilla almond milk
2 tablespoons maple syrup
1/2 teaspoon vanilla extract
Ingredients for the matcha layer:
1 cup fresh baby spinach
1 cup vanilla almond milk
1 cup ripe frozen mango chunks
1 teaspoon Tenzo matcha
1 1/2 tablespoons maple syrup or more to taste
Hemp seeds, for garnish
Instructions for the strawberry layer:
Step 1:
Place all ingredients for the strawberry layer in a high-speed blender and blend until smooth.
Step 2:
Distribute the smoothie evenly among your 2 glasses and place in the
freezer for about 10-15 minutes (if you're patient enough!) while you
prepare the matcha layer.
Instructions for the matcha layer:
Step 1:
Place all ingredients for the matcha layer into the same high-speed blender and, again, blend until smooth.
Step 2:
Gently remove the glasses with the strawberry layer from the freezer.
Pour the matcha layer on top of the strawberry layer.
Sprinkle with hemp seeds and top with fresh strawberries.
Pro tip: Here's a trick: to be extra gentle and keep the layers, you can pour
matcha layer over the back of a spoon held over the strawberry layer.
And there you have it, a deceptively simple, layered matcha and strawberry smoothie. Whether you're waking up with this fresh beverage or enjoying it as an afternoon treat, you'll be able to relish the delicious taste without sacrificing any health benefits. If you're feeling adventurous, try swapping out the mango for pineapple and the almond milk for coconut milk to experience the more tropical side of matcha. 
Don't forget to give recipe creator @plantpoweredkarine a follow on Instagram for more healthy and delicious recipes! 
You know it, we know it, everyone knows it. This layered matcha and strawberry smoothie is photogenic. We're talking supermodel status. So, when you give her, her shining star moment on Instagram, don't forget to tag us @Tenzotea.