How An Oncology Nurse Made The Switch to Matcha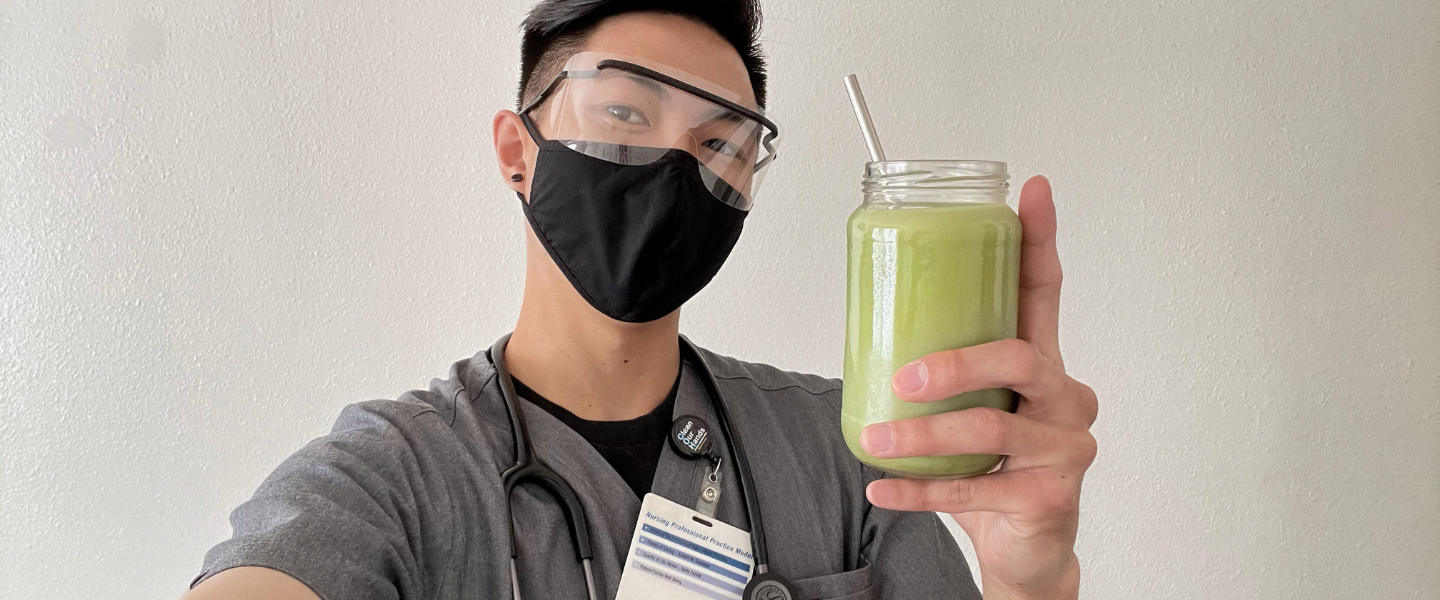 Whether you're a yoga instructor, a fitness guru, or just a regular human trying to get through the day, we all need a little extra boost sometimes, and matcha is the perfect way to do that. But what about those occupations that really take it out of you? With long shifts, exhaustive work, and breaks that are few and far between, people like doctors, nurses, and EMTs often rely on coffee to get them through the day (or night). However, there is a dark side to coffee. Although a cup of coffee will certainly give you a burst of energy, that burst is often followed by headaches, caffeine crashes, irritability, and surprisingly, exhaustion. 
But, have no fear, there is a clean, green, caffeine machine that has none of the negative side effects of coffee and even provides some additional benefits. And, that is matcha. If you're feeling skeptical, we get it. Swapping coffee for tea has long been an unsuccessful venture. However, matcha isn't your average tea. In fact, it's much, much more than your average tea. You can take our word for it, or you can take the word of Jeffrey Te, longtime plant enthusiast, boba-lovin', Oncology nurse. And, if Jeffrey can ditch coffee for matcha during a 12-hour shift filled with stress and surgeries, anyone can. Read on to hear exactly what Jeffrey has to say about his experience with our favorite beverage
From the Desk of:
Guest Blogger and longtime Tenzo Customer, Jeffrey Te, RN, BSN.
 For a long time, matcha has piqued my curiosity. I remember always wanting to try it but never finding the "right" one that tasted good. So I just stuck with drinking coffee for a very long time. Eventually, I got to a point in my life where I was really addicted to coffee. I needed more than 2 cups of coffee just to get through the day, and sometimes even that didn't help. I hit a low when I first started my 12-hour night shifts as a Registered Nurse because I needed coffee way more than before because my body could not adjust to staying up all night. Coffee practically ran through my veins. 
I've been consuming some type of caffeine almost every day of my life, and I've noticed how it's been affecting me. I would get massive headaches when I didn't get my cup of coffee, I would feel very sluggish and unproductive, foggy and moody... and when I did drink coffee, I would feel anxious, and then I would have the crash after a few hours. I knew I had to do something because I couldn't live like this forever.
It's been about almost two years since I've switched over from coffee to matcha, and oh man, do I feel a lot better. I've tried multiple matcha brands, but I wasn't happy until then I found Tenzo Tea Matcha. After ordering my first matcha tin from them, I instantly fell in love. I had to start a subscription with them, and I'm so glad I did. Their organic ceremonial matcha doesn't have that bitter after taste. In fact, it's very smooth and tasty. Matcha has so many beneficial components - it contains antioxidants, boosts brain function, gives more energy AND it's very easy to prepare! I can make a good cup of matcha in less than 5 minutes that will last me all day. I definitely feel more alert, more productive, no jitters, less anxious, and NO CRASH!
Don't get me wrong, I do still drink coffee at times, but I'll always have my matcha as my go-to. It didn't take that long for me to feel a difference after switching over to matcha. Working as a nurse for 12-hours, I needed to find something that worked for me... especially during these times, trying to find something that would help me sustain more focused energy was vital. Tenzo Tea was it. Matcha has finally become part of my life & I'm not looking back!"
And there you have it, straight from the nurse's mouth. But, jokes aside, as you can see, switching from coffee to matcha made a big difference in Jeffrey's life. If you want to get started on your own matcha journey, you can sign up for our trial kit here. We pride ourselves on providing high-quality and delicious matcha at a fair price because when you take the steps to give up coffee, you deserve the best of the best. And, if an Oncology nurse working twelve-hour shifts can make the switch with Tenzo, so can you.