Hot Chocolate with Matcha Whipped Cream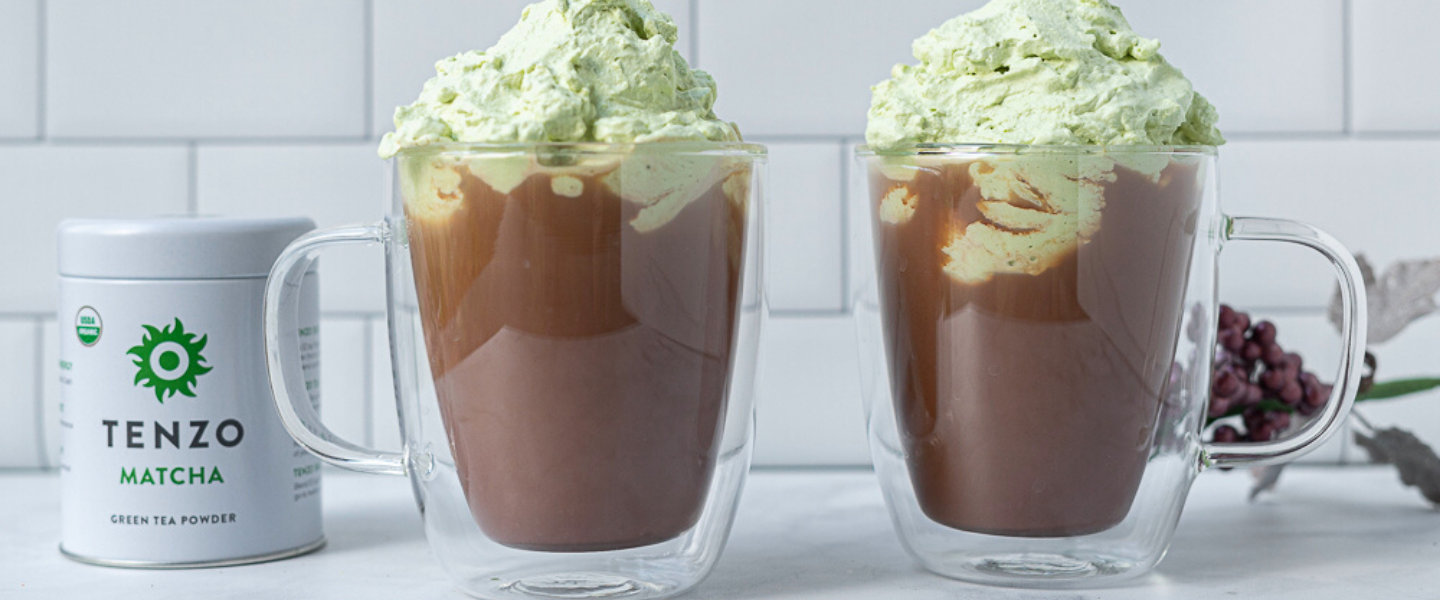 If you're in hot pursuit of the perfect winter beverage, search no more because we have it here. Hot chocolate with matcha whipped cream. Is there a better way to spend a winter or fall evening than curled up with a freshly made cup of hot cocoa? Maybe, but it's certainly one of our favorites, anyway. This unique recipe takes the average Joe hot chocolate and transforms it into a creamy, dreamy, matcha and chocolate experience. Light and fluffy matcha whipped cream is the perfect partner for rich and luxurious chocolate. Indulge in a delicious drink and warm yourself up from the inside out with this easy-to-make and even easier to enjoy, hot chocolate. 
Servings: 2, 12 ounce glasses
Ingredients:
- 2 cups fat free milk
- 2 tablespoons unsweetened cocoa powder
- 2 tablespoons granulated sugar
- 1 cup whipping cream
- 1 teaspoon TENZO matcha powder
Directions:
Step 1:
Mix milk and cocoa powder in a saucepan over medium heat until warm but not boiling. 
Step 2:
In a glass bowl, pour whipping cream, granulated sugar, and TENZO matcha powder. Whisk with an electric mixer until stiff peaks form.
Note – Chill glass bowl in the freezer for 15 minutes in order to ensure cream gets whipped into whipping cream consistency.
Two steps and you're done. We're not sure that it gets even easier than that. This recipe proves that it's time to ditch the old fuddy, duddy pre-made packs of hot cocoa, and whip up something homemade. Thank you to Tiffany Sy for bringing a little matcha magic to the winter season with this recipe. Check out her Instagram here, for more delicious creations. And, what would this recipe be without it's matcha? Still probably pretty delicious… But don't forget to take things to the next level, grab some matcha, and whip up something amazing.