Hakuna MaMatcha Smoothie Bowl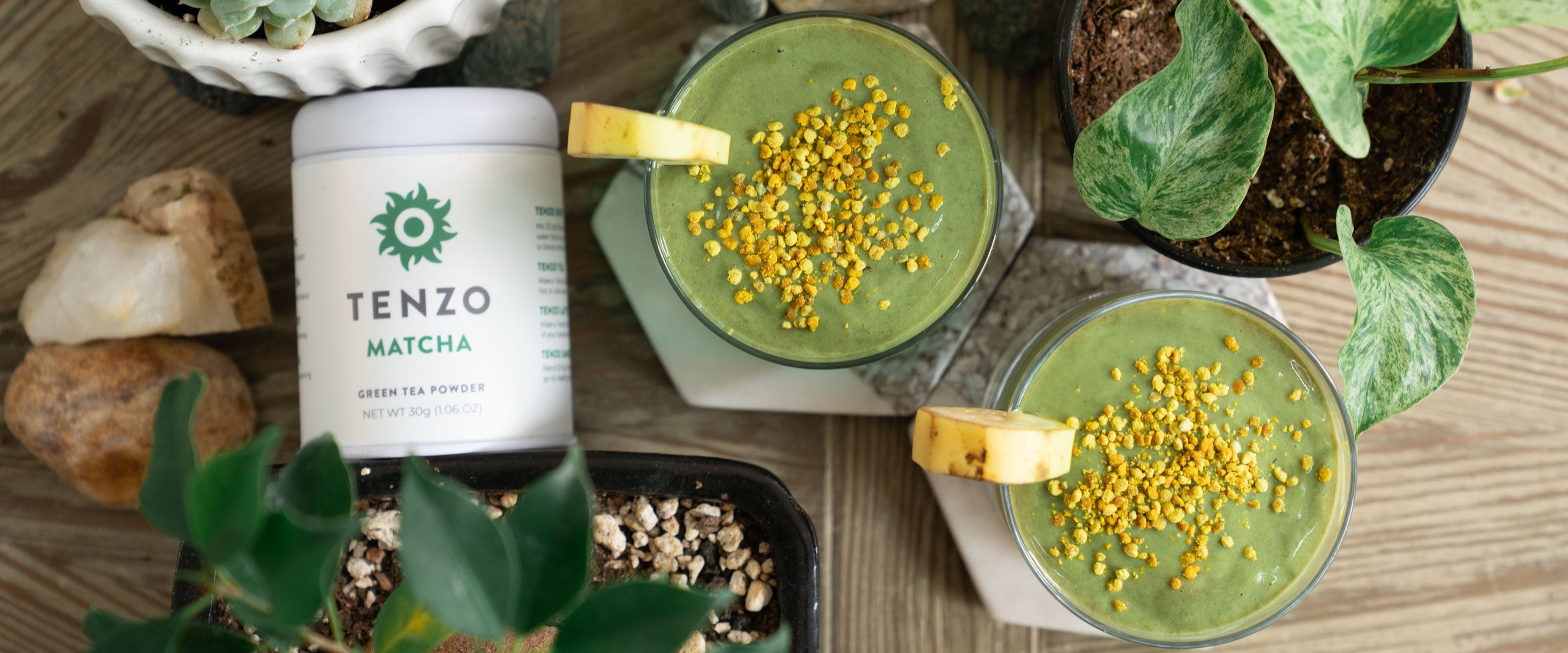 Hakuna MaMatcha! What a wonderful phrase
Hakuna MaMatcha! Ain't no passing craze
It means clean energy
For the rest of your days
It's our Coffee-free philosophy
Hakuna MaMatcha!
Ingredients:
(makes 2 drinks or one large smoothie)
2 tsp Tenzo Matcha 
2 Frozen Bananas
1 scoop of protein of choice (Optional)
10oz of Almond milk
Half of an Avacado
2 tsp Bee Pollen (Optional)
1/3 tsp Ashwagandha 

(Optional)

1/3 tsp Mucana 

(Optional)

1 spoon Agave 
Step 1:
Peel and put both frozen bananas in a blender.
Step 2:
Cut half of an avocado and add to blender.
Step 3:
Pour 10oz of Almond Milk into the blender.
Step 4:
Add one scoop of protein powder! (We used plant protein, collagen protein is also really good) Optional but good to include.
Step 5:
Add 2 tsp of Tenzo Matcha.
Step 6:
Add a 1/3 tsp of Ashwagandha powder we love Moon Juices! Ashwagandha root and leaf extract is proven to help enhance focus and mental stamina, and reduce irritability and stress-related carb cravings.
Step 7:
Add a 1/3 tsp on Mucuna powder we love Moon Juices! Mucuna is an adaptogen: a potent, safe, and corrective superherb that helps protect your body from the damaging effects of stress.
Step 8:
Add one spoon of Bee Pollen we love Moon Juices! Bee pollen is super tasty and super healthy!
Step 9:
Add one spoon of Agave to the smoothie.
Step 10:
Blend smoothie till smooth.
Step 11:
Pour into separate glasses if sharing with a friend or a perfect breakfast meal for one!
Step 12:
Garnish with bee pollen on top and a banana slice on the rim to add a little more savannah feel to the drink! Enjoy!
It's that easy! What a perfect way to remind Lion King nostalgia with the movie coming out!  The avocado and banana together make this drink so so smooth and thick! It's a super healthy way to energize while calming down cause we all want to be Pumba and Timon and have no worries till the end of our days!
Photos by: Aiden White
Keep tagging us and letting us know how much you love Tenzo! Cheers Tenzo Tribe!
Running low on Tenzo? Click here!