Gluten Free Matcha Pancakes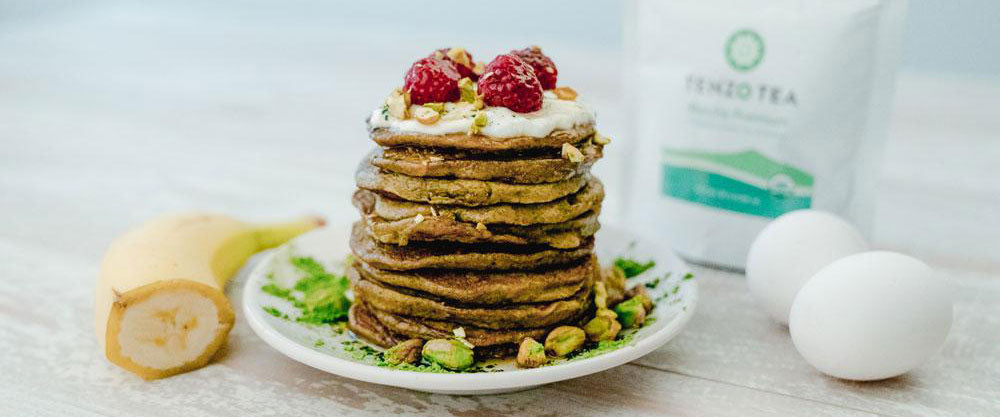 Simple, Quick, and Surprisingly Delicious
You deserve a moment of pure happiness each morning. Waking up is hard enough, but waking up in winter is next level. There's no better motivation to fight the morning cold than a hot stack of fresh, fluffy pancakes. 
These Matcha Pancakes are gluten free, dairy free, and so simple to make. They're composed of just two main ingredients: eggs and bananas. You'll never guess that they don't have flour or milk but your body will thank you for leaving those ingredients behind.
Delicately spiced with Tenzo Tea's organic matcha powder and a little cinnamon, these gluten-free pancakes are even more delicious than the original. Start your day with potassium, protein, and just a touch of healthy matcha benefits.  You'll head to work satisfied, engaged and ready to rock. 
Tips: 
There's no flour in the pancakes, so they can fall apart easily. Be sure to keep the pancakes small, about the size of your palm, they'll be easier to handle and hold up better. 

Be careful when flipping the pancakes, it helps to use a thin spatula that has been coated with non-stick cooking spray 

Add nuts, chocolate chips or any other toppings after the pancake is on the skillet.

Customize with your favorite flavors. Try a Nutella version instead of cinnamon, or add fresh blueberries to make blueberry banana matcha pancakes!
Ingredients
2 Eggs

2 Ripe Bananas

1 teaspoon organic matcha powder

1 teaspoon Cinnamon powder

1 tablespoon Honey

For Garnish: greek yogurt, and your favorite seasonal fresh fruit and nuts. 
Directions
Peel bananas, break into smaller pieces and place in a mixing bowl. Mash the bananas with a fork or metal whisk.

Whisk in eggs and cinnamon powder and continue to whisk to form a fluffy batter.

In a separate small bowl, mix together Tenzo Tea and honey until a paste forms. Then gently stir the matcha honey mixture into the pancake batter.

Heat a griddle over medium heat and grease with ¼ teaspoon of coconut oil. 

Drop the batter on a hot griddle: Drop roughly 2 tablespoons of batter onto the hot griddle. This would be a good time to add nuts, chocolate chips or berries if desired.

Cook for about one minute on each side. Then gently (and slowly, these babies are delicate) flip with a spatula.

Top with yogurt, fresh berries, nuts(we used raspberries and pistachios), and some maple syrup or honey. Enjoy!
You don't deserve to be tired. Beat fatigue with our other recipes using organic matcha powder!