Dalgona Whipped Matcha Latte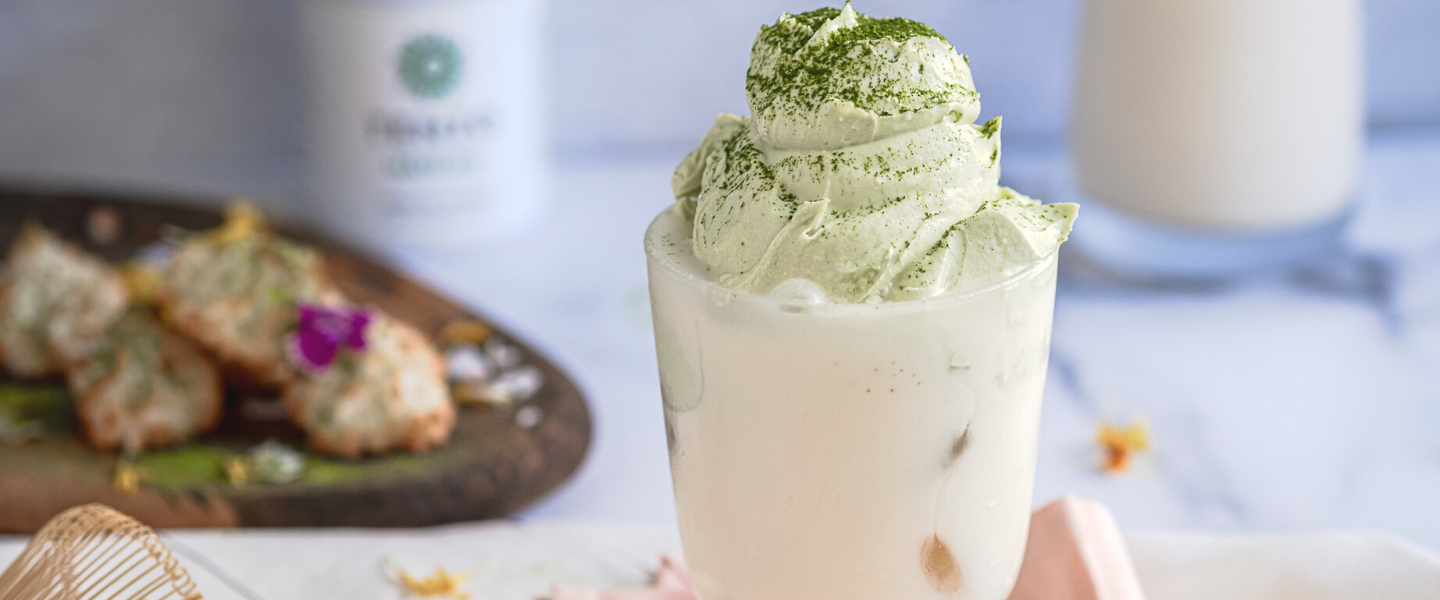 Dalgona Coffee. Whipped coffee. Korean coffee. Whatever you call it, it's a scrumptious treat, overflowing with fluffy, whipped goodness. "How could it get any better?" you ask. By swapping out the coffee for a little matcha magic. Still irresistibly indulgent with the added health benefits of matcha, a Dalgona Whipped Matcha Latte is the perfect way to begin every day. Though this recipe contains honey, vegans can easily swap it out for agave, making this beverage a home run for everyone, as well.  It has a distinctive homemade feel that photographs like a dream and tastes even better. 
Whipped Coconut Cream
Makes 2-3 servings of the whip 
1 can of full-fat coconut milk (13.5oz)
2 tbsp of honey powder (or 1.5 tbsp of maple syrup or 1 tbsp of honey)
1-2 scoops of matcha
Matcha Latte
1 serving
1 scoop of ice
Milk of your choice
Whipped coconut cream
serves 1
Whipped Coconut Cream
Before you start, place the can of coconut milk in the refrigerator overnight. The coconut fat will harden and separate from the liquid.
Place your whisk and mixing bowl in the fridge for about 5-10 minutes. The cool temperature will yield better results.
Place the coconut fat into your mixing bowl. Do not add the liquid. Store it away for a different recipe.
Whip the coconut for about 2-3 minutes until it gets creamy. Add the matcha and honey powder then whip for another minute or until it's evenly mixed.
Matcha Latte
Add ice to a glass.
Add milk.
Top off with whipped matcha cream.
Stir and enjoy.
Please keep in mind, if you decide to use maple syrup or regular honey, the consistency will be different from using honey powder. However, it's not a dramatic difference.
While it doesn't matter whether the coconut milk has guar gum or not, it does matter whether you use lite or full-fat coconut. In this recipe, it's important to use full-fat coconut only.
Impress your friends and most importantly, yourself by whipping up (pun intended) this fresh and tasty latte. Deceptively simple and delightfully delicious, there's not much left to be desired with this drink except maybe a matcha inspired treat to accompany it. Stimulate your brain and feed your creativity with this new take on an old classic. And, don't forget to re-up your matcha stores while you're at it. 
Recipe, styling, and photographs by: Chhavy Sinuon. You can follow her on Instagram @floristabythebar
When you make this delightful Matcha Dalgona, TAG TENZO ON INSTAGRAM @tenzotea