Cranberry Matcha Mojito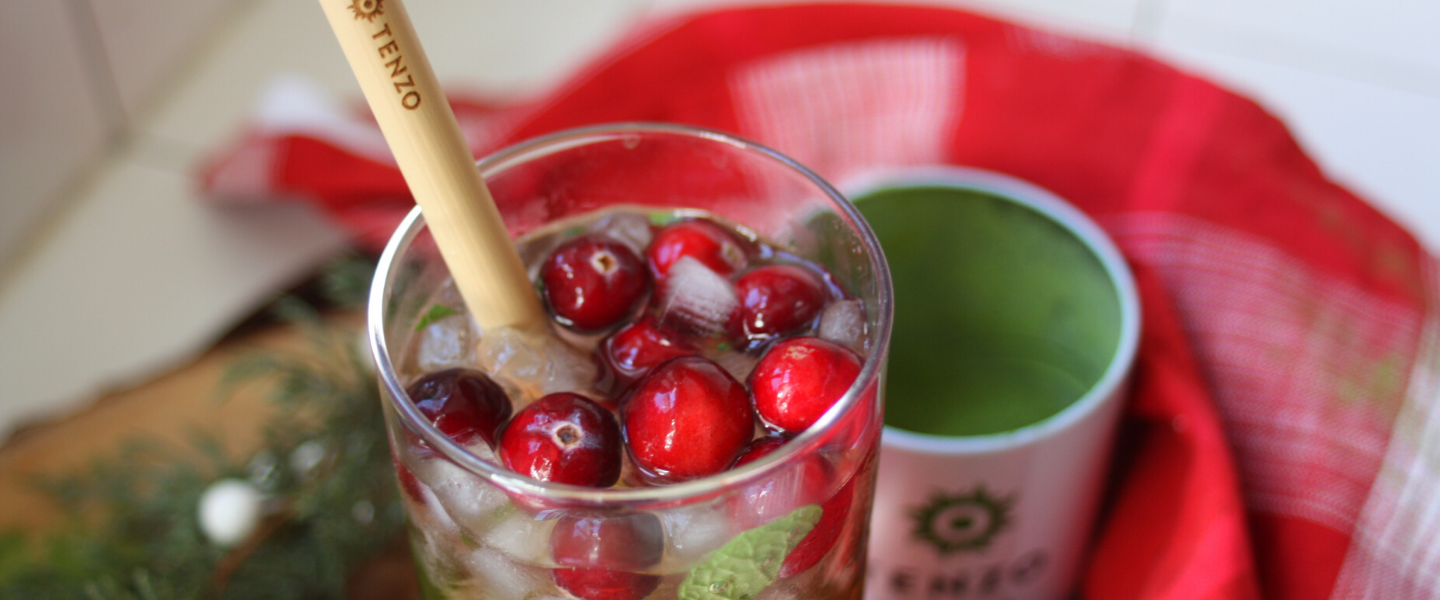 This is a holiday cocktail that you NEED to add to your bartending repertoire. It's super simple to make, with an amazing payoff. Vibrant and stunning with festive hues and a refreshing flavor, this cranberry and matcha mojito is the perfect thing to celebrate the holidays with. It's a familiar classic with a fresh new twist, and we're here to enjoy every sip of it. Fresh cranberries give us all the festive feels while mint leaves and matcha leave an irresistibly delightful tingle on your tastebuds. So, get your muddler and cocktail glasses ready because you're about to go on a magical, mixing journey. And as the saying goes, "mo mojitos, less problems."
Ingredients
:
(Makes 1)
2oz light rum
4oz seltzer or sparkling water
4oz cranberry juice 
¼ tsp. Tenzo matcha 
10 fresh mint leaves
1 tsp. agave
1 lime wedge
A handful of fresh cranberries
Supplies:
Cocktail glass
Muddler
Ice cubes
Directions: 
Step 1:
Place 1 lime wedge and 10 fresh mint leaves in the cocktail glass.
Step 2:
Add in ¼ tsp. Tenzo matcha over the mint and lime. 
Step 3:
Muddle the mint, lime and Tenzo matcha until the mint oils are released- do this about 10 times through. 
Step 4:
Add in 1 tsp agave and muddle again about 3-4 times. 
Step 5:
Fill the glass with ice cubes.
Step 6:
Add in the liquid ingredients in the following order: 2 oz. light rum, 4 oz. seltzer, 4 oz. cranberry juice. Stir. 
Step 7:
Top with fresh cranberries & enjoy!
Just as stunning as we promised it would be, right? And, SO EASY. The Cranberry Matcha Mojito is perfect for the holidays, but we have a feeling that you're going to want to enjoy this year-round. The brains behind this tangy and delicious beverage is the wonderfully talented and creative Amanda Boyd. Check out her Instagram for more delicious recipes. And, while you're riding the web waves, don't forget to stock up on your matcha. We have a special holiday recipe book on the horizon, and you're going to want a well-stocked matcha cabinet so that you can give everything a try.