Cherry Matcha Iced Frappuccino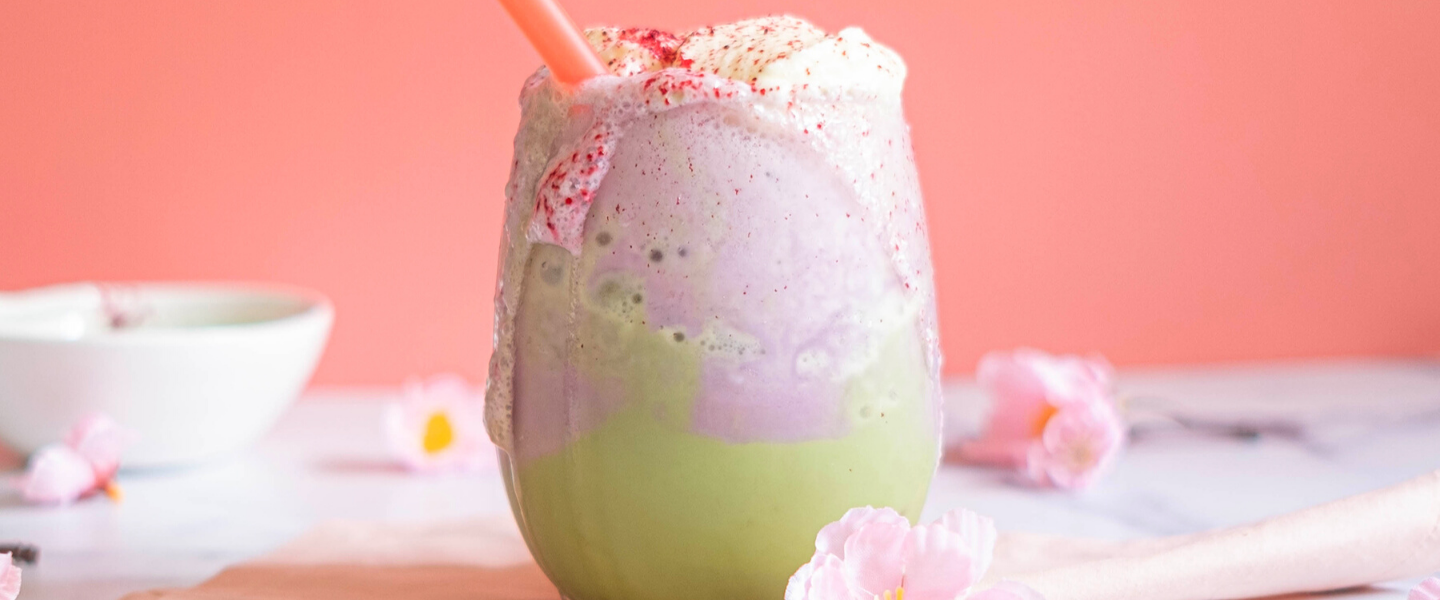 A frappuccino is the perfect way to refresh and revive yourself on a warm summer's day. So what about a frappucino layered with fresh flavors and healthy & energizing matcha? Now, that's just the cherry on top. 
Cool, creamy, and delicious, this cherry matcha frappuccino will carry you right through spring and summer. A delectable treat with health benefits that also keeps you energized is rare, and you won't find this beverage at a big brand shop. No, you'll have to craft this one yourself. Luckily, it only takes a few simple steps, and you're on your way. We used sweetened, condensed milk to add sweetness and give the drink an even creamier texture. If you'd prefer to opt for something a little healthier, you can substitute it for honey or agave. You can even experiment with different kinds of milk ( hello almond milk! ) to find your perfect flavor combination.
Ingredients:
Frappuccino
4 cups ice
2 cups milk (your fave alt milk works great)
2 tablespoons sweetened condensed milk
11/2 tablespoons Tenzo matcha
1 teaspoon cherry powder (cherry syrup is an alternative)
1 teaspoon vanilla extract
1/8 teaspoon salt
Whipped cream
1/3 cup heavy cream
2 teaspoons white sugar
serves 2
Step 1: 
Whip together heavy cream and sugar. Set aside.
Step 2:
In a blender, blend ice, milk, vanilla extract, salt, and sweetened condensed milk. Pour half of the mixture into a bowl and set aside.
Step 3:
Add matcha to the blender with the iced mixture. Blend until fully mixed. Pour matcha mixture into both glasses, filling them each halfway. Rinse blender.
Step 4:
Pour iced mixture from bowl into blender. Add 1 teaspoon of Tart Cherry powder. blend. Pour cherry mixture into each glass. Make sure you leave room for whip!
Step 5
Top each glass with whipped cream. Sift on a little cherry powder as garnish. Drink right away, while still frozen and slushy. 
As the days get longer and hotter, you'll be looking for a little sweet treat to spice things up. So, bookmark this recipe and save it for a rainy ( hot & sunny ) day. It's easy to make, insanely Instagrammable, and absolutely delicious. If you're feeling fabulous about your fresh creation, snap a pic and share it on your socials. Just don't forget to tag us! @tenzotea.
Are you matcha stores running low? Grab some quickly, before you run out!
Thanks to our Recipe Guest Blogger: Chhavy Sinuoun. Please check out her incredible stylings on Instagram @floristabythebar AND visit her website
Florista By The Bar