Boba Bubble Matcha Latte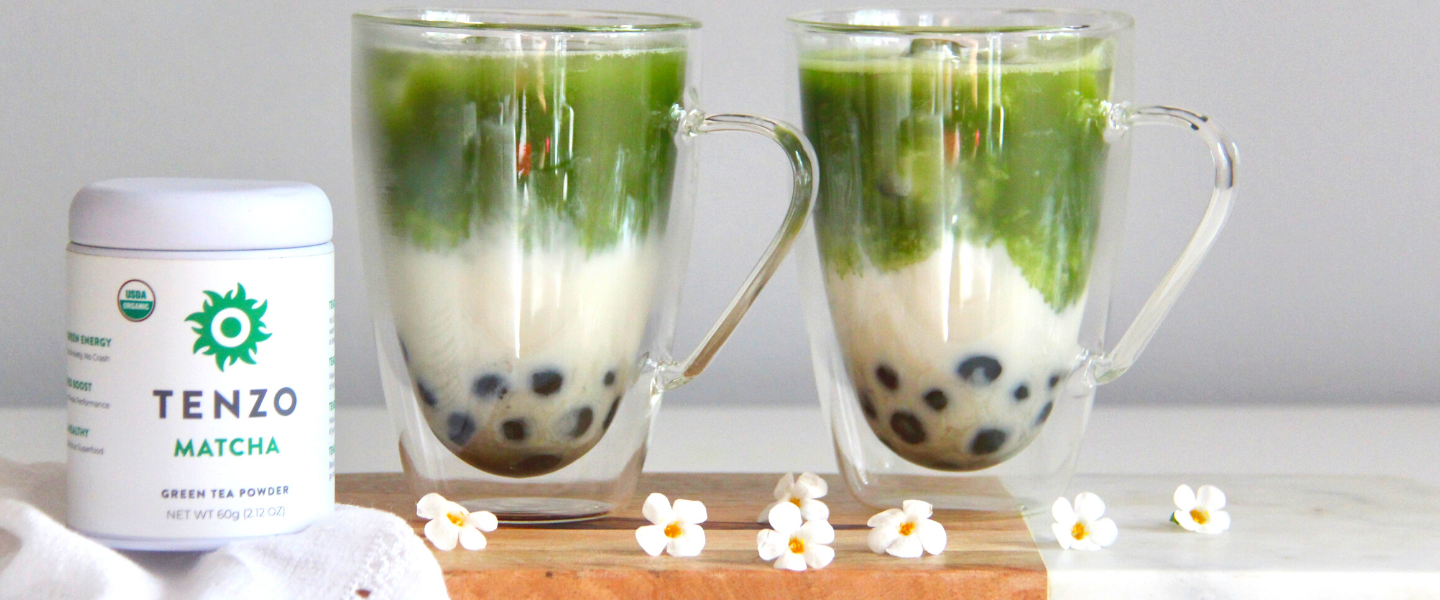 When you're craving some bubble tea, there really is no other solution than to head out to your nearest tea shop and hope they have it. Or is it? Boba tea is actually fairly easy to make at home. And, when you DIY your drinks, you save yourself a couple of bucks and the hassle of tracking down a place that has it. Plus, bubble tea is just fun. Those tasty little orbs are like the prize at the bottom of the cereal box, and they're the perfect thing to compliment your Instagram feed. 
Bubble tea first appeared in Taiwan in the '80s and has been growing in popularity ever since. The tapioca balls, or boba, that give it its name are fun and unique addition to fruit teas. But pair them with matcha, and you've got something even more special. And, it's easier to make than you think. In fact, it's actually quite simple. So scroll down and get started. You'll be bubbling over with excitement about your new favorite mid-day treat. 
Serves 2
1/2 cup tapioca starch
1/4 cup boiling water
1/2 tsp. Açtivated charcoal (I used Rawnice)
1/4 cup maple syrup
1 cup almond milk, separated into 2 glasses
1-2 tsp TENZO Matcha, enough for 2 matcha shots
2 cups ice cubes (enough for 2 glasses)
First, make your Boba balls!
Step 1: 
Boil water in a small saucepan
Step 2:
Add the tapioca starch to a medium-sized bowl, followed by the activated charcoal
Step 3:
Add the boiling water, little by little. Use your hands instead of a spoon or spatula, that way you can incorporate the water well and make a non-sticky dough. Be careful not to burn your fingers! Keep kneading until you have incorporated all the flour.
Step 4:
Once you have a workable dough, roll the dough unto long and thin cylinders, cut them into small pieces, and roll them into tiny balls
Step 5:
To cook the boba balls, bring 4 cups of water to a boil, then add the tapioca balls. They should float right up to the top! You can now check the texture of the boba balls - they will be ready in about 10 minutes.
While the Boba balls are cooking, make your matcha shots! Whisk hot water and matcha until frothy and set aside.
Step 6:
When your Boba balls are ready, transfer them into a small bowl and pour the maple syrup on top. The syrup will ensure that they don't stick together!
Step 7:
The boba balls are best when served slightly warm, so go ahead and make your boba bubble latte!
First, put the boba balls in your glasses.

Next, fill the glasses with ice, and then almond milk

Finally, pour your matcha shots on top!
Matcha may have met its match with bubble tea. They're both trendy, tea drinks that make an enviable addition to your Instagram feed. By combining them, you get the best of both worlds. You have matcha for a healthy energy kick that boosts your immune system and brain function. AND, you get all the fun and whimsy of little boba balls. @PlantPoweredKarine is the genius behind this cool infusion, so don't forget to tag her ( and us @tenzotea ) if you decide to share this delicious creation. And, remember to re-up your matcha stores here, so you can keep this tasty treat on deck.