Basil Coconut Matcha Limeade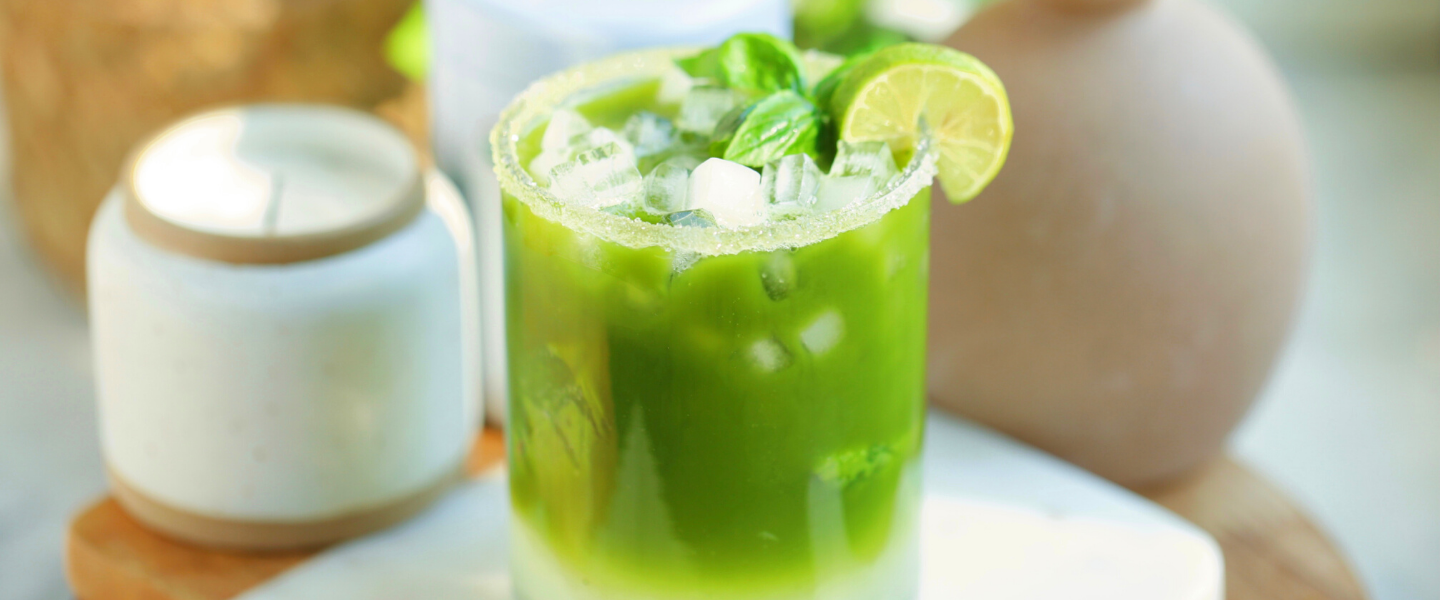 It's like we took a bright, happy tropical vacation and put it in a cup. The Basil Coconut Matcha Limeade is the perfect refresher for a stale morning caffeine habit. Whether you're switching up from an unhealthy coffee addiction or exploring the versatile world of matcha magic, this drink will spice up your routine. Fresh basil and lime are the perfect pair to create a tangy and vibrant flavor. Matcha and coconut work together flawlessly to soothe the sour side of lime in favor of creamier coconut. Bring it all together, and you have the perfect sip. So, whenever you feel like you need to take a vacation from the pumpkin spice, the cinnamon, and the apple, the Basil Coconut Matcha Limeade is right here waiting for you. 
Basil Coconut Matcha Limeade
Ingredients:
Ice cubes (as many as desired)
Sugar and lime juice for rim of glass
Pineapple coconut water (fill glass halfway)
Tenzo Matcha tea (fill glass halfway)
Stevia for sweetener (optional)
Key lime slices (as many as desired)
Fresh basil (a small handful)
Instructions:
Run half a lime along the edge of a glass and then dip it in sugar. Fill the cup with ice cubes. 
Add key lime slices and fresh basil to the bottom of the glass and mix with a wood muddler, then remove the lime slices (or leave them in) once the lime juice is squeezed out. 
Then fill the glass halfway up with pineapple coconut water. Fill the rest of the glass up with matcha tea (mix ½ teaspoon matcha powder and ½ cup water together with an electric whisk until well combined). Add stevia for sweetener, if desired. 
Our mouths watered just watching this be made… Imagine taking your first sip? Well gather your limes and matcha because that first sip is closer than you think. Thank you to Kaylie, for yet another amazing matcha recipe. We highly suggest heading over to her Instagram to see what she's been crafting up recently. You're pretty much guaranteed to find something you'll love. In the meantime, sit back with your new matcha limeade and enjoy the perfect balance between sweet and sour.