6 Things to Drink Instead of Coffee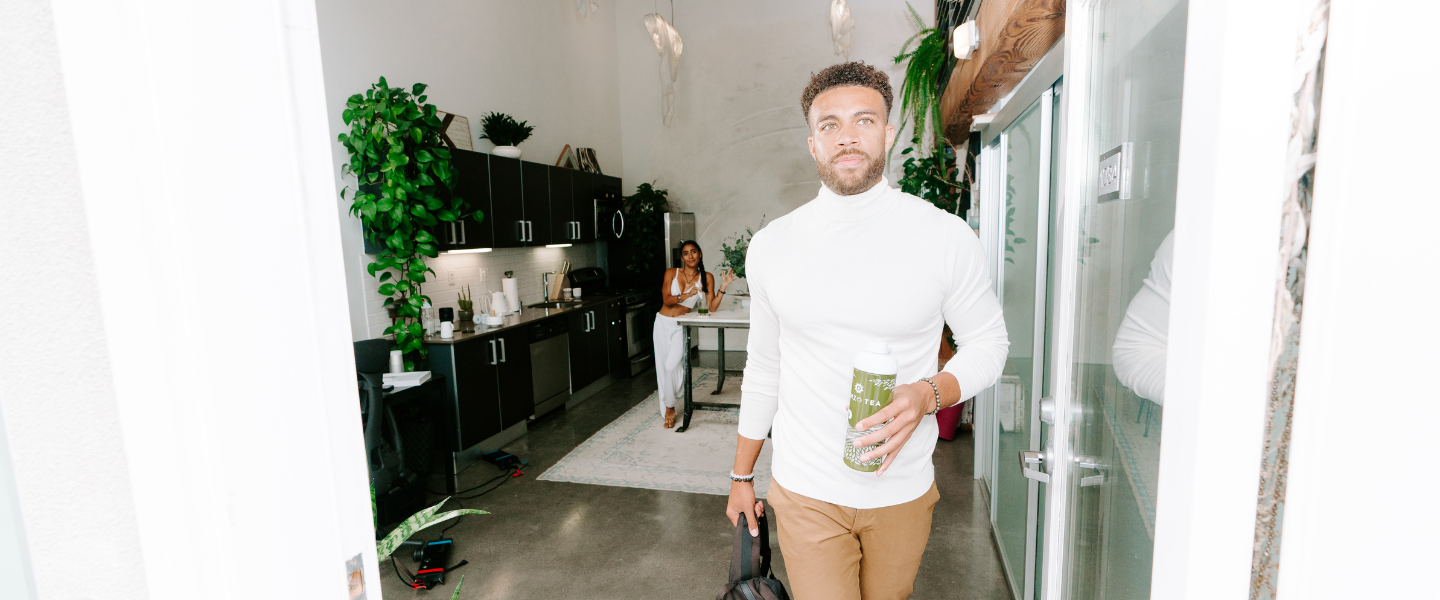 Coffee's Got Competition
Although, similarly to matcha, coffee has been around for centuries. But, unlike matcha coffee has some nasty side effects. From insomnia and anxiety to digestive problems and high blood pressure, coffee isn't always the best companion for your body (You can read more about coffee's effects on your body here). 
Drinking it daily will almost certainly exacerbate these effects. And, even if all you get from coffee is a little stomach ache and some jitters, that's certainly reason enough to cut it out of your routine. But have no fear, there are plenty of options to get your caffeine kick in without having to rely on coffee. Here are six things to drink instead of your daily coffee…
Our Favorite Coffee Alternatives 
Tenzo Matcha
This should come as no surprise. Tenzo was founded by a drive to discover a healthier caffeine, and we did so with matcha. And then, we sourced the purest, highest quality matcha we could find so that everyone else could experience this new way to caffeinate. That was many years ago, and we've come far since then, but our love for matcha and its special caffeine kick hasn't changed. 
Matcha caffeine just hits different. Unlike the caffeine in coffee, which surges through your bloodstream as soon as you take your first sip, an amino acid known as L-theanine regulates the entry of caffeine into your body. This not only elongates your caffeine high,it also prevents jitters and anxiety. And, as a superfood, matcha has a ton of other health benefits and just makes you feel good. If you want to know why you check out the science here. Or, if you're just here to find some delicious coffee alternatives, you can grab some matcha and keep reading. 
Yerba Mate
We're obviously big tea fans and that's why Yerba Mate is second on our list of coffee alternatives. Yerba Mate Tea is a South American tea that comes from the leaves and twigs of the Yerba Mate plant, and it's been used as a coffee substitute and energy source for almost as long as coffee's been around.
And, much like matcha, yerba mate has some natural properties that make it much healthier than coffee, while still being able to give you a little kick of energy. Theobromine, also found in chocolate, is one of these special properties. It's a naturally occurring stimulant that gives you a similar energy boost to coffee without the jitters or anxiety. 
Kombucha
We promise, we're going to give you more coffee quitting options than tea, but truthfully some form of tea is typically the best coffee replacement. Kombucha is no exception to that. Although less potent than its green cousin, kombucha also contains a small amount of L-theanine, which combines with the caffeine in tea to produce similar albeit slightly less powerful effects than matcha. Kombucha is a great alternative for an afternoon cup of coffee to get you through that 3 pm slump. 
Mushrooms
Now, we're onto the weird and strange. Weird it may be, but when you need a jolt of energy in the morning and you don't want to taint your body with coffee, a mushroom beverage is a great alternative.  For centuries, mushrooms have been appreciated for their medicinal qualities, and mushrooms like Chaga and Lion's Mane have often been used to enhance energy and focus without the classic caffeine jitters. You can buy premade mushroom coffee drinks, or whip up your own. But either way, you'll get a healthy dose of energy and caffeine. 
Chicory 
An energy boost doesn't always have to come from caffeine, and chicory coffee proves it. Often sold roasted and ground, just like coffee, chicory root is a perfect coffee substitute. Not only does it have an incredibly similar taste, but chicory has been shown to improve blood sugar levels, help with weight loss, and it's packed with probiotics. If you're looking to step away from coffee and cut down on caffeine, chicory root is perfect. 
Apple Cider Vinegar
This certainly is not a direct substitute for a morning cup of coffee, and there's no denying that your cup of coffee tastes better than an ACV shot. But, the potassium and enzymes found in apple cider vinegar are an easy way to get an energy boost. We suggest adding a tablespoon or two to a glass of cold water. It might not be as tasty as coffee, but it has none of the side effects and tons of benefits. ACV is known for its link to weight loss, lower cholesterol, and even better-smelling breath… and what's not to love about that?
When the reasons to quit coffee are so plentiful and the substitutions so readily available, it almost feels ridiculous to keep drinking it. Switch out your coffee with one of these options, and wake up feeling happier and healthier. If you want to get a head start, grab some matcha on your way out. It's packed to the brim with antioxidants and adaptogens, making it not only a great source of caffeine but also a super healthy addition to your daily routine.