Vegan Lavender Matcha Ice Cream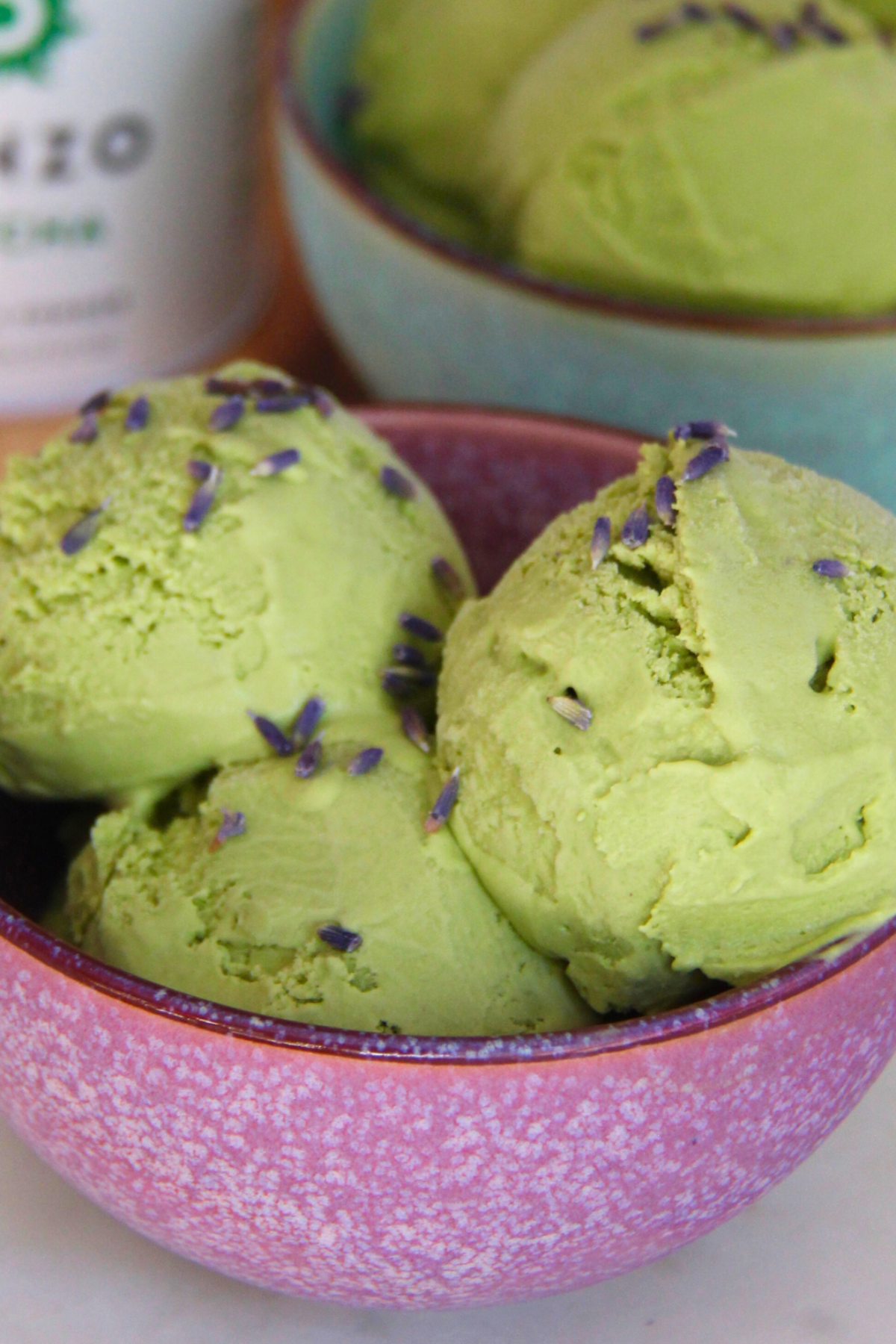 Vegan Lavender Matcha Ice Cream
Posted on June 13, 2023 | by Lori Hanemann
Calling all ice cream lovers! We've got a super easy way for you to enjoy your favorite treat. And, we'll let you in on a little secret, this ice cream is healthy. Healthy AND delicious, if we may say so ourselves… What this ice cream is not, is your average humdrum store-bought vanilla ice cream. Soft and soothing lavender paired with the delightfully earthy taste of matcha is the flavor combination you never even knew you needed. Vegan Lavender Matcha forgoes classic cream for the healthier but equally luscious combo of cashews and coconut free. Guilt-free in every facet of the word, this ice cream is good for you, good for the planet, and good for the animals. You won't need an ice cream maker either, just a little bit of elbow grease and patience. And when you're done, you'll be rewarded with a delectable dessert that'll have you constantly reaching into the freezer. 
INGREDIENTS
2 cups coconut cream (separate the cream from the water of 2 cans of full-fat coconut milk) 

3/4 cup organic golden sugar 

1 cup raw organic cashews soaked 6 hours, and rinsed well 

1⁄2 cup vanilla almond milk 

1 tsp vanilla extract (optional) 

2 tbsp TENZO matcha, or more to taste 

1/8 cup organic lavender buds 

Pinch of sea salt 
INSTRUCTIONS
Pour 1/2 a cup of almond milk into a small saucepan over medium-low heat. Heat until it just begins to boil. Stir in the lavender buds. Cover and then remove from the heat. Put aside and let steep for about 10 minutes. 

Place a fine-mesh strainer over a medium bowl. Pour the almond milk through the strainer into a large bowl to remove the lavender. 

In a high-speed blender combine the rinsed cashews and infused almond milk and blend until you reach a thick and creamy consistency. Then add coconut milk, brown sugar, vanilla extract, and matcha to the blender and mix until very smooth and creamy. You can add more matcha to taste. 

Many ice cream recipes call for an ice cream maker, but don't worry, this one doesn't! Simply fill it with your matcha ice cream into a freezer-safe container, and freeze for about 3 hours. Take out of the freezer about 45 minutes after and mix with an electric mixer to aerate. Do this two times throughout the freezing process. You can also simply use a hand whisk. Your matcha ice cream should be ready to enjoy.
Stock up on Tenzo matcha powder for summer recipes.