Creamy Vanilla Cashew Matcha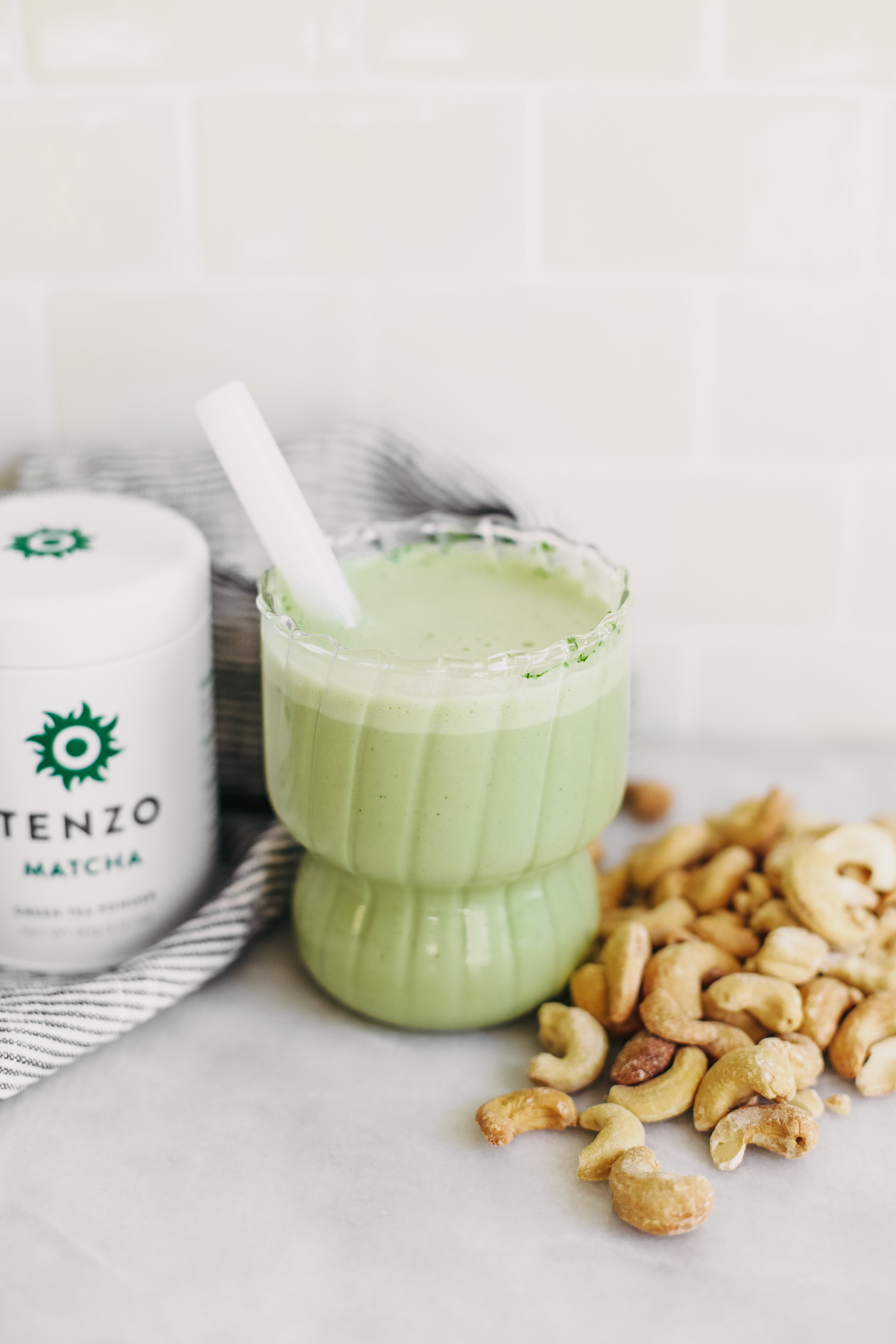 Creamy Vanilla Cashew Matcha
Posted on February 17, 2023 | by Lori Hanemann
"Sip, Savor, Smile: The Perfect Trifecta of Taste, Health, and Happiness!"
Have you ever tried a drink that has all the flavors, benefits, and joy in one cup? If not, then hold on tight because we've got the perfect drink for you!
Introducing the Creamy Vanilla Cashew Matcha - the drink that will tantalize your taste buds and keep you healthy and happy. Made with rich and creamy cashews, sweet vanilla powder, and the finest Tenzo brand matcha, this drink is all you need to brighten up your day.
Let's start with the star of the show - Tenzo matcha. This high-quality green tea powder is not just your average matcha. It's packed with antioxidants and contains 137 times the amount of EGCG (an antioxidant found in green tea) compared to regular green tea. And the best part? It gives you a smooth and long-lasting energy boost, making it the perfect alternative to your morning coffee.
Next, we have the creamy and nutty flavor of cashews, which not only adds richness to the drink but also provides healthy fats and protein. And to sweeten things up, we add a pinch of vanilla powder that not only enhances the taste but also contains antioxidants and anti-inflammatory properties. And, don't forget the maple syrup!
So, what do you get when you combine these flavors? A smooth and creamy drink with a nutty and sweet taste, a healthy dose of antioxidants, and an energy boost that'll keep you going all day long!
In conclusion, if you're looking for a drink that's not only delicious but also healthy and happiness-inducing, then give this drink a try. Trust us, your taste buds and body will thank you! So, go ahead, Sip, Savor, Smile, and enjoy the perfect trifecta of taste, health, and happiness.
Ingredients:
1/3 cup cashews, soaked in water

1 1/4 cup water

1/2 tsp vanilla powder

1 tbsp maple syrup

1/2 tsp Tenzo matcha powder
 Instructions:
Soak cashews in hot water for 1-2 hours or until soft, then add to a blender. 

Add rest of ingredients to the blender and blend on high for 1-2 minutes until smooth, then serve hot or over ice.
Thank you to Kaylie for another wonderful and delicious matcha creation. You can follow her on Instagram to see more of her recipes. Remember to stock up on Tenzo for all our delicious matcha recipes.