Adam's Backcountry Ski Adventure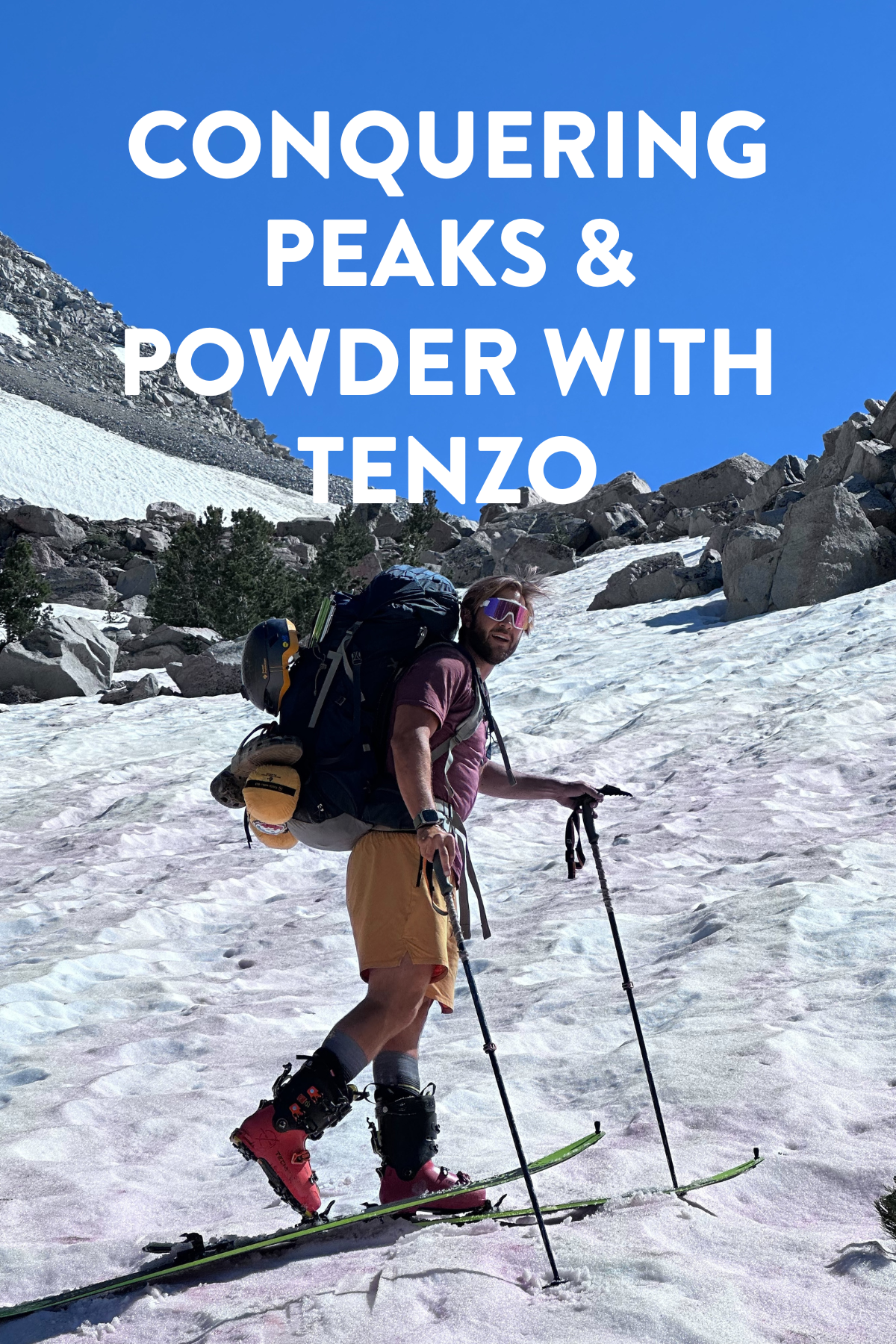 Adam's Backcountry Ski Adventure
Posted on July 17, 2023 | by Lori Hanemann
Hey there, Tenzos! Today, we have an inspiring story to share with you that involves stunning mountain vistas, adrenaline-pumping descents, and of course, our beloved Tenzo matcha. Get ready to meet Adam S., a commercial real estate broker by day and a fearless backcountry skier by weekend! Adam recently embarked on an epic ski adventure in the Eastern Sierra, where he conquered breathtaking peaks and relied on the power of Tenzo matcha to fuel his journey. 
Heading for New Heights:
At 35, Adam is living proof that adventure knows no boundaries. When he's not crunching numbers and closing deals, he's out in the wilderness, searching for the perfect powder. As an experienced backcountry skier, Adam thrives on the thrill of exploring untouched slopes, pushing his limits, and soaking up the serenity of nature.
Climbing Towards Success:
Adam knows that the key to conquering those soaring peaks lies in endurance, mental focus, and physical energy. That's where Tenzo matcha comes into play! After hours, and sometimes days, of arduous climbing, Adam understands the importance of a caffeine boost to prepare him for the exhilarating descent. As he puts it, "After climbing for hours, sometimes days, to reach the peaks in the Eastern Sierra, I really could use the caffeine boost to get me ready to ski down."
The Power of Tenzo Matcha:
Imagine being thousands of feet above the ground, the crisp mountain air filling your lungs as you take in the awe-inspiring beauty around you. In those moments, a refreshing sip of Tenzo matcha can be a game-changer. Adam found that our convenient matcha packets were the perfect companion for his high-altitude adventures. He especially enjoyed mixing them with fresh snow melt water to create a truly invigorating beverage.
Lightweight, Tasty, and Refreshing:
Adam raved about the benefits of Tenzo matcha during his backcountry escapades. Not only is it lightweight and easy to carry, but it also boasts a delicious taste that never fails to hit the spot. Imagine savoring a rejuvenating sip of matcha at 14,000 feet—a true moment of bliss. It's a fuel for both the body and the soul, allowing adventurers like Adam to take on nature's challenges with renewed vigor.
The Tenzo Advantage:
Tenzo matcha is more than just a beverage; it's a secret weapon that enhances performance and amplifies focus. Packed with antioxidants, amino acids, and just the right amount of natural caffeine, our matcha helps Adam maintain the energy he needs to conquer those untamed slopes. With Tenzo matcha by his side, Adam is able to stay laser-focused on the task at hand, maximizing every exhilarating moment on his skis.
Conclusion:
Adam S.'s backcountry ski adventure serves as a powerful testament to the remarkable capabilities of both humans and matcha. Tenzo matcha provided Adam with the fuel he needed to push his boundaries, embrace the rugged beauty of the Eastern Sierra, and ski down those majestic peaks with unparalleled precision. So, whether you're a backcountry enthusiast, an urban explorer, or simply someone looking for a natural energy boost, take a page out of Adam's book and let Tenzo matcha be your companion on your next thrilling adventure.
Remember, the mountains are calling, and with Tenzo matcha in hand, you'll be ready to answer their call with unmatched vitality and focus. Here's to your own journey of conquering peaks and embracing the extraordinary!
Until next time, happy sipping and happy adventuring, Tenzos!
P.S. Share your own matcha-fueled adventures with us using the hashtag #TenzoAdventures for a chance to be featured on our social media channels!