5 REASONS TENZO MATCHA IS POWERING EVERYONE'S NEW YEARS RESOLUTIONS
Shop now to take advantage of $10 off your first order and save almost 30%!
1. Caffeine you can Feel Good About
High-Quality Matcha. Our ceremonial-grade matcha is grown organically in Japan and is simply the best. The Tenzo quality increases the calm and focus you get from the young tea leaves' powerful nutrients.
2. Better Energy
One of the main benefits of matcha is that it provides a sustained energy boost without the crash or jitters associated with caffeine. This is because matcha contains L-theanine, an amino acid that helps to balance out the effects of caffeine and promote relaxation.
3. Fast and Easy
Meet the perfect pre-portioned packets of matcha powder. Just rip the packet and pour the contents into a cup of water. Then mix the matcha and water together using your choice of a bamboo whisk, an electric frother, or a simple shaker bottle. Easy! The entire process takes just a minute, making it a convenient and hassle-free way to enjoy a cup of matcha.
4. Thousands have Switched
The healthiest drink on the planet. There's a reason millions are ditching coffee for matcha: it's a true superfood! Packed with antioxidants, our adaptogenic matcha helps reduce inflammation, is both a prebiotic and probiotic, and is loaded with vitamins and minerals! Did we mention it's one of the best immune boosters out there? Stay healthy this winter, and throughout the year!
5. 1,000 WAYS TO TENZO
It has so many uses. We've got recipes galore on our blog to give you many ways to benefit from matcha. In addition to tasty drinks, you can bake with it, create face and hair masks, and there are also so many baking recipes using the vibrant green of matcha.
Wake Up Excited
"I wake up excited to start my day with Tenzo. I look forward to it, and it brings me joy. I don't feel my heartbeat or anxiety increasing like after drinking coffee. I have a maintained level of energy."
Sam H.
Health
"Health. I have been drinking two servings of Tenzo a day and since, I've stopped all of my prescription muscle relaxers, nerve & the anti-inflammatory meds. I have less back and joint pain now than on all of those meds."
Scotty G.
Feel Brighter
"I just feel better. I feel sharper, clearer, brighter, and perhaps most of all content knowing I'm making a better choice for my body and mind. Plus, that intense green is SUCH a vibe."
Shawn K.
Fresh, organic, high-quality matcha, stone ground into a fine powder for your drinking pleasure. One cup, twice a day, is all you need to be on top of your game.
Tenzo® Organic Matcha Single Serves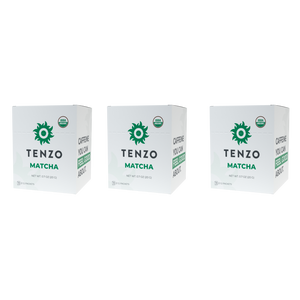 Best for starting your new energy routine:
3 boxes of easy-to-use, USDA organic matcha
30 total packets, each packed with 2 grams of matcha
Energize your whole day for less than $2
Delivered Monthly.
No Commitment. Pause or Cancel Anytime.